Scream 6 Wanted To Outdo A Famous Gale And Dewey Scene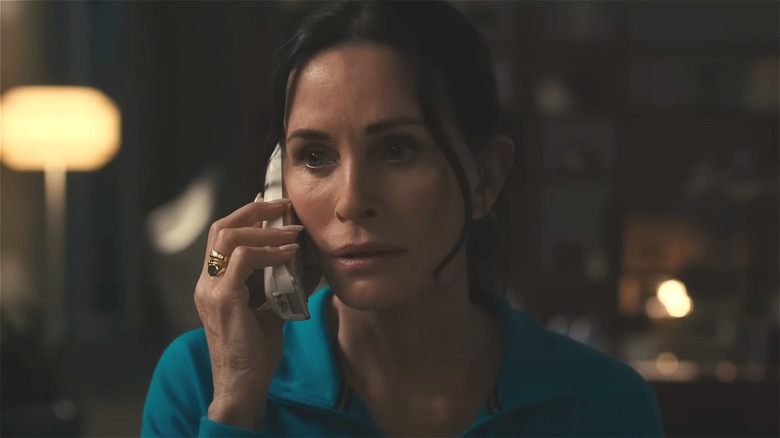 Paramount Pictures
Horror movies, especially franchises, typically want to build upon what has come before. This may mean that the jump scares are made more intense, or perhaps the gore might be dialed up, or maybe a previous and well-loved scene forms the basis or inspiration for a new one. The upcoming "Scream 6" looks to change up some of the franchise's formula by moving from the sleepy town of Woodsboro to New York City. One might think this new environment would bode well for the survivors of "Scream 5," but the trailer certainly shows this isn't the case.
Considering the long legacy of the "Scream" franchise, and the fact that the movie series continues to pull in original actors like Courtney Cox, there are always plenty of opportunities for clever references and nods to what has come before. Surprisingly, it looks like director Matt Battinelli-Olpin has looked at the history of "Scream" and found plenty to draw upon for "Scream 6." In a recent interview, he mentioned one incredibly intense scene involving Gale Weathers (Cox) and Dewey (David Arquette) and how he aims to outdo it.
Scream 6's director wants to elevate the franchise with horror and violence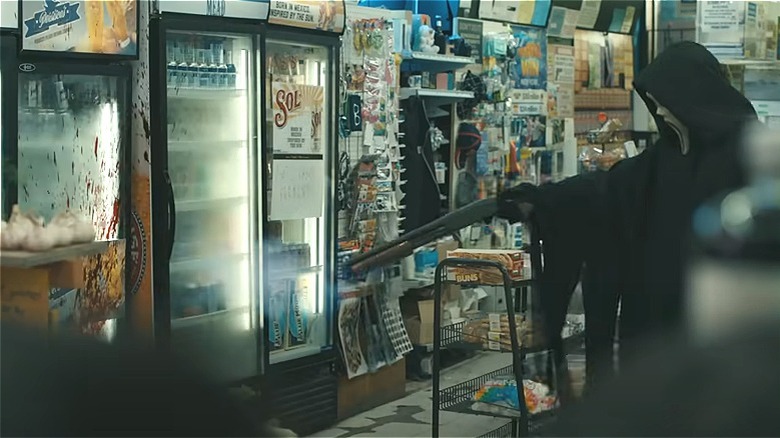 Paramount Pictures
Speaking with Collider, director Matt Bettinelli-Olpin had a chance to talk about several facets of "Scream 6" and what he is trying to achieve with this upcoming film. He clarified and said that the goal of the movie is to increase the action and horror of the previous film by saying, "We were terrified shooting this because it's more violent and feels more intense than last time. The writers definitely took it to another level."
Bettinelli-Olpin continued and revealed what he thinks is one of the best scenes thus far in the franchise. Of course he mentioned one moment from "Scream 2" and said, "I feel like the Gale/Dewey sound booth, pizza, that whole shebang." This is an interesting set-piece to identify, considering that the location of "Scream 6" has moved to New York City. The scene in question, which can be checked out on YouTube, involves plenty of tension and horror as Gale attempts to avoid Ghostface in a recording studio. The sound-proof nature of the environment easily creates a potent jump scare with Dewey, so it will be fascinating to see what kind of scenes Bettinelli-Olpin is planning for "Scream 6."