The Last Of Us Finale Continues To Tease Part II's Ending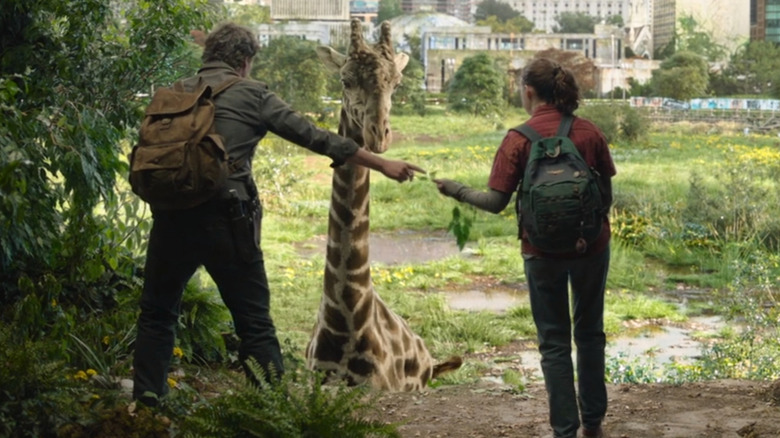 Liane Hentscher/HBO
Contains spoilers for "The Last of Us," Season 1, Episode 9 — "Look for the Light" as well as the video game "The Last of Us Part II," from which Season 2 of the HBO series will be adapted

Now that Joel (Pedro Pascal) and Ellie (Bella Ramsey) have hung up their rifles with "The Last of Us" wrapping up Season 1, all eyes turn to the future, with Season 2 adapting the critically acclaimed "The Last of Us Part II." So far, showrunners Craig Mazin and Neil Druckmann have been fairly faithful to the source material, giving fans a practically 1:1 adaptation while planting the seeds for eventual payoffs in Season 2. While the most significant "Part II" Easter egg has to be Episode 6's Staring Girl, who must be Season 2's Dina, setting up Ellie's future love story, the show also includes another tease at what's to come, albeit in a much more subtle way.
In Episode 6, Ellie asks Joel what he would do with his life given the opportunity to do anything. "Maybe an old farmhouse. Some land. A ranch," he says before expanding on his words. "Sheep, I would raise sheep. They're quiet and do what they're told." While his answer is partially a dig at Ellie, who refuses to give Joel a moment of silence, in the end, Joel only wants a less stress-filled life. Not only is this understandable considering the world they live in, but it also references a key moment in Ellie's story in "Part II." Episode 9 features another mention of the hypothetical sheep, this time by Ellie, who seems content with accepting the relaxing future.
The sheep are coming
In "Look for the Light," Joel and Ellie finally reach Salt Lake City. After a quick run-in with some giraffes, Joel begins to question whether they should keep going since he's now developed a father-like love for Ellie and fears any unforeseen danger ahead. Ellie is determined to continue their journey, refusing to let the struggles they faced getting across the country be for nothing, but reassures him that once it's all over, they'll both go wherever Joel wants.
"I know you mean well, and I know you want to protect me. You have," Ellie tells the worried Joel. "And when we're done, we'll go wherever you want: Tommy's, sheep ranch, the moon ... I'll follow you anywhere you go." The emotional scene further showcases the growing bond between the two survivors, with Ellie calling back to Joel's sheep ranch answer to her question all those months ago. While Ellie initially wasn't impressed with the idea of herding sheep, she's now open to the simple life as long as Joel is right there with her.
Assuming "The Last of Us" continues to adapt its source material faithfully, Ellie will one day get to live out Joel's shepherd dream. Following the insanely stressful events in Seattle in "The Last of Us Part II," Ellie and Dina settle down at a farmhouse outside of Jackson with their very own herd of sheep to look after. While fans of the game know that's not where Ellie's story ends, HBO's "The Last of Us" will undoubtedly give viewers a look at what could be a peaceful life for the zombie-killing protagonist.