Idris Elba's Luther: The Fallen Sun Gets In The Perfect James Bond Crack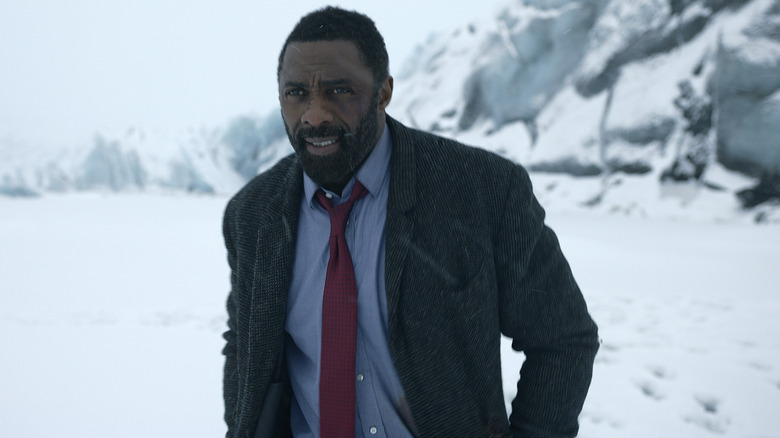 Netflix
Idris Elba has become a household name thanks to roles like Heimdall from the "Thor" franchise and Bloodsport from "The Suicide Squad." Although superhero fans are incredibly familiar with him, Elba has a sparkling list of credits that started with his break-out role as Stringer Bell on HBO's hit series, "The Wire." 
Amongst his many unique roles, Elba has picked up the character John Luther. Elba first appeared as Luther in 2010, when the TV series "Luther" aired on the BBC. The series ran for 5 seasons from 2010 to 2019. The award-winning show proved popular enough to warrant a continuation of Luther's story. "Luther: The Fallen Sun" is a 2023 Netflix original film set after the series and will be available to stream on Friday, March 10. 
The original show focused on Luther's story as a detective who becomes obsessed with bringing down the darkest parts of humanity. Luther is good at his job, but his emotions and his inability to separate himself from his work get him into a lot of trouble. The film follows up with Luther eventually deciding to break out of prison to continue hunting down a serial killer that got away.
While the film is serious and macabre in nature, it does make time for subtle humor. For example, one particular instance in the film pokes fun at the iconic James Bond franchise and Elba's interesting connection to it.
Elba allegedly has a rough relationship with the Bond franchise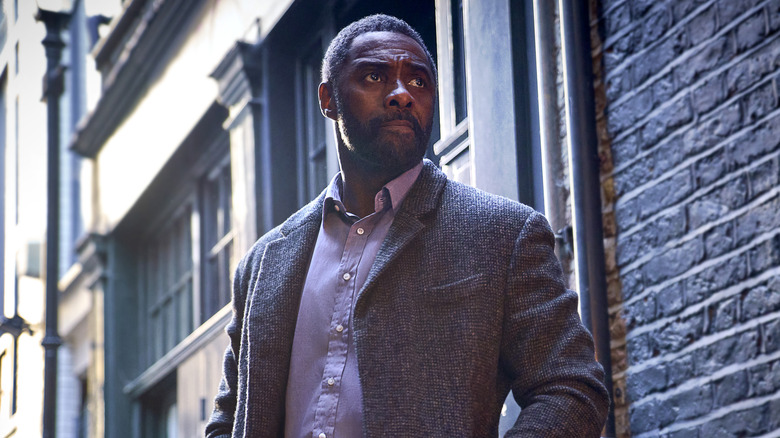 John Wilson/Netflix
For years, fans have believed that Idris Elba was snubbed by the producers of the James Bond films. Fans believed that he was close to taking over the iconic role once Daniel Craig stepped down. Ultimately, Elba wasn't chosen to succeed Craig, and fans speculated that the most obvious reason was racism. In a Vanity Fair article, Elba commented on being "disheartened" by the racially motivated conversation surrounding his portraying James Bond.
Elba attempted to dispel the rumors by saying that he was never close to becoming James Bond. He insisted that he was friends with the Bond producers, and they laugh about the rumors that have spread over the years. While he's flattered, he's set the record straight that he was never in line to play Bond.
That didn't stop "Luther: The Fallen Sun" from taking a fun jab at the franchise. According to Radio Times, the film's writer, Neil Cross, apparently meant the scene of Luther refusing a martini to imply that Luther is better than Bond. "My Bond audition? Oh my God, no! I've been saying for years, no," Elba insisted to Radio Times that Luther wouldn't be a segue to playing Bond. "The martini line is a bit cheeky, isn't it? I was like, 'Neil, are you sure you want to put that in?'"
Elba didn't agree that Luther was better than Bond, just that they were on equal footing in different worlds. "Luther's equally engaging, equally sexy, and great to see visually," Elba insisted. From there, Elba explained they're from different worlds. Bond lives in a classic world of espionage while Luther is a real-world detective that's more likely to barge through the front door.