Christian Serratos Refused To Walk Off Set When The Walking Dead Wrapped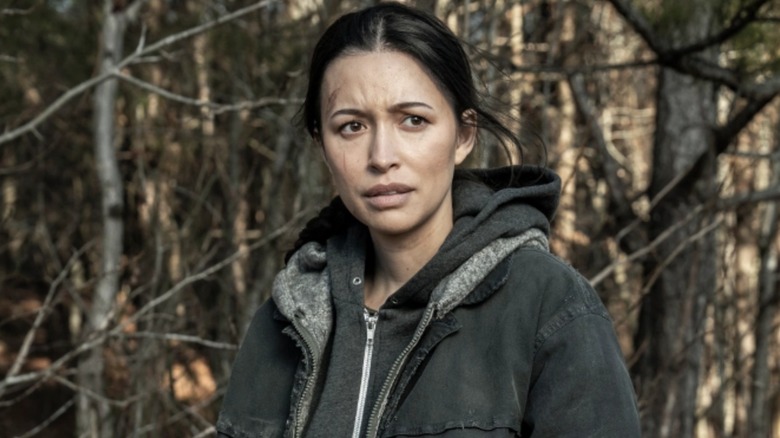 Jace Downs/AMC
With quite the long reign atop the AMC mountain behind it, "The Walking Dead" finally ended in November 2022. In the just over 12 years it spent on the air, it accumulated 11 seasons and a staggering 177 episodes for its massive worldwide fanbase to enjoy. To put it simply, for a decent chunk of its run, "TWD" was nothing short of a television phenomenon, with several of its characters, scenes, and storylines becoming the stuff of small screen legend. However, for many of those involved, it was something much different than that.
Even though "The Walking Dead" proved exceptionally good at killing off its main characters at a moment's notice, many heroes and villains alike managed to survive for multiple seasons. As a result, the actors behind them became like a cobbled-together, zombie-killing family. From Norman Reedus and Andrew Lincoln's prank war to behind-the-scenes "death dinners" meant to commemorate the demise of beloved characters, there was clearly a strong sense of community on the set that only continued to flourish right until the very end.
As one could imagine, this deep bond made it difficult for the cast to disperse when "The Walking Dead" ended. In the case of Rosita Espinosa actress Christian Serratos, she couldn't even bring herself to walk off the set.
Serratos couldn't help but get upset after filming her final scene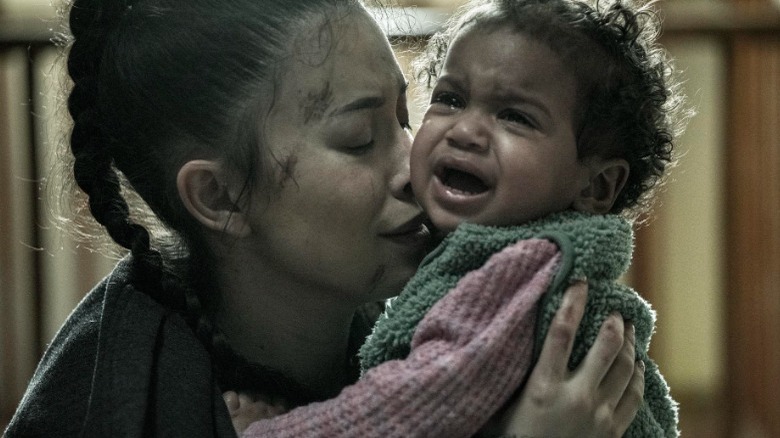 Jace Downs/AMC
Following the conclusion of "The Walking Dead," Christian Serratos sat down with Entertainment Weekly to chat about it. When asked about Rosita's heart-wrenching death — the final scene they shot — and the process of filming it, she shared that it was an immensely emotional experience. "I was shaking and crying so hard that we couldn't even walk outside because we knew what was waiting for us," Serratos recalled, mentioning that even fellow cast members Josh McDermitt and Lauren Cohan struggled to leave the set behind on that fateful day.
Evidently, it wasn't easy to film Rosita's death scene, but it wasn't much easier to watch. Her having to accept that she'll soon succumb to her walker-inflicted wound and saying goodbye to her longtime friend Eugene Porter (McDermitt) and her daughter Socorro is tough to witness. Redditor u/DPGamez123 even made a thread about her demise, with numerous "TWD" fans chiming in to agree that it's an incredible yet sad moment. u/PsychologicalCrab459 even pointed out that the characters' emotions felt genuine — likely due to those of the actors behind them seeping through.
As the "Walking Dead" franchise expands in all directions, it stands to reason we've seen the last of Rosita Espinosa. In this era of entertainment, it's best to never say never, but given all that went into her unforgettable final scene, it's just fine if Christian Serratos (who pitched the aforementioned moment) never returns to the role again.