TMNT: Mutant Mayhem Trailer - Fans Can't Ignore The Spider-Verse Vibes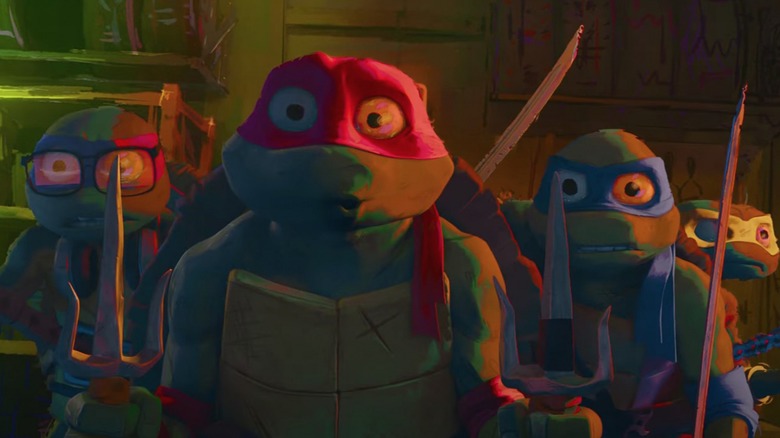 Paramount Pictures
"Teenage Mutant Ninja Turtles" fans received an unexpected surprise with news of the upcoming animated adventure subtitled "Mutant Mayhem." Ahead of the fun and action-packed teaser trailer, the film revealed a stellar lineup of cast members featuring Ayo Edebiri (April O'Neil), Maya Rudolph (Cynthia Utrom), Jackie Chan (Master Splinter), Giancarlo Esposito (Baxter Stockman), Rose Byrne (Leatherhead), Paul Rudd (Mondo Gecko), Post Malone (Ray Fillet), and Seth Rogen (as the voice Bebop, and a prominent producer of the film). "Mutant Mayhem" also introduces Brady Noon (Raphael), Nicolas Cantu (Leonardo), Shamon Brown Jr. (Michelangelo), and Micah Abbey (Donatello) as the totally tubular sewer-dwelling brothers. 
The new film aims to be a fresh reinvention of the young superheroes with a stylistic new animation that closely resembles a comic book. With its impressive voice cast of allies and villains, the crime-fighting turtles have more than just pizza on their plates and will certainly look cool doing it. Fans are thrilled about the style change and are even comparing it to another colorful and highly successful adaptation.
"Spider-Man: Into the Spider-Verse" breathed new life into the franchise with a captivating storyline and animated design to match. This has fans comparing the upcoming "Teenage Mutant Ninja Turtles" with the web-slinger's film in a positive way. 
Fans are pleased the animation styles are strikingly similar
Sometimes a bold new redesign of a nostalgic property can backfire and draw an abundance of negativity from the Internet. Luckily, this isn't the case with "Teenage Mutant Ninja Turtles: Mutant Mayhem," as indicated by fans' comments on YouTube. Aside from the age-accurate depiction of the heroes, viewers are also loving the similar vibe the film has to "Spider-Man: Into the Spider-Verse," particularly in its animation style. 
"Into the Spider-Verse" was a distinctive breakout in the animation genre for its dedication to non-photorealistic design as opposed to the traditional physically-based style. Other studios inevitably followed suit due to the overwhelming enthusiasm from fans, resulting in the new "Ninja Turtles." This is echoed in the comments on YouTube by Vailskibum, who wrote, "Spider-Verse changed animation forever." Other commenters are happily agreeing on that point and looking forward to it.
Another user is ready to see the turtles in action — "I always love this 'Spider-Verse' animation style and the texture of this film and I already know the fight scenes are going to go crazy in this film," they said. A third viewer enjoyed the overall feel of the teaser and said, "TMNT going with the spider[man] spider-verse vibe. Honestly it matches and fits well."
From what we know so far about the film, "Mutant Mayhem" will be released August 4, 2023, which fans will be glad to know is even earlier than originally expected.