Game Of Thrones: Jon And Daenerys Actors Share A Cuddle In New Set Photo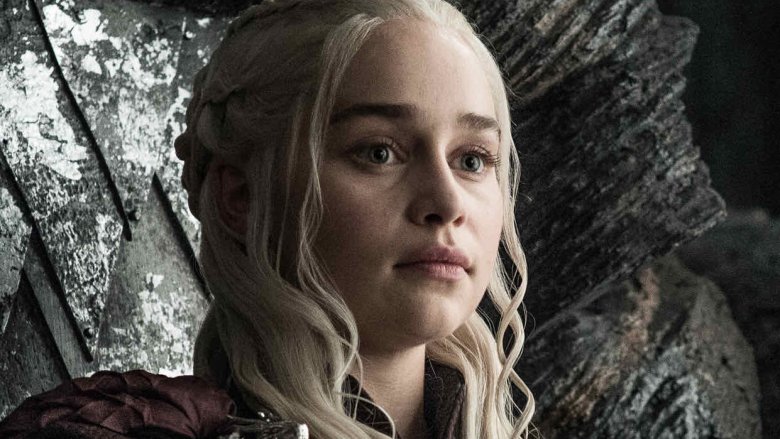 While Jon Snow and Daenerys Targaryen's relationship in Game of Thrones might be off-putting for most fans (an aunt and nephew getting into bed with each other is pretty gross, let's be honest), we can all agree that the actors who play the pair are nothing but adorable. 
Kit Harington and Emilia Clarke shared a cute moment on the set of Game of Thrones season 8, suggesting that their characters will spend even more time together in the series' impending final turn. The fact that Clarke's Daenerys is sporting her white-and-silver winter attire she debuted in season 7 also hints that the new (and last) batch of Thrones episodes will pick up right where the series left off, no time jumps to be had. 
Last we saw of Jon and Dany, they were setting the spark between them ablaze and consummating their once-platonic-now-romantic relationship. It was at that exact moment that Game of Thrones revealed Jon's true identity: He isn't the bastard of Ned Stark (Sean Bean), born in the North to take the Snow surname, but rather is the completely legitimate son of Dany's eldest brother Rhaegar Targaryen and Lyanna Stark, Ned's sister and the woman he grew up believing was his aunt. And if that wasn't shocking enough, it turns out that Jon Snow's name isn't even Jon Snow – it's Aegon Targaryen, presumably in honor of Aegon the Conquerer. 
Jon also bent the knee to Daenerys in season 7, so it's essentially guaranteed that the King in the North and the Mother of Dragons will be inseparable throughout season 8. Unless, of course, the White Walkers or Viserion the ice dragon (formerly Dany's regular, run-of-the-mill dragon) succeed in their mission to destroy everything in sight. 
The new snap, courtesy of Entertainment Weekly, was released in support of Emilia Clarke's Omaze campaign to support the Royal College of Nursing. Check it out below, then mark your calendars for Game of Thrones to return sometime in 2019.