Yellowjackets' Sophie Thatcher Wants To Be Known For More Than Just Her Mullet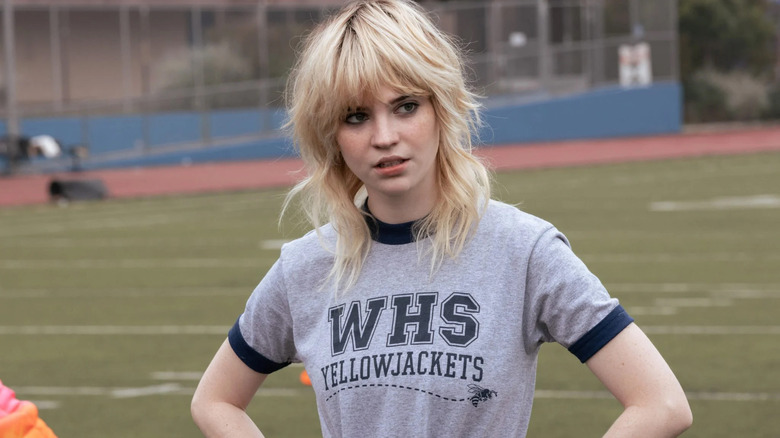 Paul Sarkis/Showtime
When the hit series "Yellowjackets" premiered on Showtime in late 2021, viewers had no idea what an addictive and thrilling ride they were in for. Shifting between the '90s and the present, the show follows a high school girls' soccer team whose flight to a national tournament crashed in the Canadian wilderness, leaving the survivors stranded for 19 months in 1996. As their modern-day adult counterparts deal with the shared secrets of what happened in those woods — cannibalism and occultism have been hinted at — viewers are shown through flashbacks what occurred to the teenage survivors and their lone adult male coach. Still, plenty of pieces of this twisted puzzle have yet to be explained.
Season 2 will reunite the WHS Yellowjackets viewers are familiar with, including snarky housewife Shauna (played by both Sophie Nélisse and Melanie Lynskey), up-and-coming politician Taissa (played by both Jasmin Savoy Brown and Tawny Cypress), the sociopathic nurse Misty (played by both Sammi Hanratty and Christina Ricci), and of course, former drug addict Natalie (played by Sophie Thatcher and Juliette Lewis). As the teenage version of the strong and rebellious Natalie, Thatcher adopted a grunge style for her portrayal, sporting black leather jackets, eyeliner, and a trademark blonde-bleached mullet, which the actor has since become known for. However, with new roles on the horizon, a recent interview with Thatcher reveals she's eager to explore new looks and roles.
Thatcher is responsible for Natalie's high school mullet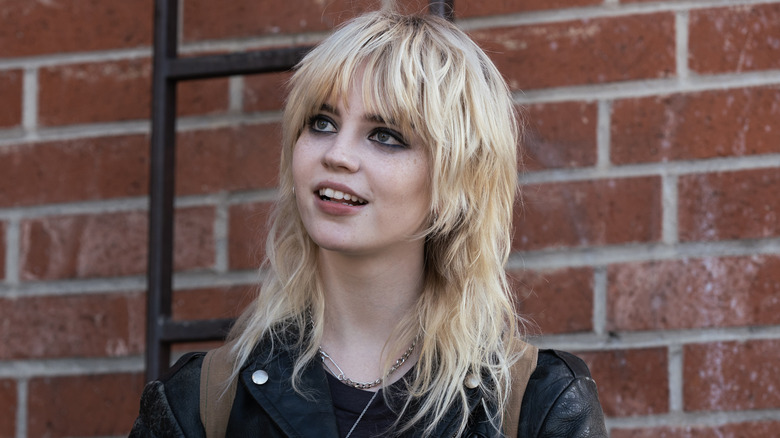 Paul Sarkis/Showtime
In an interview with W Magazine, the 22-year-old Sophie Thatcher admits she doesn't mind the shaggy mullet she dons to play her "Yellowjackets" character and reflected on its origins, which many believe was a strategic throwback to Juliette Lewis's look in the movie "Natural Born Killers." Thatcher pointed out that the filmmakers used her own hairstyle in the pilot episode and decided to keep it because it resembled Lewis's role in that particular film, noting, "I knew the mullet was a huge tie to Juliette in the Nineties." 
"Everyone recognizes me for my 'Yellowjackets' hairstyle, and I'm fine with people knowing me for that," she added. "But there's a lot more I want to experiment with, taste-wise and looks wise. Because my taste is far beyond an Eighties mullet." Thatcher, who described Natalie's style as "punk without trying to be punk," revealed she'll be leaning into Natalie's darkness more in Season 2, starting with her hair.
"This season, I have dark roots, which makes a lot more sense," she said, admitting that she also believes it will further enhance the connection between her and Juliette.
Thatcher will also have dark hair in The Boogeyman
Sophie Thatcher revealed to Teen Vogue that she had to wear a wig for part of filming "Yellowjackets" because she lost so much hair during the frequent bleaching she did switching between filming on that show and "The Book of Boba Fett," in which she plays Drash, a streetwise young member of a biker gang who worked for Boba Fett. With two major TV series under her belt, Thatcher is poised to reach new audiences on the big screen. This summer, she will star in the Stephen King adaptation of "The Boogeyman," which sees Thatcher portraying a high schooler dealing with the recent loss of her mother while trying to protect her younger sister from a terrifying entity that feeds on the grieving. 
Thatcher will also receive a Rising Star Award from the 2023 Sun Valley Film Festival, proving audiences are optimistic about her future status in Hollywood. As for Thatcher, she's still taking her newfound fame all in. She told Teen Vogue, "I looked at an Instagram post today and read the comments and got so... hurt. I was talking to Juliette [Lewis] yesterday, and she's been such a good mentor to me and is being so positive, helping me out, telling me that I can't dwell on the past. People are going to say whatever they want to say ... you kind of have to detach yourself." She also makes it clear she's ready to grow as an actor. "All that we've endured makes us stronger and gives us more stories to tell."