Why The Speeder Bike Girl From The Book Of Boba Fett Chapter 3 Looks So Familiar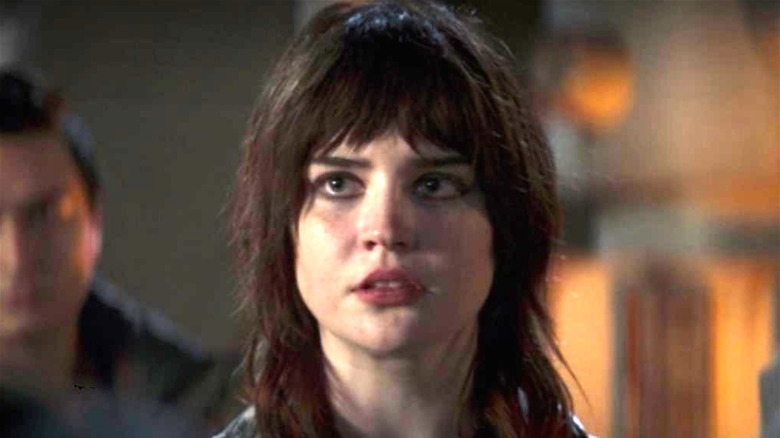 Lucasfilm/Disney+
Warning: this article contains spoilers for "The Book of Boba Fett" Chapter 3
Boba Fett (Temuera Morrison) was once considered a merciless bounty hunter when he first appeared in the original "Star Wars" saga.  But since his appearance in "The Mandalorian" and "The Book of Boba Fett," the character has quickly become a champion of the people. His kinship with the Tuskens gives him an appreciation for the disenfranchised. Soon after he frees the people from the savagery of the Pykes, he goes on to save Fennec (Ming-Na Wen) from death, and the two become inseparable allies.
Boba's passion for righteous causes continues in Chapter 3 of "The Book of Boba Fett," "The Streets of Mos Espa." When a water merchant named Lortha Peel (Stephen Root) asks Boba to put a stop to a gang stealing his water, the ex-bounty hunter finds that not everything is as it appears. One of the gang members, Drash, played by an actress named Sophie Thatcher, points out that the gang steals because they have to — there is no work to be had and the water prices are outrageous. Instead of taking Drash and her gang down, Boba hires them. Drash's tenacity impresses Boba, and perhaps he even sees some of himself in her. In addition to Boba, Drash may look familiar to audiences as well.
Sophie Thatcher played an iconic role in The Exorcist TV series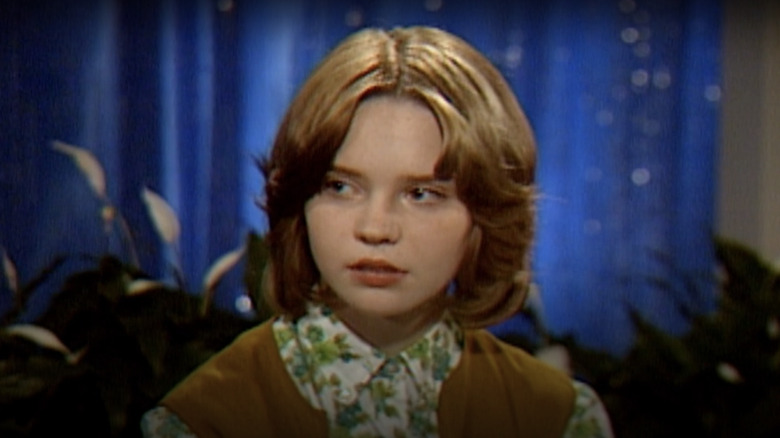 Fox
Sophie Thatcher is a young, talented actress, and her credits go back as far as 2015 (via IMDb). In 2016, one of her first significant roles was in the short-lived sequel series to one of the best horror films, "The Exorcist." The new iteration of "The Exorcist" premiered on Fox and lasted for two seasons. It features a woman named Angela (Geena Davis) whose family is being tortured by demons. Throughout the series, it is revealed that Angela is actually Regan, the young girl from the original horror film.
The viewers do get to see a young Regan again — though not played by Linda Blair this time. Instead, Regan is portrayed by Sophie Thatcher in two episodes of "The Exorcist" Season 1. Thatcher's Regan appears in television interviews demonstrating the immense strain she has been under. Her mother Chris (Chaon Cross/Sharon Gless) exploits her demonic possession for a book deal. Even with such a limited role, Thatcher explores the vulnerability and pain of the character. The audience can see how Regan realizes that she will never have a normal life again, and at a young age, Thatcher demonstrates great acting ability.
She went into space in Prospect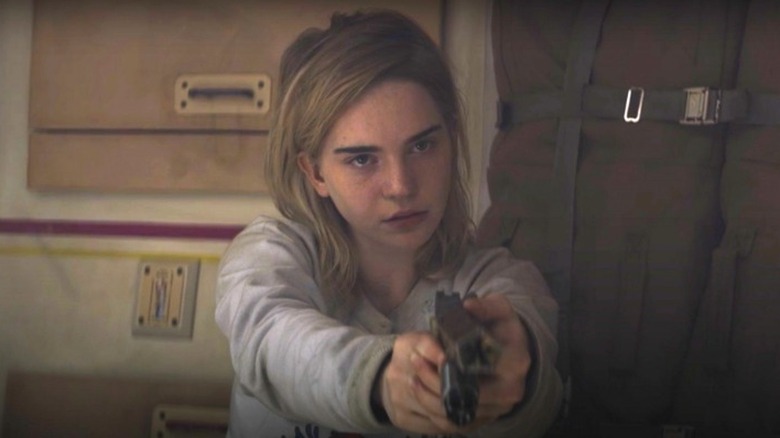 Gunpowder & Sky/Hulu
"The Book of Boba Fett" is not the first time Sophie Thatcher has shared a world with Pedro Pascal. Many may know him as The Mandalorian, but he also costarred with Thatcher in the sci-fi film "Prospect." The movie focuses on the relationship between a teenage girl and her father as they go to a moon in order to harvest gems that lay hidden in a harsh and dangerous forest. Jay Duplass stars as Thatcher's character Cee's father Damon. While foraging for treasure in the forest, they come upon Ezra (Pedro Pascal), who has dishonorable intentions, and soon enough Cee is fighting for survival on the moon. 
The film did impressively well with critics, with an 89% Certified Fresh rating on Rotten Tomatoes. Most reviews were exceedingly positive, though the film did not have a wide release, later coming out on video on demand and currently streaming on Hulu. The film is a character study and makes use of practical effects, which is not something often seen in modern sci-fi films. Instead of flashy special effects, the film leans into character development and world building. This is a precursor to the compelling projects Thatcher would soon star in, as well as the promising future she has ahead of her.
The actress made the rounds in the One Chicago universe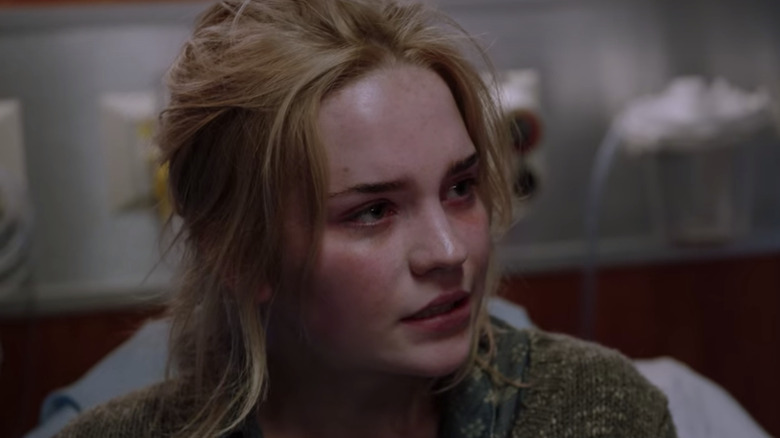 NBC
Sophie Thatcher made the rounds in the Chicago procedural dramas. Thatcher was featured in one episode of "Chicago P.D." in Season 3 as a one-off character named Carolyn Clifford. She appears in a home invasion episode in which suspects pump gas into a home to knock the victims out. Thatcher then went on to appear in Season 3 of "Chicago Med" as a different character, starring in four episodes. 
Thatcher's storyline in "Chicago Med" has more weight to it, as she portrays a homeless teenager named Debra McCormick. Because of an abusive home situation, she's started living on the streets. The doctors want to call social services but are afraid they will put her back with her abusive parents. The doctors, particularly Dr. Ethan Choi (Brian Tee), whose patient she is, struggle with the moral quandary of subjecting a child to a toxic living environment or allowing her to be homeless once she finishes treatment. Thatcher's appearance in both of these shows ramped up her career momentum.
Thatcher is a troubled teenager in Yellowjackets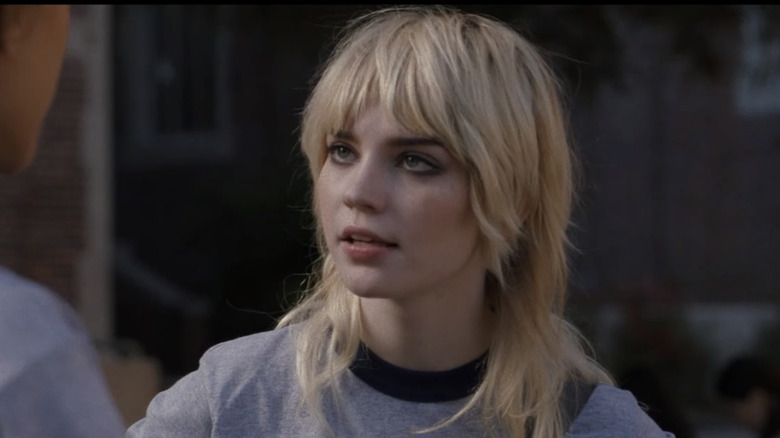 Showtime
One of the most popular new shows of this year so far is Showtime's "Yellowjackets." Just in its first season, "Yellowjackets" has fans and critics buzzing about the high school girl's soccer team whose plane crashes in the wilderness (via Vox). Starring Melanie Lynskey, Juliette Lewis, Christina Ricci, and Tawny Cypress, the show evokes a dual timeline — one in the '90s when the girl's plane crashes, and another years later when they are adults.
Thatcher plays rough outcast Natalie. Though on the soccer team with the other girls, she is one of the girls most on the outside socially. Her drinking and drug use continues into adulthood, with the character then portrayed by Lewis. Despite her troubles, Natalie has the most heart out of the girls, and she cares about people even though she has a tough exterior. The show has been lauded for how it demonstrates the specific relationship that teen girls have with each other, as well as the trauma the characters have to endure in the wilderness for 18 months.