Where You've Seen The Cast Of Netflix's We Have A Ghost Before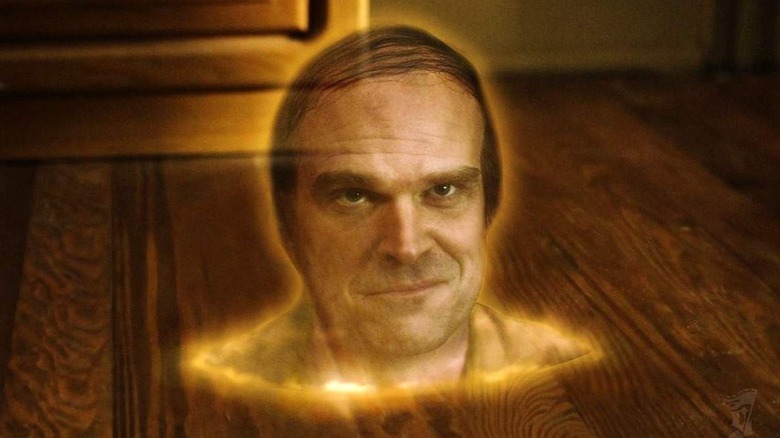 Netflix
Netflix has had quite the run of top-notch original movies lately, with 2022 seeing the release of "The Gray Man," Guillermo del Toro's "Pinocchio" and Rian Johnson's "Knives Out" sequel, "Glass Onion: A Knives Out Mystery." Not content with those run of films, however, they've continued into 2023 with the release of "We Have a Ghost," a supernatural comedy that breathes new life into the ghost buddy comedy sub-genre.
In the film, the Presley family moves into a new home that seems too good to be true. But young Kevin finds that the house is hiding a spooky secret when he records a video of a ghost in the attic. As Kevin befriends the apparition, his dad wants to profit off their discovery, and soon their new home becomes the talk of the town. But while some come out of curiosity, others have more sinister aims. In the middle of it all is Ernest, the ghost who can't seem to remember his old life, which prompts Kevin to set out with his friends to find out why he can't cross over to the other side.
A delightfully fun romp for the whole family, "We Have a Ghost" stars Jahi Di'Allo Winston, David Harbour, Anthony Mackie, Isabella Russo, and a cast of names you may not recognize at first glance. But you've probably seen them somewhere before — we're here with a primer to tell you all about them, and what else they've appeared in.
Jahi Di'Allo Winston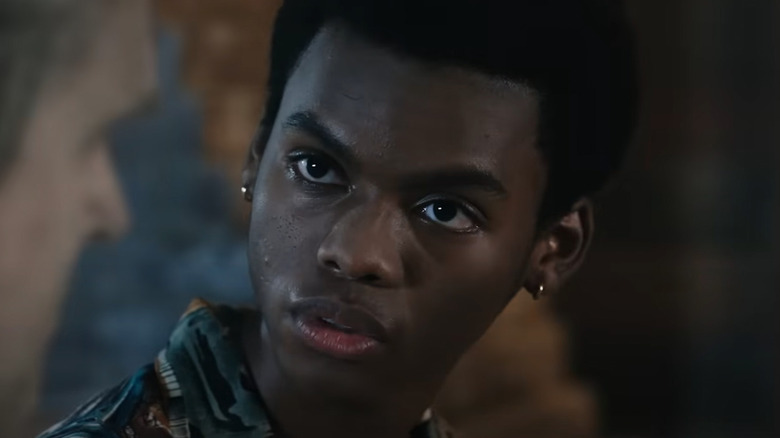 Netflix
Despite being just 19 upon the release of "We Have a Ghost," actor Jahi Di'Allo Winston — who plays teenager Kevin Presley — already has quite the filmography, though it is his first project in a few years. In 2020, Winston played a supporting role in "The Violent Heart," a dark romantic drama headlined by Jovan Adepo, Grace Van Patten, Lukas Haas, and Mary J. Blige. But it's not as if "We Have a Ghost" is his first leading role: That same year he also got top billing in the HBO Max film "Charm City Kings," where he played dirt biker Mouse.
What might be most remarkable about Winston, however, is just how many big stars he's had the opportunity to act with at such a young age. This includes Daniel Kaluuya and Bokeem Woodbine in 2019's "Queen and Slim" and Bill Murray, Adam Driver, and Danny Glover in "The Dead Don't Die." In Neil Burger's "The Upside," he even got to star alongside the likes of Kevin Hart, Bryan Cranston, and Nicole Kidman.
You might also recognize Winston from a couple of TV roles. In addition to one-off guest spots in episodes of "The Resident" and "The Plug," the young actor starred with Peyton Kennedy and Patch Darragh in the Netflix teen comedy "Everything Sucks," set in an Oregon high school in the 1990s. In his very first on-screen role back in 2016, he had a recurring role in AMC's "Feed the Beast," a crime drama starring "Friends" alum David Schwimmer.
David Harbour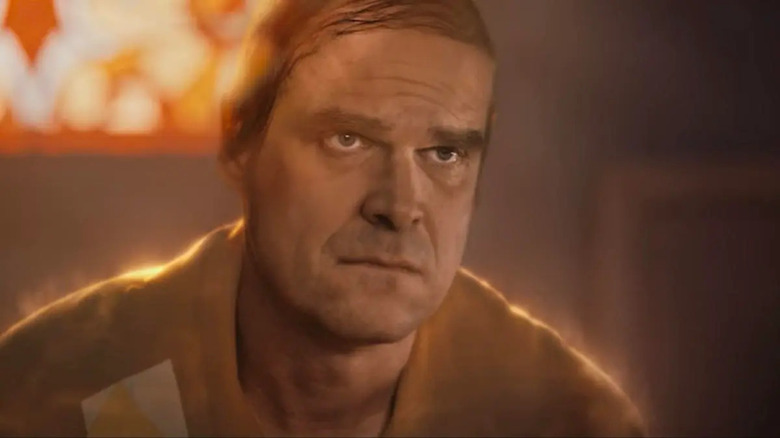 Netflix
Actor David Harbour plays the titular spirit in "We Have a Ghost," a role that showcases his ability to give life (no pun intended) to offbeat characters. No doubt most audiences will recognize him from "Stranger Things," where he plays Sheriff Hopper. But while that's the show that brought Harbour to most people's attention, he's had a long and fruitful career outside of that series.
Starting out on TV, Harbour made guest appearances in several "Law & Order" shows before making the leap to the movies. He had small roles in "Kinsey," "Brokeback Mountain," and "War of the Worlds." We could rattle off a laundry list of major movies that Harbour had small roles in throughout the 2010s, including "Quantum of Solace," "End of Watch," and "The Equalizer," but it was back on TV where he started to gain the attention of audiences. He secured a recurring role in the short-lived ABC drama "Pan Am" in 2011, and then graduated to "The Newsroom," where he played TV anchor Elliot Hirsch.
In 2014, Harbour joined the main cast of a prime-time series, starring alongside Katherine Heigl and Alfre Woodard in the spy thriller "State of Affairs" as the White House Chief of Staff David Patrick. Following his breakout role as Jim Hopper, Harbour saw leading movie roles come his way: He took the starring role in the 2019 reboot "Hellboy," and played Red Guardian in Marvel's "Black Widow." In 2022's "Violent Night," he even played a deadly vigilante version of Santa Claus.
Anthony Mackie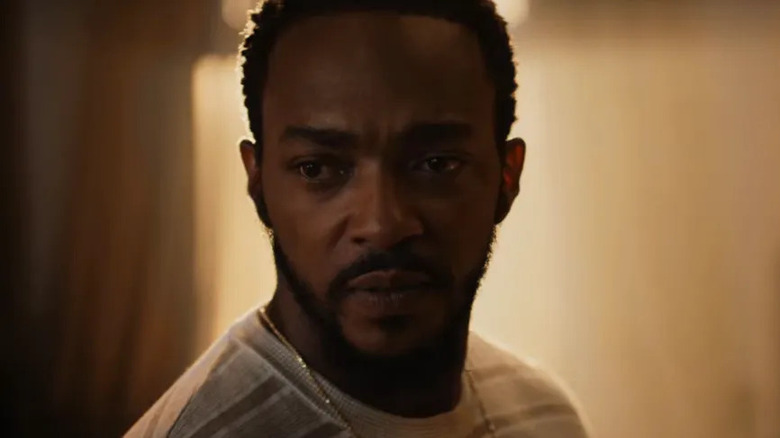 Netflix
Kevin Presley's father is none other than Anthony Mackie, another star who had a long career before his breakout role as Sam Wilson in the MCU. He's now Marvel's Captain America, but it's a long way from where Mackie started out in the early 2000s. Back then he was appearing in cult favorites like Eminem's "8 Mile" as rapper Papa Doc, one of his earliest film roles.
From there, Mackie took on supporting roles in the Denzel Washington remake of "The Manchurian Candidate" and Clint Eastwood's "Million Dollar Baby." Larger parts started coming his way later that decade: In 2006 he starred with Ryan Gosling in "Half Nelson," written by "Captain Marvel" scribes Ryan Fleck and Anna Boden, and led the basketball drama "Crossover." He played another athlete in the ESPY-nominated "We Are Marshall" with Matthew McConaughey, but it was 2008's Oscar-winning "The Hurt Locker" that earned him real attention.
Not all of his films have been all winners, though, with disappointments like "What's Your Number," "Real Steel," and "Abraham Lincoln: Vampire Hunter" mixed in as well. But after securing the role of Sam Wilson in "Captain America: The Winter Soldier," Mackie's career really took off. Since then, he's starred in Netflix's "Altered Carbon" and even played Martin Luther King Jr. in the HBO movie "All the Way" opposite Bryan Cranston.
Erica Ash
Netflix
Starring in the role of Melanie Presley, Kevin's mother, is Erica Ash. Readers might know Ash best from when she was part of the cast of the Starz series "Survivor's Remorse," the four-season comedy that also featured Mike Epps ("Next Friday") and Teyonah Parris ("WandaVision"). But that was far from her only major role. She was also a cast member on "MADtv" in the late 2000s, and had a recurring role as Bridgette Hart in "Real Husbands of Hollywood" with Kevin Hart.
In 2018, Ash led the cast of the BET legal drama "In Contempt," where she played New York lawyer Gwen Sullivan. She's had success on the big screen as well, appearing in a leading role in "Scary Movie 5" in 2013, then supporting Haley Bennett and Lucas Till in the horror thriller "Kristy" a year later. She appeared again with Mike Epps in "Uncle Drew" alongside Kyrie Irving and a host of real-life basketball stars like Shaquille O'Neal, Reggie Miller, and Nate Robinson. But her career also includes a number of indie projects that may have flown under the radar, such as the 2016 drama "Jean of the Joneses" and "Violet" which featured Olivia Munn, Justin Theroux, Todd Stashwick, and Steve Agee.
Niles Fitch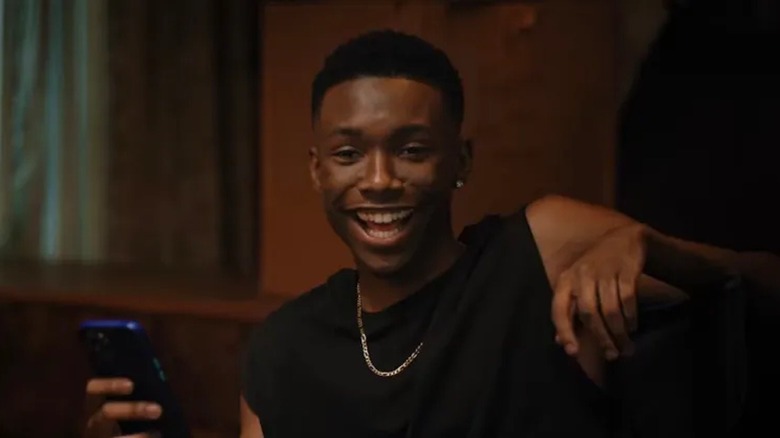 Netflix
Rounding out the Presley family is Niles Fitch, who stars in "We Have a Ghost" as Kevin Presley's older brother Fulton. Fitch got his start as a child actor more than a decade ago, with his first role in an episode of the long-running Tyler Perry comedy "House of Payne." A few years later, Fitch turned up in a recurring role in Season 7 of "Army Wives" as Deuce Montclair, and later appeared in the Bill Murray drama "St. Vincent." But his star-making turn came two years later in the critically acclaimed prime-time drama "This is Us."
Fitch plays a young version of Randall in the parallel past storyline, eventually becoming a part of the main cast in the second season. The role earned him plenty of accolades, even winning him a Screen Actors Guild Award for his performance in 2019. Though the role of young Randall remains his most recognizable, he's also appeared in episodes of "Unbreakable Kimmy Schmidt," the Bill Burr comedy "Immoral Compass," and "Mixed-Ish," as well as two of episodes of "Atypical."
With "This is Us" wrapping up in 2022, Fitch is ready to move on to the next phase of his career, beginning with "We Have A Ghost." Whether he sticks with streaming movies, gets plucked for the next big blockbuster, or heads back to TV is anyone's guess.
Isabella Russo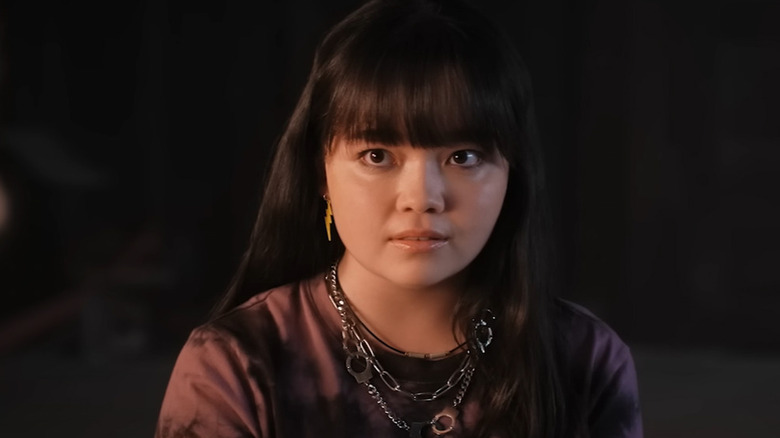 Netflix
"We Have a Ghost" isn't just about Kevin Presley and his family. When they find the ghost named Ernest, Kevin confides in his new school friend Joy, played by actress Isabella Russo, and the two set out to solve a past life mystery together. A relative newcomer to the screen, Russo can count "We Have a Ghost" as her first major movie role. Before it, she'd had just a short career on the small screen, getting her earliest part in a 2018 television movie titled "For Love."
Within a year, though, Russo was getting new roles elsewhere, including a two-episode stint on "Crashing," the quasi-autobiographical comedy from writer/director Pete Holmes about his life as a stand-up comic in New York City. Russo next did what most up-and-coming actors do: Find work in episodes of "Law and Order." In her case, she has the distinction of playing a character that crossed over two separate series' in the franchise, appearing in episodes of both "Law & Order: Special Victims Unit" and the 2022 spin-off "Law & Order: Organized Crime."
Outside of on-screen performances, Russo has also done plenty of voicework in animation that might make her recognizable to younger audiences. She's played several roles on popular animated shows, which include her roles as Tali in four episodes of "Wolfboy and the Everything Factory," and characters in a pair of Netflix originals, "Centaurworld" and "Princess Power."
Tig Notaro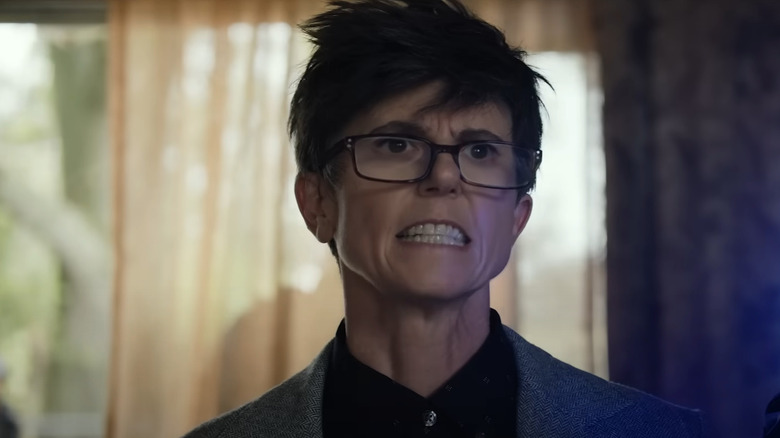 Netflix
Every movie needs an antagonist, even a light-hearted supernatural family comedy like "We Need a Ghost." Filling that role in the Netflix movie is Tig Notaro, one of today's brightest comic stars. Tig was born in Pass Christian, Mississippi, before bouncing around from Houston to Denver. Eventually she landed in Los Angeles, where she began doing stand-up in the late 1990s after a brief career running her own booking and management firm. After the turn of the millennium, Tig found some success on television when in 2004, she appeared on "Comedy Central Presents."
Soon roles in TV comedies came her way, with a recurring part in "The Sarah Silverman Program" in the late 2000s, and a role on "In the Motherhood" in 2009. But it wasn't just indie work, as she later secured guest appearances on everything from "Community" to "The Office" in the early 2010s. She then got her own show in 2015, the semi-autobiographical comedy "One Mississippi" on Amazon Prime. She plays Tig Bavaro, an analog for herself, a young woman who deals with the death of her mother, a cancer diagnosis, and a double mastectomy, all hardships she encountered in her real life.
In 2019, Notaro joined the cast of "Star Trek: Discovery" in a recurring role as engineer Jett Reno. But audiences may also recognize her voice thanks to her popular comedy podcasts, "Don't Ask Tig" and "Tig and Cheryl: True Story," as well as her contributions to the now-defunct series "Professor Blastoff."
Tom Bower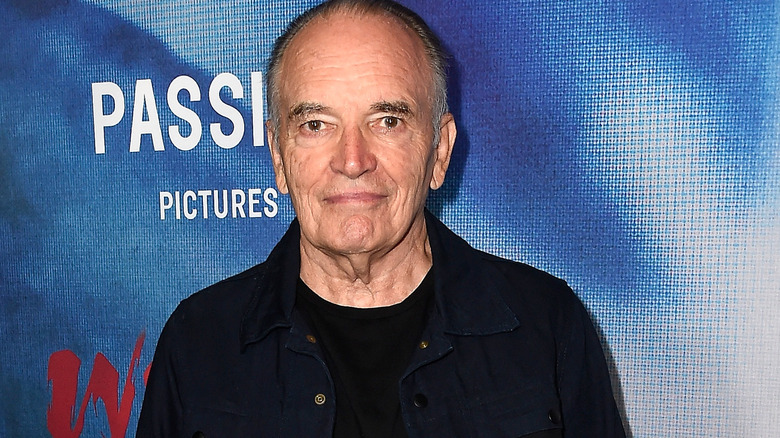 Frazer Harrison/Getty Images
While Tig Notaro plays a CIA agent out to capture the ghost named Ernest in "We Have a Ghost," there's another, more sinister foil in the film, played by veteran character actor Tom Bower. But we have to preface our overview of Bower's career with the caveat that, due to it stretching back to the early 1970s, and with nearly 200 roles to his credit, we might not be able to help you identify exactly where you may have seen him before. But we'll do our best to give a brief rundown of some of his more prominent projects, which starts with the '70s sitcom "The Waltons."
In that iconic series, Bower showed up in more than 25 episodes as several different characters during its nine-season run. From there, Bower became a regular on TV, guesting on a number of popular hits like "Murder, She Wrote," "Miami Vice," and "Hill Street Blues," and continued making those kinds of one-off appearances for decades. This includes popping up in "NYPD Blue," and the "X-Files" in the '90s, "NCIS" and "Battlestar Galactica" in the 2000s, and "The Office" and "Criminal Minds" in the 2010s.
At the movies, Bower has also been a regular, with small roles in more films than we can count. Most recently, he played Lou in "El Camino," the "Breaking Bad" sequel film, but can also count action movies like "The Negotiator," "Clear and Present Danger," and "Aces: Iron Eagle III" among his credits.
Jennifer Coolidge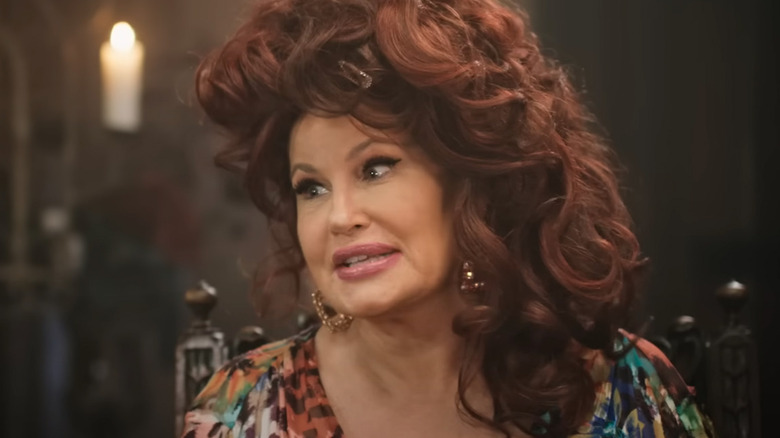 Netflix
Some of the fun of "We Have a Ghost" comes from its goofy side characters who pop up when the Presley family tries to profit off the presence of Ernest the ghost. One of the best is local TV psychic Judy Romano, who comes to the house to meet the eponymous ghost for her show. Judy is played by actress Jennifer Coolidge, who has most recently made waves with her role as Tanya McQuoid-Hunt in the acclaimed HBO series "The White Lotus," which earned her an Emmy for her performance. 
Those who grew up in the '90s, however, probably remember her best for her role in "American Pie," where she played Stifler's mother. Not long after, Coolidge played Sherri Ann Cabot in Christopher Guest's "Best in Show," and she later took a role in Guest's 2003 follow-up, "A Mighty Wind." She was also Paulette in "Legally Blonde," leading to appearances in a string of classic early 2000s comedies like "Zoolander" and "Pootie Tang."
She can also proudly include the likes of "Seinfeld" and "Friends" on her resume, thanks to a pair of single-episode appearances. She had a recurring role on "The Secret Life of the American Teenager" and was part of the main cast of "2 Broke Girls" for its entire run. Coolidge also has experience behind the mic, providing voices for some of the best animated adventures in recent years, including "Rick and Morty," "Gravity Falls," and the HBO Max original "The Fungies."
Nicholas X Parsons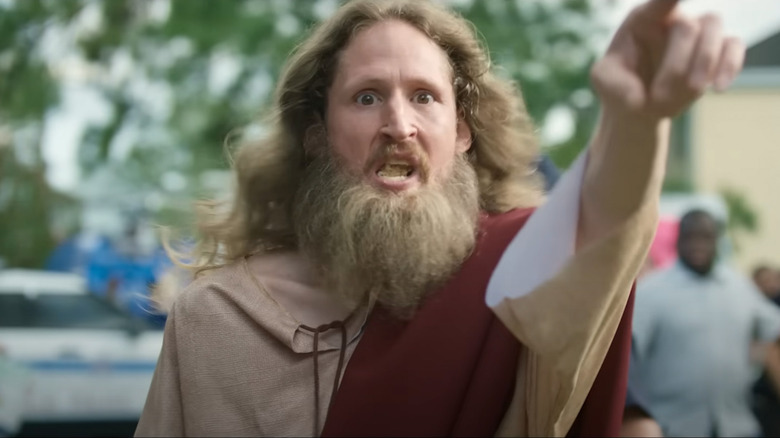 Netflix
In addition to TV host and local medium Judy Romano, the presence of Ernest attracts a host of oddballs to the Presley home, and that includes Jesus Christ himself. Ok, maybe not the real Jesus Christ, but a man pretending to be, brought to you by actor Nicholas X. Parsons. You may not know his name, or even his face, but it's likely that you've seen him around, even if it's just in the background of a densely packed scene. While he does get a pretty fun role in "We Have a Ghost," Parsons has never had a big part in a hit TV series, or even a large recurring role, and is more often than not playing unnamed background parts. Still, his filmography is dotted with some popular projects.
Starting his career in the late '90s, Parsons began with an uncredited role in "Cry Wolf" from filmmaker Jeff Wadlow (director of "Kick-Ass 2"). What followed were mostly low-budget, little-seen indie films like "In the Pines" and television movies like "Big Mike" and "Mille and the Muse." Later in his career, he had blink-and-you'll-miss-it roles in hits like "Rock of Ages" and "Pain and Gain." But while it's unlikely you've noticed Parsons in those films, you may have been able to spot him on the small screen, where he turns up in episodes of "Burn Notice," "The Inbetweeners," and "Preacher."
Steve Coulter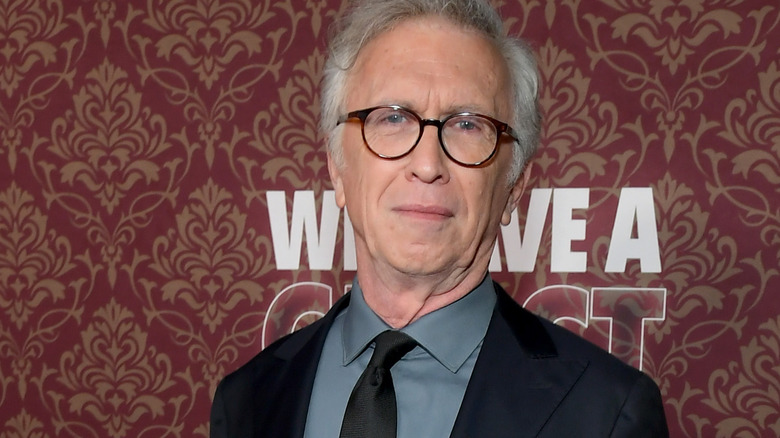 Charley Gallay/Getty Images
If you think you've seen Steve Coulter before, you're probably right. In "We Have a Ghost," Coulter plays CIA Deputy Director Arnold Schipley, but just a year ago you may have seen him in Marvel's "She-Hulk: Attorney at Law" series on Disney+. There he plays She-Hulk's overbearing attorney boss Holden Holliway, partner at the firm Goodman, Lieber, Kurtzberg & Holliway. He was also Sheriff Tommy Bailey for a four-episode stint on the Starz series "P-Valley" not long before, and starred as real-life royalty Prince Charles in a pair of TV biopics, "Harry & Meghan: Escaping the Palace" and "Harry & Meghan: A Royal Romance."
If you're a horror fan, you might know Coulter as Father Gordon in three "Conjuring" films, plus the spin-off "Annabelle Comes Home." But while his career stretches back decades, some of his biggest hits have come more recently, with three episodes of the Kevin Costner hit "Yellowstone" under his belt, as well as three episodes of "House of Cards."
Other notable roles for Coulter include Reg Monroe on "The Walking Dead," and Elijah Bowman on "Banshee." Coulter has also made plenty of single-episode appearances, so don't be surprised if you see him show up in rewatches of "In the Heat of the Night," "One Tree Hill," or "Dawson's Creek."
Faith Ford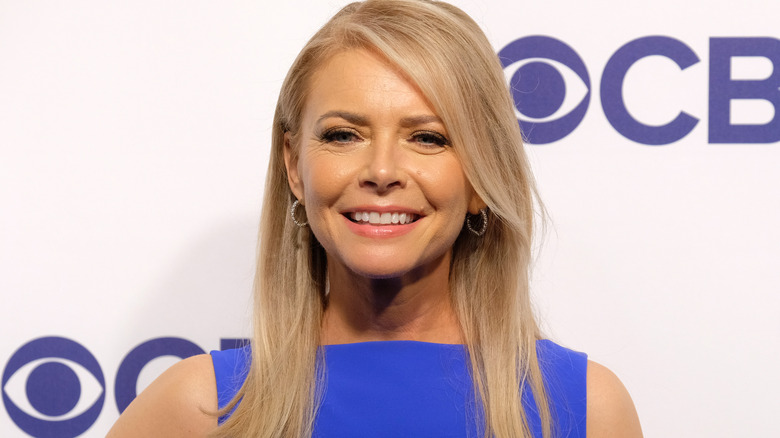 Matthew Eisman/Getty Images
The cast of "We Have a Ghost" has a handful of stars, a few newcomers, and a bunch of veteran character actors. But it also has at least one face that you probably know from some of TV's biggest hits of years gone by, even if you can't place it at first. That would be Faith Ford, who plays Barbara Mangold, and if there's any actor that has audiences pointing at the screen trying to trigger a memory of where they know them from, it's her.
Though it's been some time since she appeared in a high-profile project, Ford is best known for her role in the iconic '90s workplace sitcom "Murphy Brown," where she played journalist Corky Sherwood. She played the part for the series' entire 10-season run, earning herself five Emmy nominations in the process. After "Murphy Brown" went off the air, Ford got her own show, "Hope & Faith" alongside Kelly Ripa, Ted McGinley, and Megan Fox, which ran for three years.
Those were far from her only shows, though. In the early '90s, she was a member of the cast of "The Norm Show" with Norm Macdonald, and played the title role in the short-lived 1998 sitcom "Maggie Winters." In 2018, she returned to play Corky Sherwood in a single-season revival of "Murphy Brown," her first regular role since a run on "Carpoolers" in 2007.