Bruce Willis' Wife Pleads For Education And Space From The Media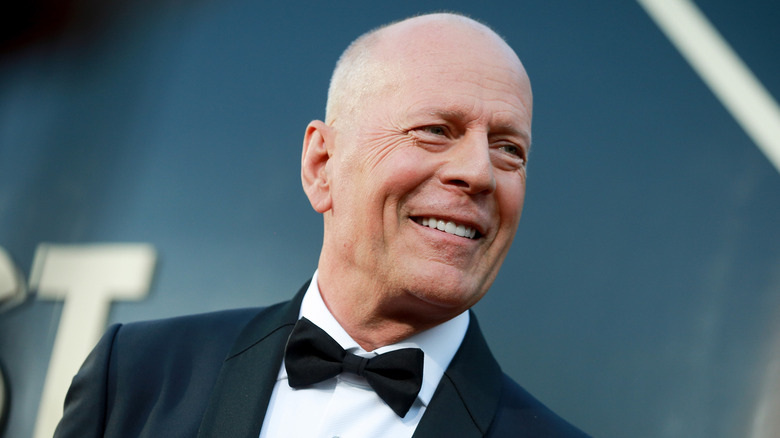 Rich Fury/Getty Images
Almost one year ago, following apparent rumors that had been swirling around for years, Bruce Willis' family announced that the 67-year-old actor had been diagnosed with aphasia and would retire from acting. Last month, they made a statement that his condition had progressed, and doctors had made a diagnosis of frontotemporal dementia. It's a disease marked by challenges with communication, motor-related problems, and personality changes. The Mayo Clinic says the condition is the cause of up to 20 percent of dementia cases. 
The February statement came from Willis' current wife, Emma, along with his ex-wife Demi Moore and his five daughters: Rumer, Scout, Tallulah, Mabel, and Evelyn. It offered some information on the untreatable disease while expressing the belief that Willis would have wanted to raise awareness of the disease and others suffering from it. "We have been so moved by the love you have all shared for our dear husband, father, and friend during this difficult time. Your continued compassion, understanding, and respect will enable us to help Bruce live as full a life as possible," the family shared.
The actor, best known for films like "Die Hard," "Pulp Fiction," and "Armageddon," was seen out and about last week for the first time since the new diagnosis. This may have spurred the recent communication from Willis' family directed at the paparazzi, who have been more interested than ever in Willis' comings and goings.
Willis' wife asks paparazzi not to bother him while he's out and about
Paparazzi were on hand when Bruce Willis went out for coffee in Santa Monica after meeting with a couple of friends. Publications like The Daily Mail got images of the outing, with some outlets reporting that Willis appeared confused. Videos, like one shown by Celebrity Fanpage HKI, show paparazzi calling out to Willis, trying to get his attention. After this, the veteran actor's wife, Emma Heming Willis, made an emotional plea through an Instagram video to stop people from doing just that. 
She began by saying that getting someone with dementia out back into the world safely is "difficult and stressful." Addressing the video to the photographers and other paparazzi trying to get exclusives about her husband, she said it was clear education was needed. In that spirit, she offered a public service announcement to members of the media:  "Just keep your space. I know this is your job, but maybe just keep your space. For the video people, please don't be yelling at my husband asking him how he's doing or whatever — the 'woohoo'-ing and the 'yippee-ki-yays' — just don't do it, okay? Give him his space. Allow for our family or whoever's with him that day to be able to get him from point A to point B safely."
She also asked caregivers and dementia care specialists to make suggestions on how to help loved ones navigate the world safely in the wake of a diagnosis like Willis'.