A Surprising Number Of The Office Cast Members Interned For Conan O'Brien (But Not B.J. Novak)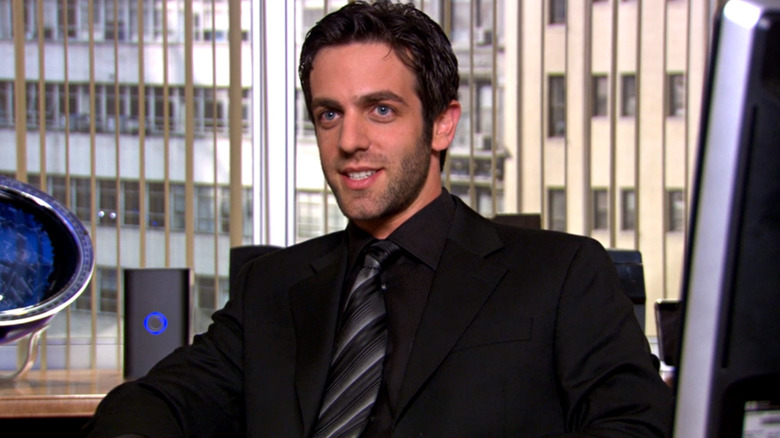 NBCUniversal Syndication Studios
B.J. Novak will be forever remembered as the ambitious but often wildly misguided Ryan Howard on "The Office." The character began as a lowly temp who somehow, without even trying, won the heart of Dunder Mifflin manager Michael Scott (Steve Carell). Similarly, the television series that got its start reimagining its British predecessor struck up a high-profile celebrity relationship from the beginning with late-night personality Conan O'Brien.
"The show, 'The Office,' I really believe [it's] one of the funniest shows in television in a long time," O'Brien said during an interview he conducted with Novak back in 2007 (via Conan O'Brien). O'Brien not only gushed about the quality of the show itself, but he was also thrilled to have been a small part of "The Office" family during awards season. "I had a lot of fun," O'Brien said of collaborating with the cast of "The Office" in the same sit-down. "And I was thinking to myself afterwards, 'I bet you that's always a fun set.' You've got so many funny people working on that show."
Much like the majority of the actor's castmates, Novak spent more than his fair share of time over the years promoting "The Office" on O'Brien's talk shows. Coincidentally, a handful of the cast's regulars learned about their craft working on "Late Night with Conan O'Brien." However, Novak missed out on those internships.
Novak wasn't an intern for Team Coco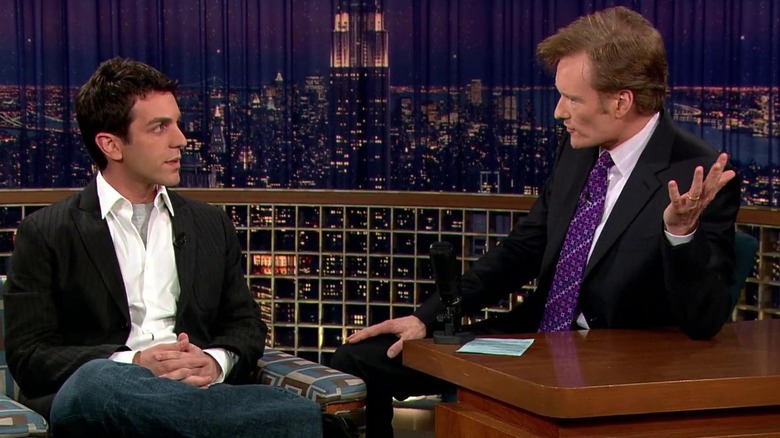 NBC/YouTube
"The Office" was B.J. Novak's follow-up gig to the five episodes he spent on "Punk'd" and his appearance in the television movie "The Offensive Show." Yet, unlike four of the lucky actors who also made "The Office's" Dunder Mifflin their home away from home, Novak didn't intern on "Conan." "I didn't know that was an option," Novak said during an interview on "Conan." "When they were talking about it on set, I felt so left out."
In 1994, Angela Kinsey became the first of the four stars from "The Office" to intern for the late-night series, and Kinsey worked for the talk show's band leader and drummer, Max Weinberg. Then, Mindy Kaling joined the comedian's staff in 1998. "You are my comedy hero," Kaling said in an interview on "Conan." "I couldn't believe how starstruck I was working there." Kaling then admitted that she spent most of her time following Conan around rather than completing her designated duties.
Two years later, John Krasinski began his stint learning under Conan's tutelage. "I had a blast," Krasinski said during a 2005 sit-down with his former boss (via "Conan"). "My job actually was just to hang out backstage with you just before you went on, and you'd run through some monologue jokes." Finally, Ellie Kemper joined Team Coco in 2005 before she embarked on her journey as Erin on "The Office" in 2009.