Criminal Minds: Evolution Wasn't The First Time Zach Gilford's Wife Played His Partner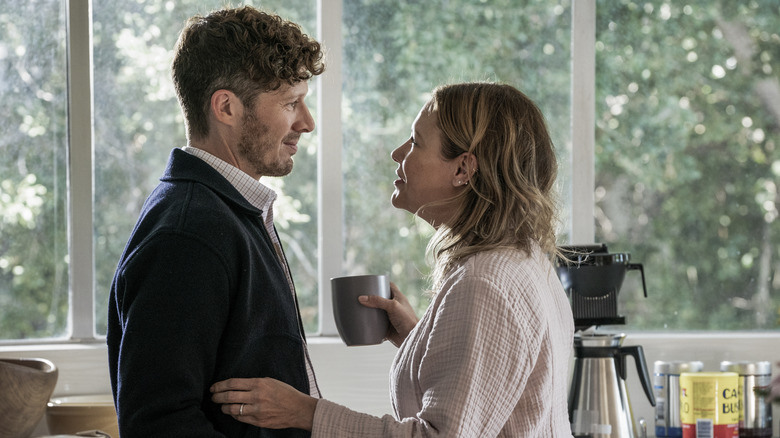 CBS
"Friday Night Lights" actor Zach Gilford crept onto TV screens as serial killer Elias Voit in the Paramount+ revival series "Criminal Minds: Evolution." Voit begins his journey to the dark side after his parents are killed in a fire that he started. Raised by his uncle, a serial killer himself, the prolific villain, also known as Sicarius, stalked and abducted his victims. He stored the bodies of those he killed in shipping containers before being incarcerated in the season finale of the show, titled "Dead End."
Between murders, Elias Voit was a devout family man, living a happily married life with his unsuspecting partner, Sydney, and his daughters. The marriage disintegrates after Sydney learns of Elias' secret murderous life. Sydney is played by Zach Gilford's real-life wife, "The Glades" actress Kiele Sanchez. Gilford and Sanchez have been married since 2012 and have one daughter. They met on the set of the TV pilot for "The Matadors." Those two TV shows aren't the only times they have worked together. They also played a couple in a popular horror franchise sequel years before their team-up in "Criminal Minds: Evolution."
Gilford and Sanchez played an estranged married couple in The Purge: Anarchy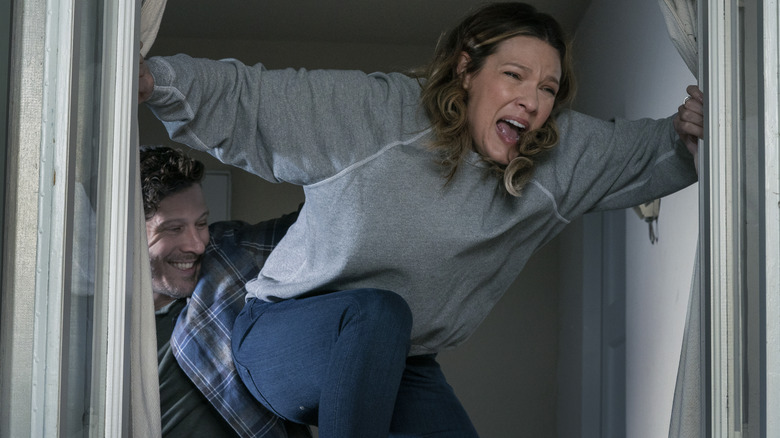 CBS
Zach Gilford and Kiele Sanchez translated their real-life relationship into playing an on-screen married couple in the 2014 horror hit "The Purge: Anarchy." They play an estranged couple stranded by the side of the road as the annual Purge begins. They spend the terror-filled night running and hiding in cars before Gilford's character Shane is tragically killed by a group of anti–Purgers. Gilford told Collider about working with his wife on the film. "This was the first time we really got to see the other person work and how they carry themselves on a set," Guilford said. "I think both of us always feel like, 'I'm the crew's favorite person on set.' ... She's everyone's favorite person, not me."
The pair would play a married couple again in 2022 for "Criminal Minds: Evolution," and Sanchez's casting came as a surprise to Gilford. He told E! News, "I was literally kissing my wife goodbye, and she looked at her phone and went, 'Oh, I just got an offer to play your wife on Criminal Minds.'" He recalled that the producers kept pretty tight-lipped about Sanchez's potential casting so as not to put any pressure on their family. It all worked out in the end, and Gilford and Sanchez seemed to enjoy working together on both occasions.