The Murder Behind The Sopranos' Iconic Opening Theme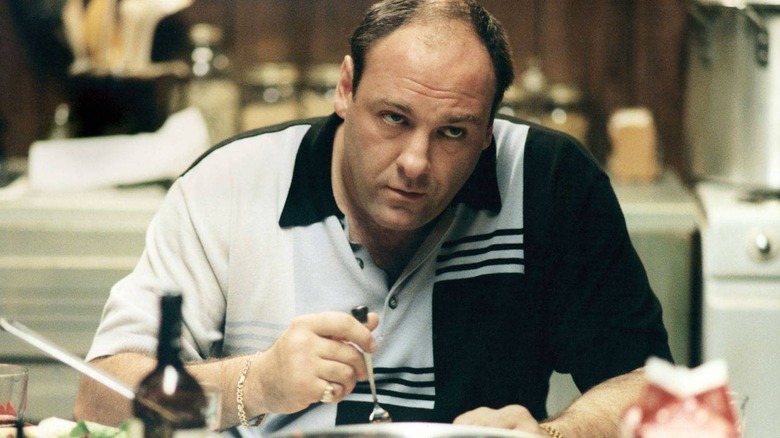 HBO
When the modern era of prestige television began in the late-'90s, one series was at the forefront of the movement, and that show was "The Sopranos." The HBO crime drama became an overnight sensation during its first season and carried the majority of that momentum through all 6 seasons of the series. 
Though "The Sopranos" followed the violent duel life of New Jersey mobsters like Tony Soprano (James Gandolfini) and Christopher Moltisanti (Michael Imperioli), the opening theme of the series was relatively subdued, simply showing Tony as he drives through New Jersey on his way home to a menacing tune by Alabama 3 called "Woke Up This Morning."
However, as it turns out, the song has a sinister edge for a reason. The iconic opening to all 86 episodes of "The Sopranos" was inspired by a real-life murder, though it didn't involve organized crime or the mafia as fans might expect it to, but rather a much more conventional killing.
The song was written about a murder by an abuse survivor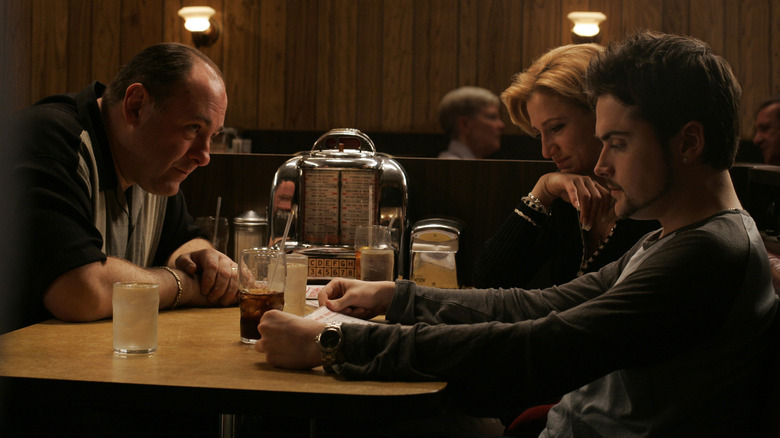 HBO
When law enforcement begins the process of investigating a murder, they generally focus on those closest to the murder victim, and this case was no different. "Woke Up This Morning" was inspired by a murder that took place in Warwickshire, England, in 1989.
Sara Thornton had finally had enough of her abusive, alcoholic husband and had stabbed him to death with a knife. "So she woke up one morning and decided to go and get herself a knife," songwriter Larry Love of Alabama 3 told LADbible. "That would have been the lyric, but it didn't quite sound right, so we changed it to gun. The rest is history."
While she initially went to prison for her crime, she had her charge downgraded at a 1996 retrial and was subsequently released. This is likely in response to the rise of a condition called Battered Woman Syndrome, which helps to explain the amount of mental distress and trauma that years of being abused can leave on a victim.
How the song ended up on "The Sopranos," though, is more of a coincidence than anything. It would seem that creator and showrunner David Chase just happened to be driving the same stretch of New Jersey that Tony drives in the opening when the song came on. He thought the song fit what he was going for with his new series and suggested it to HBO as a result.
If you or someone you know is dealing with domestic abuse, you can call the National Domestic Violence Hotline at 1−800−799−7233. You can also find more information, resources, and support at their website.
Richie Aprile's death in The Sopranos bears a similarity to the killing
Longtime fans of "The Sopranos" will recall that there was actually a murder on the show back in Season 2 that echoed these real-life events as well. Season 2, Episode 12 ("The Knight in White Satin Armor") saw Janice Soprano (Aida Turturro) shoot her new husband, Richie Aprile (David Proval), to death after he struck her during an argument.
Though Janice doesn't go through the long-form trauma that Sara Thornton went through before taking matters into her own hands, Richie is an extremely dangerous and violent criminal with some pretty outrageous sexual predilections. With that in mind, there were few fans or characters within the show itself who were sad to see the psychopathic mobster get his comeuppance from Janice.
Though the jury is still out on whether the creative team behind "The Sopranos" wrote this altercation into the story as a sly nod to the real-life events behind the theme song, it nonetheless remains an intriguing coincidence that an event from one of the episodes would so closely parallel the inspiration for the theme song.