Chris Rock Finally Addressed 'The Slap' And Twitter Is Going Wild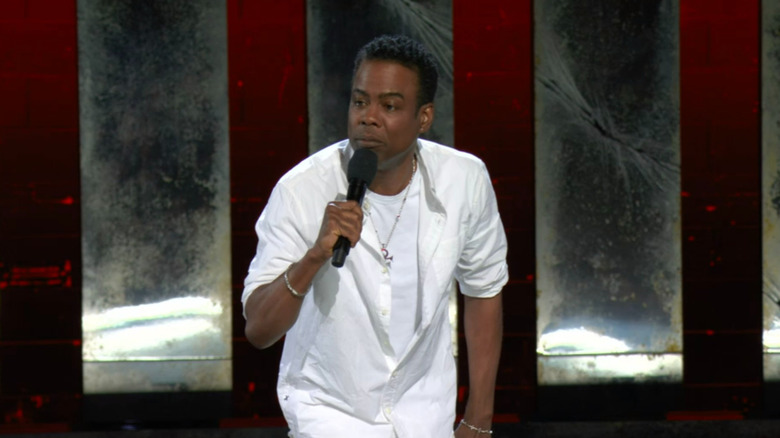 Netflix
After keeping quiet for nearly a year, Chris Rock finally addressed 'the slap' in Netflix's first-ever live special: "Selective Outrage."
While Will Smith has largely apologized for his actions, Rock remained silent, plotting... waiting for the perfect opportunity to unspool his thoughts in a public manner. With "Selective Outrage," Rock ruminated on contemporary American politics, complained about Disneyland, and discussed his experience with raising spoiled children. Of course, everyone was waiting for the "Madagascar" voice actor's thoughts on 'the slap' and boy, did he deliver. In the hour-plus special, Rock shifted the blame directly to the "Bad Boys" actor and his wife, Jada Pinkett Smith, saying that the superstar Oscar-winner practiced "selective outrage" with his violent actions. Rock made it a point to drive home that he's not a victim and that he took 'the slap' with grace, likening himself to professional boxer Manny Pacquiao.
As the applause and cheers continued, the "Everybody Hates Chris" creator expressed how he's smaller in stature than Smith, reminding viewers around the world that Smith once played heavyweight champion Muhammad Ali in Michael Mann's biopic. For Netflix, the live-event was a boon, allowing them to be the exclusive home for Rock's unfiltered thoughts on 'the slap.' As expected, Netflix and Rock pretty much got exactly what they wanted with the special: Twitter all riled up.
As the special wrapped up, social media quickly began to turn into a dumpster fire, with fans (and haters) sharing their thoughts on the whole ordeal.
Some viewers loved Chris Rock's unfiltered thoughts on 'the slap'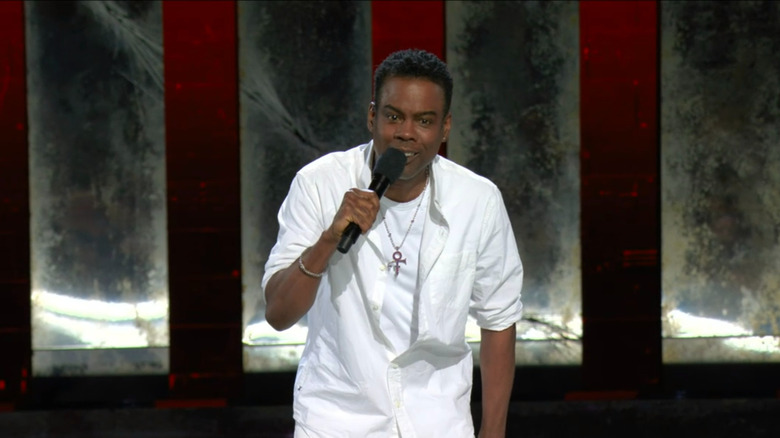 Twitter's gonna do what Twitter does and Chris Rock found his fair share of advocates and supporters following his comments in the Netflix special. 
"Someone call the police," tweeted user @ThePRGMR. "Chris Rock just killed Will Smith onstage." Another user couldn't help but chuckle at Rock's apt use of the word "entanglements" during the special's final, jaw-dropping moments. "That last ten minutes was savage AF lol," shared @marcpolite.
Over on Reddit, the response was mostly positive, though user u/Driew27 couldn't help but express disappointment that Rock fumbled his joke referencing Smith's "Emancipation" and "Concussion." Others were just glad to see the "Spiral" star finally address his frustrations in a public forum. "Chris really needed to get this will smith stuff off his chest," shared u/Antique_Serve_6284. These sentiments were echoed by user u/SunsetDreams1111, who praised the comedian for airing his anger and emotions, warts and all. "He got to use his voice and speak his truth and from his heart [ ... ] I really thought he handled the situation well [because] as Chris said, 'he's not a victim,' but he still does get to speak the truth of how he feels," they wrote.
Some viewers were more mixed on Rock and Netflix's live gamble. "Ending bits were funny, and to be expected, and glad we got it," shared user u/ kyleadam. "But the first 50 minutes were so average." Another user went a step further and found the entire special to be rote, saying, "I've just seen this act done by every comedian for the past 10 years so at this point I'm sick of it." Others, meanwhile, were definitely not pleased by Rock's harsh words regarding Smith's actions on Oscar night.
Others found Chris Rock's comments tasteless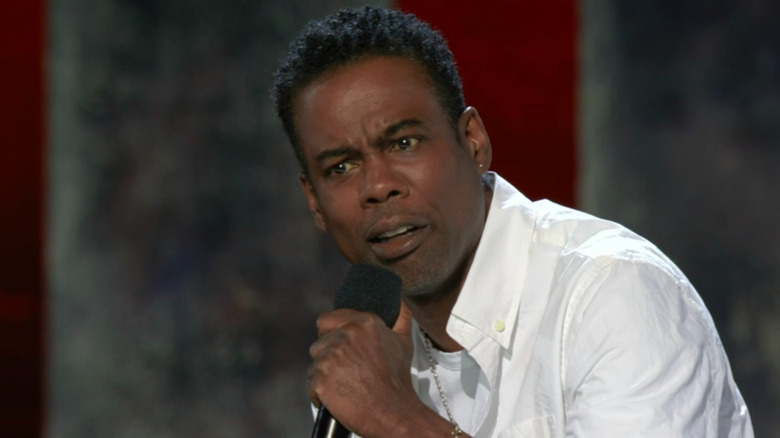 In a viral Tweet, user @NicsuPR pointed out that Chris Rock has no publicly known relationship to the city of Baltimore, where the Netflix special was shot. They continued by revealing that Jada Pinkett Smith was born and raised in Baltimore. "Ya'll keep thinking it's just jokes," they continued, suggesting that Rock went out of his way to berate Pinkett Smith. "The disrespect isn't a bug, it's a feature," replied @CarmenTS. Another viewer expressed their displeasure at the "Grown Ups" star repeatedly calling Pinkett Smith an expletive.
"Omg this is so uncomfortable," expressed @jazzibemoody. "#ChrisRock constantly unfunny and this Will/Jada commentary is horrible." Similar sentiments were echoed by @ByClaytonDavis who described Rock's thoughts on "the slap" as both "brutal" and "tasteless." Another user couldn't help but revel at how Rock ended up preaching his special's title, saying, "He definitely demonstrated the concept of 'selective outrage' in that last 15 mins."
Chris Rock's "Selective Outrage" is now available to stream on Netflix.