Ernie Hudson Says Ghostbusters Was His Most Difficult Movie Psychologically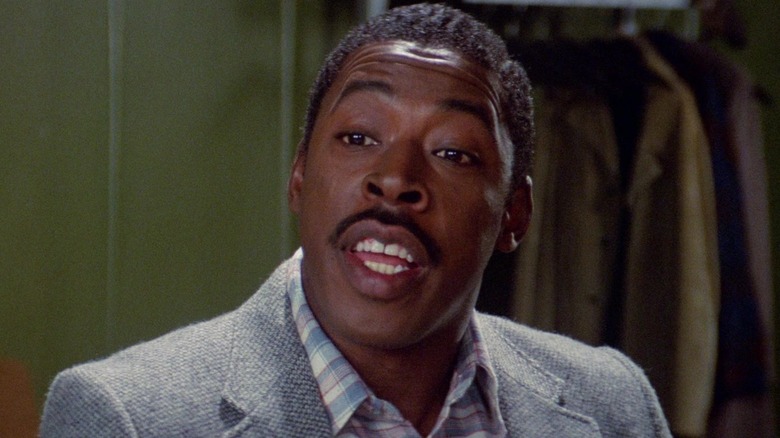 Columbia Pictures
When "Ghostbusters" was released in 1984, the supernatural comedy became one of the signature movies of the 1980s. The film had a rushed development and distributor Columbia Pictures initially wasn't confident in its box office prospects. However, "Ghostbusters" was a massive hit, which can be attributed to many factors. Dan Aykroyd and Harold Ramis' hilarious script definitely stood out, but the memorable cast — led by the foursome of Aykroyd, Ramis, Bill Murray, and Ernie Hudson — helped make the film what it is with their beloved performances. Hudson portrayed Winston Zeddemore, who joined the group of supernatural fighters midway through the movie.
Hudson would go on to star in "Ghostbusters II" in 1989, which he finds a bit easier to absorb than the original. He also reprised his role as Winston in 2021's "Ghostbusters: Afterlife," where there was no question of Zeddemore's importance in the overall group. Due to several circumstances that he has revealed, Hudson says that "Ghostbusters" was the most difficult movie he has been in from a psychological perspective. Here is what the actor had to say about his experiences.
Hudson says studio executives treated him differently from his co-stars
Columbia Pictures
During an interview on "The Howard Stern Wrap-Up Show," Ernie Hudson spoke about his experiences filming "Ghostbusters" and his journey with the franchise over the decades. When the movie's late director Ivan Reitman was mentioned, the actor began by describing the appreciation he had for the filmmaker. Hudson also levied praise on his co-stars in the comedy but did not claim that the feature means as much to him in terms of his acting career as it does to numerous fans around the world.
The "Oz" star detailed the experience with his casting in the film by stating, "I was the guy who was brought in. So finding my place in the middle of that — and they [the cast] were all welcoming and inclusive. The studio wasn't. And the studio continued not to be." Hudson went on to describe how Columbia Pictures excluded him for years by refusing to place Winston on the posters with the other three Ghostbusters, even up to the 30th anniversary of the feature in 2014.
The actor continued by stating that he knows fans of the franchise see Winston's role in the group differently, which he is thankful for, especially for young minority kids looking up to the character. But he concluded by observing how it was the most difficult project he ever did from a psychological perspective.