Daisy Jones & The Six: Riley Keough's Husband Cameoed Based On A Joke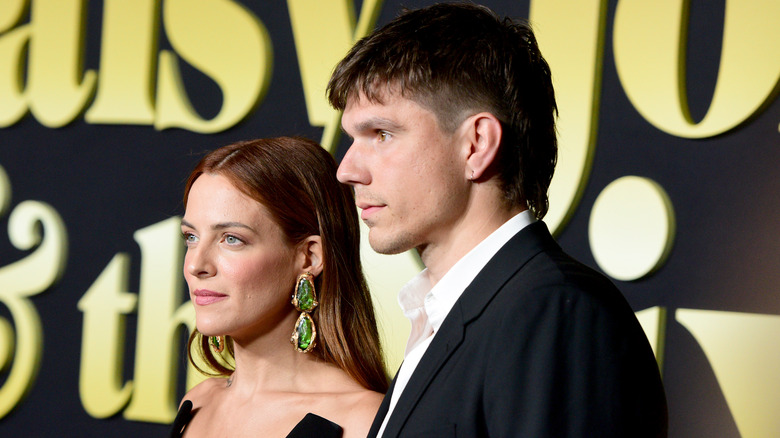 Vivien Killilea/Getty Images
While it takes its basic narrative cue from the oh-so-complicated sex, drugs, and rock'n'roll melodrama that was '70s/'80s mega-hit-factory Fleetwood Mac, Amazon Prime's "Daisy Jones & The Six" clearly goes its own way, so to speak, during the course of its 10 episodes. Chronicling the rise of what would eventually become the show's titular musical group, the series features "Mad Max: Fury Road" star (and Elvis Presley's granddaughter) Riley Keough as the band's front-woman Daisy Jones. She's joined on the stages of various L.A. venues, on the road, and in the recording studio by an ensemble of acting talent including Sam Claflin, Suki Waterhouse, Sebastian Chacon, Josh Whitehouse, and Will Harrison.
Based on best-selling novelist Taylor Jenkins Reid's book of the same name, the series in many ways echoes the archetypal rags-to-riches career of Fleetwood Mac, as The Six go from scrounging for living in badly-paid club gigs to their meteoric rise to platinum-selling fame. But as with the real-world group their story draws on, their chart-topping success is followed by the kind of intra-band personality clashes and romantic tangles that result in the inevitable delamination of the group and the ruination of more than one friendship. 
While, as noted above, "Daisy Jones & the Six" boasts a cast of well-known actors, it turns out that a joking comment resulted in the casting of a less-well-known performer: Riley Keough's husband Ben Smith-Petersen, who landed a surprising part in the show.
An off-hand remark led to Riley Keough's hubby making a brief appearance on Daisy Jones & The Six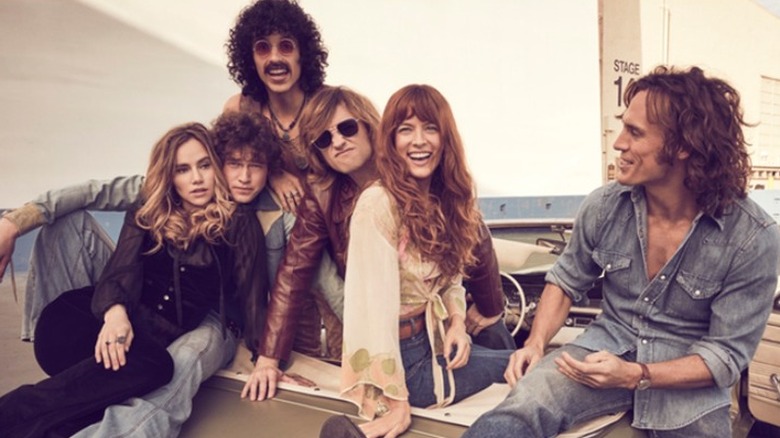 Pamela Littky/Prime Video
As a series purporting to take viewers inside the life of a chart-topping rock band, it's hardly surprising that "Daisy Jones & The Six" includes a bit of casual sex. And as series' lead Riley Keough revealed on Late Night with Seth Myers, one of these faux-erotic encounters involved a cameo appearance by her husband stemming from an off-hand joke from the series' executives.
"The cameo came about because I have to have intercourse with a random person in the show," Riley said. "And the producers were like 'It would be so funny if it was your husband'." Myers then asks if it was more or less awkward for the couple once the scene was actually being shot. Riley was unequivocal in her reply: "It was more awkward." 
The actress added that it was uncomfortable simply because "I've never had pretend sex with my husband." As a result, she explained, both of them just continually burst out giggling the entire time they were trying to film the supposedly passionate interlude. And as this Vogue Australia article notes, Keough's husband Ben Smith-Petersen is no stranger to appearing on screen. It turns out he's an actor and a stuntman who Keough met while they were both working Down Under on "Mad Max: Fury Road."