Daisy Jones & The Six - Everything You Need To Know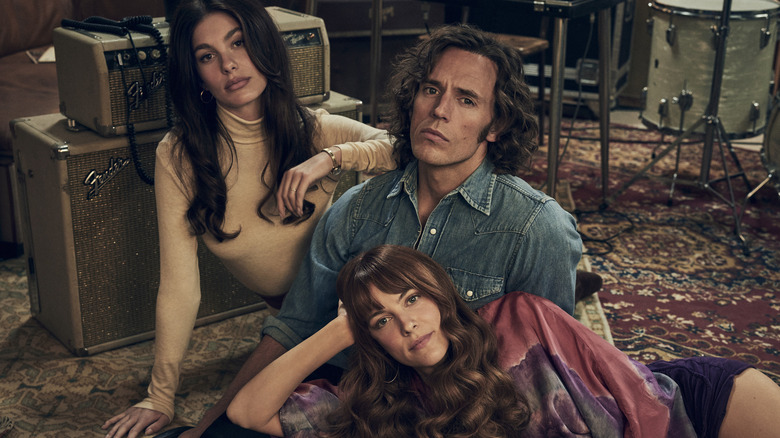 Pamela Littky/Prime Video
We may receive a commission on purchases made from links.
Hollywood loves a good rock 'n roll story. The rise, the fall, the behind-the-scenes drama — it's a winning formula that's led to hit biopics like "Elvis," "Bohemian Rhapsody," and "Rocket Man." And if you can't get enough of shaggy-haired musicians climbing the charts and crumbling in their personal lives, then you're going to absolutely love "Daisy Jones & The Six."
Granted, "Daisy Jones" isn't a true story, but it is based on the bestselling novel by Taylor Jenkins Reid, who drew inspiration from Fleetwood Mac — a musical group known for its killer albums and ridiculously complicated relationships. Series producer Scott Neustadter got his hands on a copy of Reid's book in 2017 and immediately knew he wanted to bring it to the screen. All these years later, the 10-episode series hit Prime Video on March 3, 2023, boasting a supremely talented cast, a who's who of talent behind the camera, and a mind-blowing soundtrack.
If you want to know more about the musical saga, read on for everything you need to know about "Daisy Jones & The Six."
What is the plot of Daisy Jones & The Six?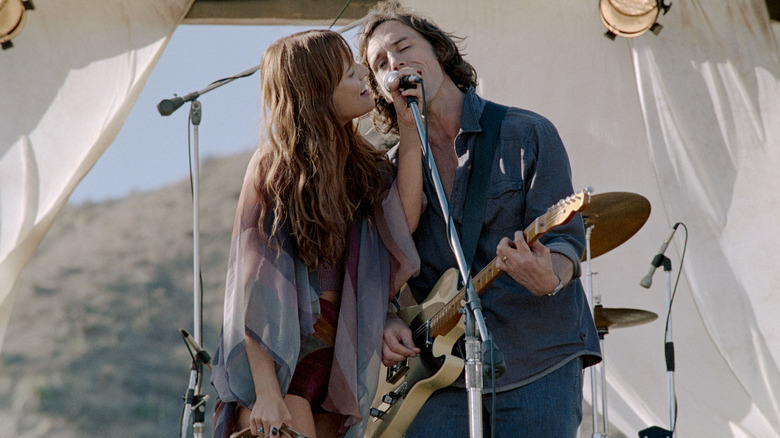 Lacey Terrell/Prime Video
Taking its cues from Taylor Jenkins Reid's novel, "Daisy Jones & The Six" follows the times and trials of the titular band. Hailed as one of the greatest bands of the '70s, the group is fronted by Daisy Jones and Billy Dunne — two musicians who can cast a spell on their audience and each other. However, at the peak of their powers, the band falls apart, leading many to wonder what exactly happened when the fans weren't around. The upcoming show will take the form of a behind-the-scenes documentary, with the characters explaining how the complicated dynamics between Daisy and Billy helped bring the band to a screeching halt. There's sex, there's drugs, there's rock and roll, and there's a whole lot of heartbreak, infighting, and truth to be told.
Who stars in Daisy Jones & The Six?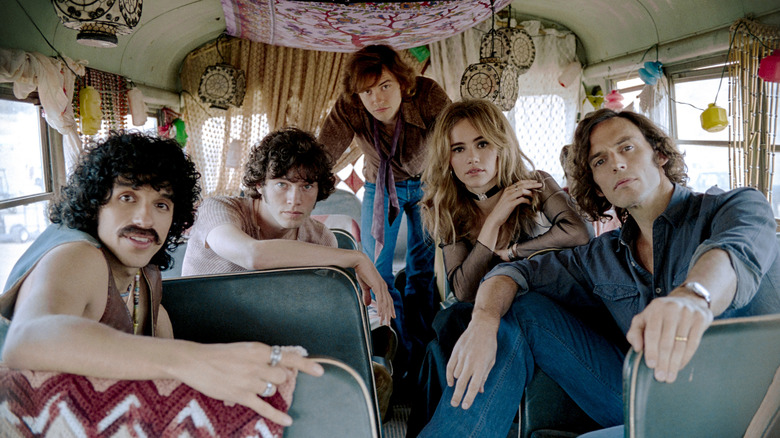 Lacey Terrell/Prime Video
If you're going to make a show about a legendary rock band, then you need some top-tier talent to pull it off. And fortunately, "Daisy Jones & The Six" boasts a star with quite the rock 'n roll lineage. Daisy Jones herself is played by Riley Keough, best known for projects like "Mad Max: Fury Road," "American Honey," "Zola," and "Under the Silver Lake." She also just so happens to be the granddaughter of Elvis Presley.
Across from Keough, we've got Sam Claflin playing Billy Dunne, a man struggling with drugs, his relationship with his wife (played by Camila Morrone of 2018's "Death Wish"), and his intense affair with Daisy. You'll no doubt recognize Claflin as Finnick Odair from "The Hunger Games" movies and as Mycroft Holmes from Netflix's "Enola Holmes." The rest of the band is rounded out by Suki Waterhouse ("The Bad Batch"), Sebastian Chacon ("Emergency"), Josh Whitehouse ("Poldark"), and Will Harrison ("Madam Secretary"). And yes, if you're wondering, everyone involved learn to play their own instruments and perform their own vocals.
Additionally, you'll see Timothy Olyphant as Rod Reyes, the band's road manager. Olyphant recently gained a new generation of fans as Cobb Vanth in "The Mandalorian" and "The Book of Boba Fett." He also starred in the popular series "Justified," "The Office," and "Once Upon a Time ... in Hollywood." He's joined by the prolific Tom Wright (who's played in everything from "Seinfeld" to "Star Trek"), Chris Diamantopoulos ("Silicon Valley"), and singer-songwriter Nabiyah Be, as well as Olivia Rose Keegan ("Gotham Knights"), Ross Partridge ("Stranger Things"), Seychelle Gabriel ("The Legend of Korra"), Jacqueline Obradors ("NYPD Blue"), and Nicole LaLiberte ("Twin Peaks: The Return").
Who was the showrunner for Daisy Jones & The Six?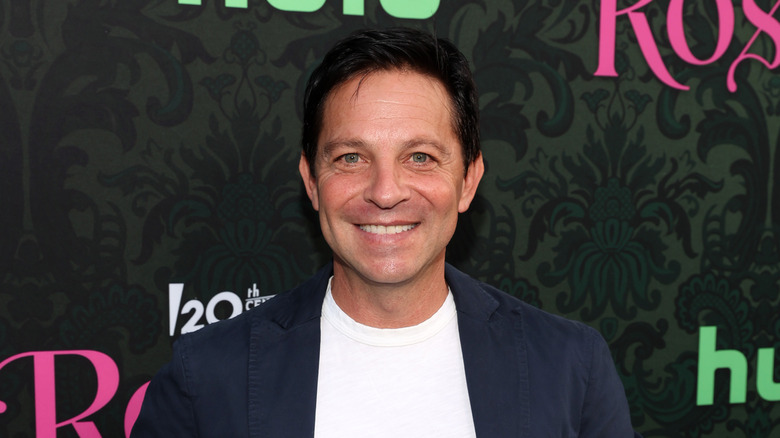 Jesse Grant/Getty Images
"Daisy Jones & The Six" has been a passion project for Scott Neustadter since 2017, when he first read the source material. After opening the pages of Taylor Jenkins Reid's popular novel, he helped pen the series with his longtime writing partner, Michael H. Weber. Previously, these two have been the scribes on such projects as "500 Days of Summer," "The Fault in Our Stars," "The Disaster Artist," and "The Spectacular Now."
After the two wrote the series, Neustadter teamed up with Will Graham to serve as co-showrunners. And no, that's not the Will Graham who spends his time analyzing crime scenes and hunting Hannibal Lecter. That's the Will Graham who's worked on series such as "Mozart in the Jungle" and Amazon's "A League of Their Own." Keeping things in the family, Neustadter also served as executive producer alongside his wife, Lauren Levy, who produced the show for Hello Sunshine, the production company founded by Reese Witherspoon. They were also joined by Brad Mendelsohn of Circle of Confusion, along with Taylor Jenkins Reid.
Is Daisy Jones & The Six based on a book?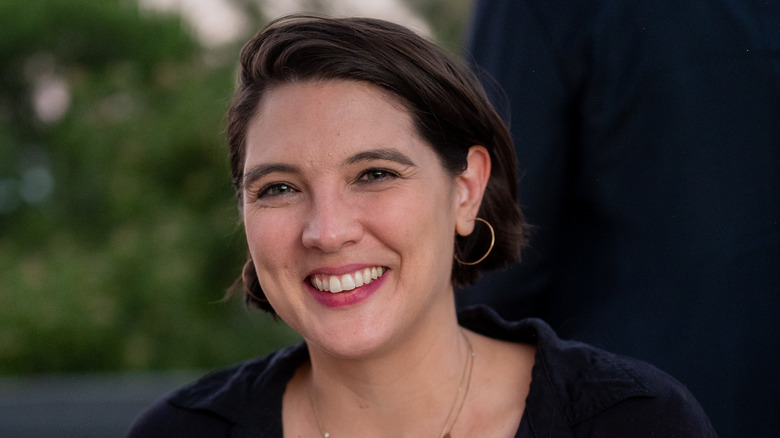 Emma Mcintyre/Getty Images
If you're at all familiar with Booktok or Booktube, then you've definitely heard of Taylor Jenkins Reid. She's penned four New York Times bestsellers: "Carrie Soto Is Back," "Malibu Rising," "The Seven Husbands of Evelyn Hugo," and of course, "Daisy Jones & The Six." Writing for Hello Sunshine, Reid talked about the real-life moment that inspired her — a charged moment between Stevie Nicks and Lindsey Buckingham during Fleetwood Mac's live album The Dance.
As Reid explained, "I kept coming back to that moment when Lindsey watched Stevie sing 'Landslide.' How it looked so much like two people in love. And yet, we'll never truly know what lived between them. I wanted to write a story about that, about how the lines between real life and performance can get blurred, about how singing about old wounds might keep them fresh."
Who directed Daisy Jones & The Six?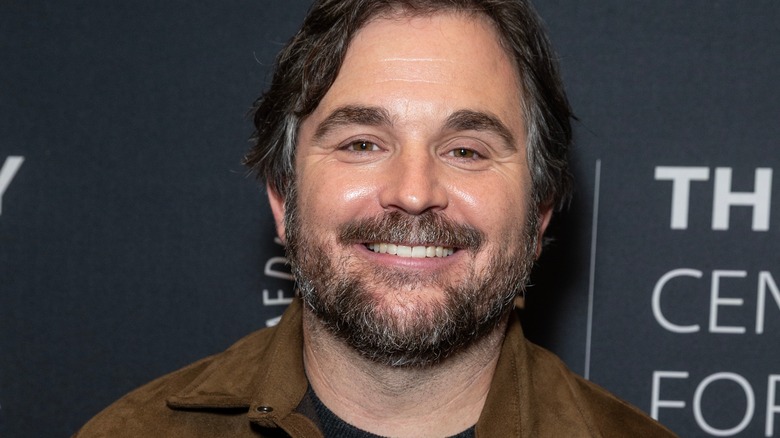 lev radin/Shutterstock
Daisy Jones & The Six ascended to greatness by rounding up the greatest talent on the '70s scene. Similarly, the TV series has achieved rock god status by bringing on a trio of impressive directors.
First up, we've got James Ponsoldt, who previously worked with "Daisy Jones" creators Scott Neustadter and Michael H. Weber when he directed their script for "The Spectacular Now." He also helmed "The End of the Tour," which saw Jason Segel playing David Foster Wallace against Jesse Eisenberg's writer, David Lipsky. And while Ponsoldt also directed the Emma Watson tech thriller "The Circle" — a movie that wasn't particularly well-received — he's definitely shown his craft and cred by working on series like "Shrinking" and "Master of None."
Joining Ponsoldt, there's Nzingha Stewart, who helmed the rom-com "Tall Girl," about a lovestruck student who's insecure about her height. In addition to working on TV movies "With This Ring" and "Love by the 10th Decade," she's directed episodes on multiple high-profile shows, such as "Inventing Anna," "Maid," and "Little Fires Everywhere." Finally, showrunner Will Graham also directed. While he was involved in the infamous "Movie 43," he's more than redeemed himself by creating the series "A League of Their Own" and "Mozart in the Jungle."
Does Daisy Jones & The Six feature original music?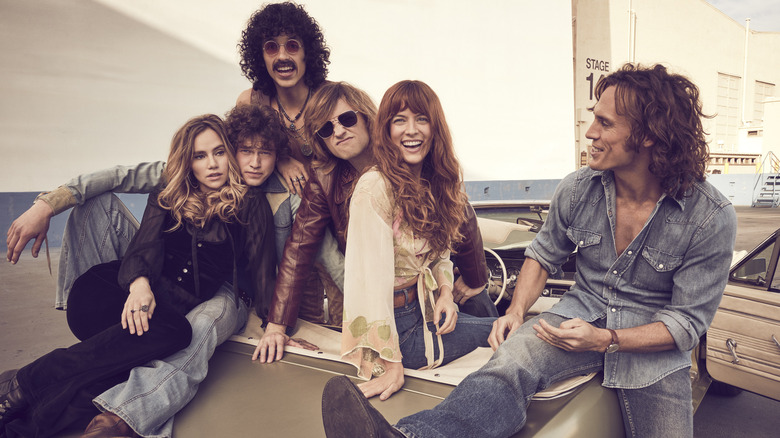 Pamela Littky/Prime Video
As you might assume, a TV series about a rock band features some killer tunes. But does the show's titular band perform original music? Well, the answer is an emphatic yes. "Daisy Jones & The Six" brought in Blake Mills and Tony Berg to compose over 25 songs for the show, and these two are pretty big deals in the musical world. Berg has done it all, from playing guitar on Air Supply's "Love & Other Bruisers" to serving as a vocal producer on Taylor Swift's "Red (Taylor's Version): From the Vault." And as for Mills, he's a respected session musician who's worked with everyone from Bob Dylan and Joni Mitchell to Weyes Blood and Weezer.
Wanting to make the best music imaginable, these two brought in quite a few talented songwriters, including Marcus Mumford, Jackson Browne, Madison Cunnigham, and Phoebe Bridgers. All this magic comes together beautifully in the single "Regret Me" and the real-life album "Aurora," which was released on the same day "Daisy Jones & The Six" premiered. And bringing even more authenticity to the experience, when you watch the series, the voices you hear belong to the actors, and as reported by Vanity Fair, they're also playing their own instruments.
How did critics and audiences respond to Daisy Jones and The Six?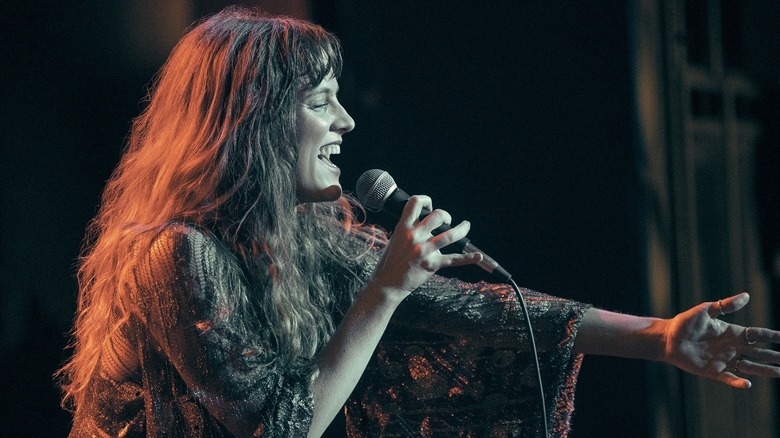 Lacey Terrell/Prime Video
While Daisy Jones and The Six are supposed to be the most revolutionary band in rock history, critics didn't feel quite the same way about the show. Granted, it has a 69% rating on Rotten Tomatoes, which is pretty solid but not incredible. On the negative side of things, Coralie Kraft of the New Yorker wrote, "The series' protagonist is depressingly one-dimensional, despite being modeled on Stevie Nicks." Rob Thomas of Capital Times also wasn't a fan, writing, "It's a pretty but empty product — like a gorgeous album cover with the vinyl record inside missing."
However, the series did have plenty of defenders. Kate Collins of CNET wrote a glowing review, saying, "Not just for Fleetwood Mac and Taylor Jenkins Reid fans, this musical miniseries with lush aesthetics and an electric cast is bound to delight music lovers of all stripes." Sophie Butcher of Empire was a bit more tempered, writing, "Solid, if slightly underwhelming — but Riley Keough's star quality leaps off the screen, and there is many a magical musical moment." As for average TV viewers, the series currently has an 81% approval rating based on 250+ reviews.
Will there be a Daisy Jones and The Six Season 2?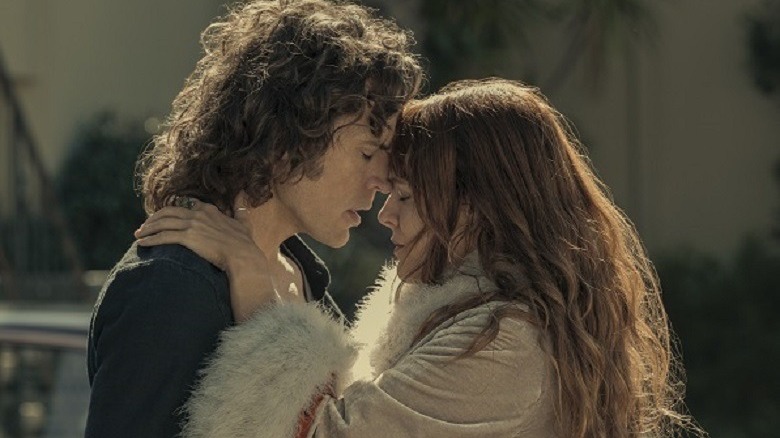 Lacey Terrell/Prime Video
"Daisy Jones and The Six" has been billed as a miniseries, and it covers the entirety of Taylor Jenkins Reid's source novel. So, at first glance, it seems like a second season is out of the question. However, when talking to Variety, showrunners Will Graham and Scott Neustadter didn't say no when asked about more rock 'n roll drama.
"If people are interested in this story and these people, maybe we'll get an opportunity to do that," Neustadter said. "Leave the door open. Why not?" Graham responded in kind, saying, "For me, [the question of Season 2] goes back to Taylor and if she has another chapter for these characters in her head. If we got an opportunity to do it, I think, no question, everyone involved in the show would show up with bells on."
So if you'd love to revisit this world and these dynamic characters, don't give up hope just yet.
Where to watch Daisy Jones and The Six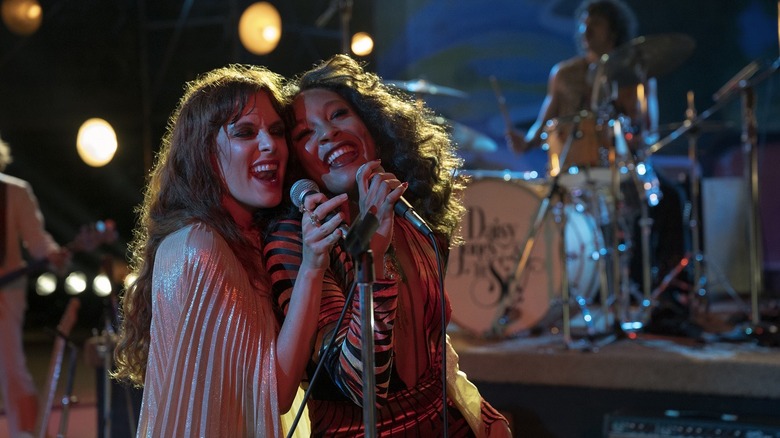 Lacey Terrell/Prime Video
If you're in the mood for love and lust, rock and roadies, big emotions and better music, well, "Daisy Jones and The Six" is the show for you. Or maybe you've already seen the show and you're in the mood to revisit all the ups and downs of the titular band after your initial viewing experience. Either way, there's only one place you can watch this musical miniseries, and that's Prime Video.