Lottie Will Have An Even Bigger Role In Yellowjackets Season 2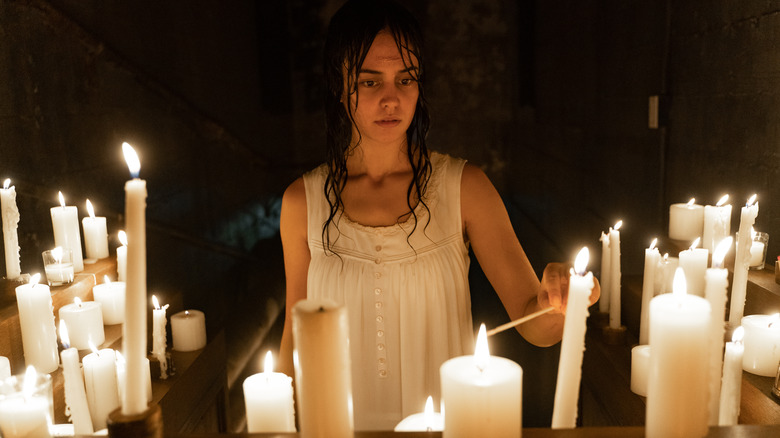 Kailey Schwerman/SHOWTIME
"Yellowjackets," notably, has a pretty enormous cast. Split between two timelines, the show tells the story of the titular Yellowjackets, a girls' high school soccer team whose small private plane crashes in the remote woods while they're on their way to nationals; in 1996, the girls deal with their crash and try to survive in the woods, while in 2021, the survivors of the entire experience grapple with their lives, their guilt, and ongoing mysteries that still plague them years after the fact. Thanks to these two timelines, there's teenage and adult versions of pretty much all of the characters, but only a handful of the adult characters appear in season 1, leading to rampant speculation about which teenagers survive to see 2021.
Season 1 features Juliette Lewis, Melanie Lynskey, Christina Ricci, and Tawny Cypress as adult versions of four of the Yellowjackets, and in the leadup to season 2, a few casting decisions were announced for two other team members. Van, who is played by Eve Hewson as a teen, will grow up to be Lauren Ambrose, while Courtney Eaton's Lottie will be played by Simone Kessell in adulthood. Lottie, who starts off the show pretty quietly, emerges as a hugely important character by the end of season 1, and Kessell just revealed that season 2 has even more in store for Lottie.
Lottie will have a lot to do in Yellowjackets season 2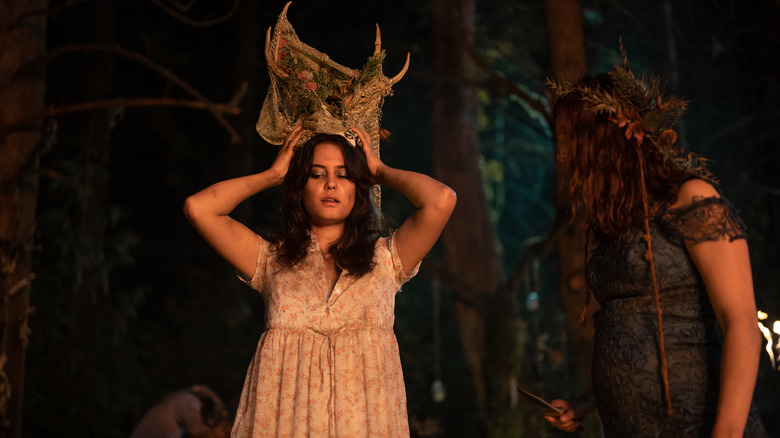 Kailey Schwerman/SHOWTIME
In a cover story for Entertainment Weekly, the outlet spoke to Kessell about her upcoming role as Lottie, and she had a lot(tie) to say. In addition to revealing just how intense it was to film this season, Kessell spoke to her character's true motivations and how she finds the humanity in a girl who leads a cult that probably eats people, including their own friends.
"She's come into the light," Kessell said, speaking about the adult version of Lottie. "Bart [Nickerson, creator and showrunner] said to me, 'She's kind of like a cool Jesus.' I genuinely think she thinks she's helping these people." This makes sense; in the season 1 finale, Lewis' Natalie is kidnapped from her motel room by a mysterious group of people all wearing a marking seen in the Yellowjackets' cabin, and it's then revealed that Lottie emptied a dead man's bank account, indicating that she's probably in charge of Natalie's attackers. 
A young Lottie is also confirmed as the "antler queen" seen early in the pilot, who definitely appears to be in charge of the cannibalistic goings-on in the woods, so fans knew she'd be pretty important going into the show's second season. Still, Kessell's revelations are pretty exciting, in that adult Lottie clearly has some surprises up her sleeve.
"Yellowjackets" returns for season 2 on Showtime on March 26.