The Mandalorian's Jon Favreau Declares That Anakin Would Defeat Luke Skywalker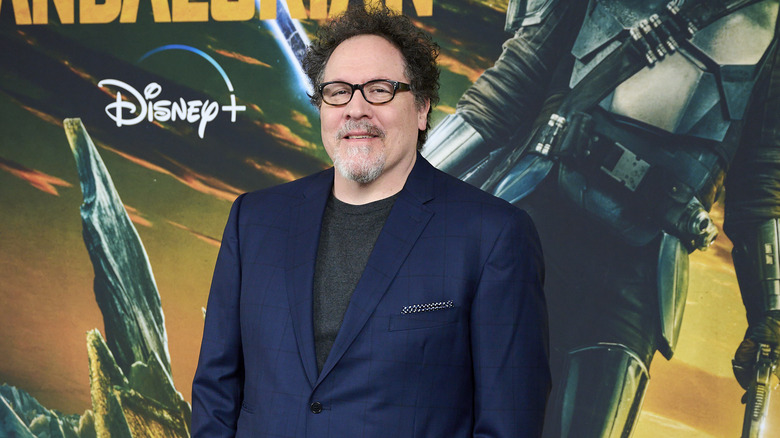 Carlos Alvarez/Getty Images
Jon Favreau's "The Mandalorian" continues to win over its devoted fans with the tales of its rebellious Mando (Pedro Pascal) and Grogu (Baby Yoda). Admittedly, the early audience score of 81% for Season 3, Episode 1's "The Apostate" is clearly much lower than the overall numbers garnered by Season 1 (92%) and Season 2 (91%), but the new adventures of Mando, aka Din Djarin, have just begun. And Favreau is a "Star Wars" fan himself who clearly has a firm grasp on the overarching lore and a deep understanding of the universe's characters, particularly the ones he oversees.
"All of mine [characters] feel good for me," Favreau said during an interview with The Cyber Nerds. "When you write a thing, there are always aspects — you always channel a part of yourself. So, I like them all. There's none that I dislike writing for. I'm having fun with everybody in 'The Mandalorian.'" Favreau went on to say that he particularly enjoys writing dialogue for the Armorer (Emily Swallow) because of how mysterious she is.
Favreau's "The Mandalorian" follows the events of "Star Wars: Episode VI — Return of the Jedi," and the showrunner possesses a vast knowledge of that galaxy far, far away. So, it's only natural that he would weigh in on some of the mainstay characters created by George Lucas himself. And Favreau is now on record when it comes to who is more powerful: the version of Luke Skywalker on "The Mandalorian" or Anakin Skywalker (Hayden Christensen) in his prime.
Anakin defeats Luke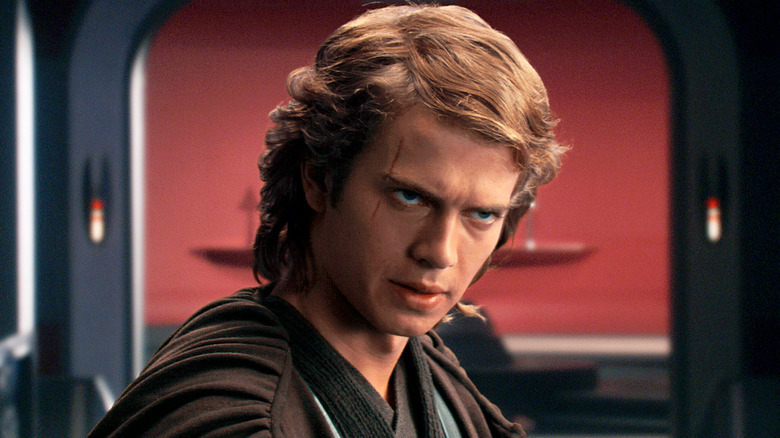 LucasFilm/Disney+
Jon Favreau's "The Mandalorian" continues to focus on the exploits of Mando/Din Djarin (Pedro Pascal) and his young sidekick, Grogu, aka Baby Yoda. But Favreau is a "Star Wars" fan through and through. And during a recent interview with Joe Ikhinmwin of The Cyber Nerds, Favreau made a startling revelation. When "The Mandalorian" showrunner was asked whether Anakin Skywalker (Hayden Christensen) could defeat his son, Luke Skywalker (Mark Hamill), if the two Jedi were to fight one another, Favreau took the side of the man who would become Darth Vader.
"I think it has to be Anakin, right?" Favreau told The Cyber Nerds. "I mean is has to be." Favreau then wanted to make it clear that he and Ikhinmwin were indeed comparing Anakin to Luke in the prime of their Jedi powers. "We saw a little bit of prime Luke with what we did, we alluded to it, but who knows what he's been off to. But Anakin faced so many more challenges. He was in his prime in a more dynamic period in 'Star Wars' history.'"
Favreau makes an excellent point about Anakin having fought in the Clone Wars, and the Jedi Knight even defeated one of the most formidable Sith warriors Count Dooku (Christopher Lee) in "Star Wars: Episode III — Revenge of the Sith." But Looper's pick is the son of Skywalker. And that's even before fans got to see Luke show off his mastery of the Force in "The Mandalorian" Season 2 finale.