Everything Everywhere All At Once's Daily Ritual Helped Bind The Cast And Crew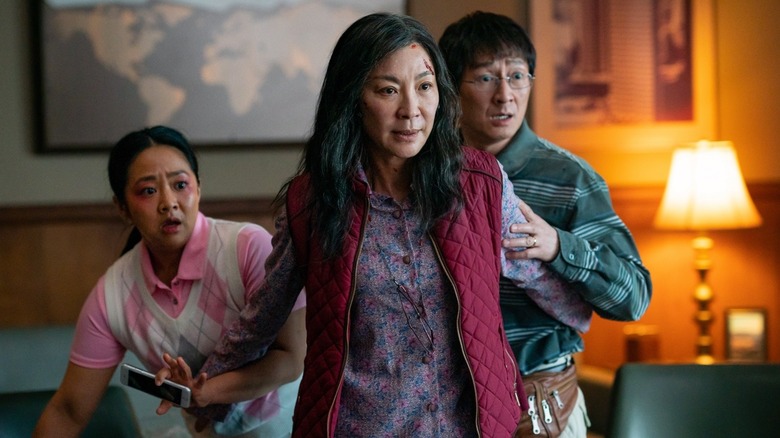 Allyson Riggs/A24
"Everything Everywhere All at Once" is a bonafide success and it hasn't even won any Oscars yet. The quirky indie flick, helmed by the directing duo Daniels, has become the film to root for this awards season thanks to its relatable message of strength and familial bonds, evocative visuals, and moving performances. The film debuted to rapturous reviews during its spring 2022 release and quickly found a cult-like audience who championed it to high heavens. With strong word of mouth, A24's multiversal drama found itself grossing over $100 million, becoming the indie studio's highest-grossing film of all time, per Variety.
How did the 'little indie comedy that could' get to the point where it's now the front-runner for the Oscar? While there's no definitive, unbiased answer, it's probably because of how infectious the energy on screen was. What's particularly striking about the film is how dedicated, precise, and diverse it feels. In a perfect review for /Film, critic Jacob Hall praised the sci-fi spectacle for blending together several different ideas and themes to create one "unique, unruly beast."
"EEAO" has been praised endlessly for being a cocktail of several different genres, themes, and ideas, so it isn't surprising to hear that a focus on different facets was part of a daily ritual that helped the film's cast and crew bond. In a recent interview with Stephen Colbert, lead star Michelle Yeoh opened up about how the film's directors took time aside every day to bring the cast and crew together.
Daily warm up excercises brought the cast and crew together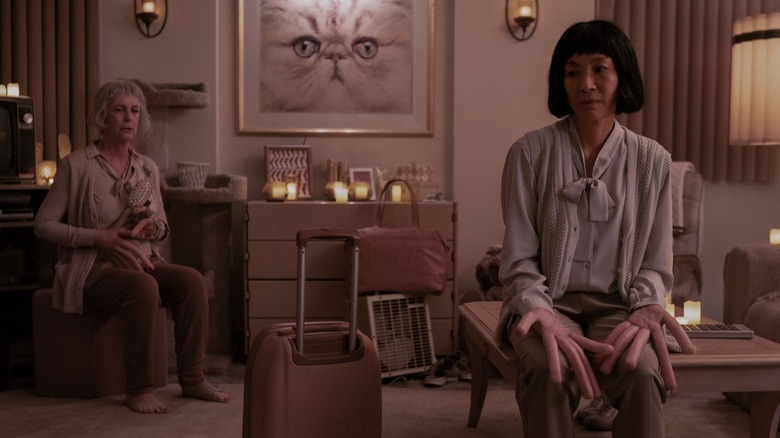 Allyson Riggs/A24
While discussing "Everything Everywhere All at Once," Michelle Yeoh, who plays Evelyn in the flick, opened up to Stephen Colbert about how close the cast and crew was. "We started off as cast and crew but we ended up as family because we had to do this together and the Daniels had this lovely ritual that we would start every morning," Yeoh said. As described by Yeoh, the ritual required everyone (including the crew) to come out of from their respective areas and gather around one area. "We took the time to look at each other in the eyes, we looked at each other, we saw each other," Yeoh continued. "Everyone knew that we were there together, we were family. There was no hierarchy, we were all equals, pouring our love into this little gem."
Once everyone gathered around, the ritual began, which leveraged each individual's unique skills and talents to create something that kickstarted the team's bonding. "For 15 minutes, we would do warm up exercises," Yeoh said, explaining how a different person would lead the exercise everytime. A new person leading the warm up led to several different exercises coming into play, with Yeoh joking how Jamie Lee Curtis' exercise was the pelvic thrust.
Yeoh continued by emphasizing how even the crew members who were busy would come out for the ritual. "For 15 minutes, we looked at each other's eyes and [said], 'Come on, we're in this together. We're going to give it out heart and soul ...'" Yeoh said, pointing out how everybody embraced one another like the film's "Everything Bagel." How's that for a mish-mash of ideas coming together to create something unique?