Jamie Lee Curtis' Reaction To Michelle Yeoh's Golden Globes Win Has Fans In A Tizzy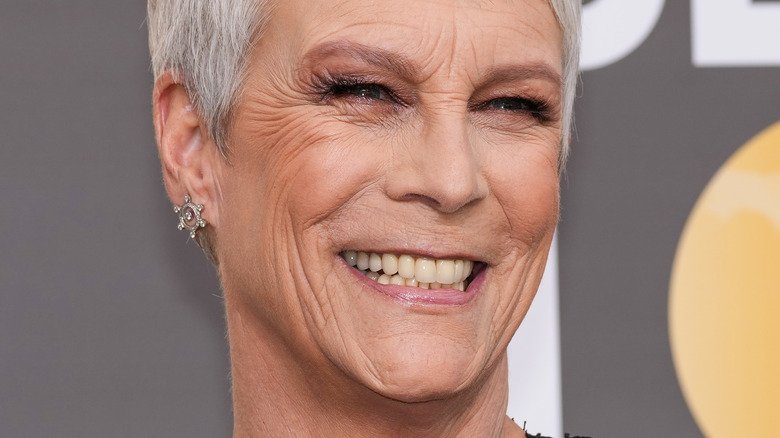 Kevin Mazur/Getty Images
After decades of entertaining audiences with a vast array of magnificent roles, Michelle Yeoh took home her first Golden Globe award for her stellar performance in "Everything Everywhere at Once," and her fellow cast member Jamie Lee Curtis reacted to the announcement of Yeoh winning the honor in a manner that caused quite a stir with viewers.
While some people, like actress Stephanie Hsu, were able to foresee the success the movie would enjoy, many people most certainly did not expect it to resonate so well with both critics and audiences. Not only was "Everything Everywhere All at Once" arguably one of the best multiverse movies ever made, but it's probably what many consider one of the greatest films of 2022. The well-crafted sci-fi comedy-drama from directors Daniel Kwan and Daniel Scheinert has had a magnificent run, earning incredibly impressive scores on Rotten Tomatoes and an outstanding box office return of over $100 million (via Box Office Mojo) off of a $14.3 million budget. Not only did it do well in those aspects, but it also received attention from several awards shows, including the Golden Globes. Ke Huy Quan and Michelle Yeoh both won awards that night for their efforts in the well-received motion picture. Everyone gave a standing ovation when the stars were announced as the winner of their respective category, but when Yeoh's name was called, Jamie Lee Curtis didn't hold back how she really felt about her co-star taking home the statue that night and fans everywhere have in turn sounded off about her memorable reaction.
Jamie Lee Curtis's reaction was priceless according to fans
When Michelle Yeoh's name was announced, Jamie Lee Curtis reacted by cheering her fellow star on with much enthusiasm and joy. She even posted the moment on her Instagram, writing, "Once a cheerleader. ALWAYS a cheerleader. My Bae won a Golden Globe. Her first nomination and win." Her support for Michelle Yeoh was very touching, and after it went down, many fans couldn't help but offer their thoughts on the heartwarming moment the two Hollywood powerhouses had when Yeoh's name was called. @ZoeRoseBryant on Twitter posted, "A picture is worth a thousand words," and @JamieCinematics wrote, "Jamie Lee Curtis is all of us." In addition, @martianswift summed it up pretty nicely by recognizing the event as "Meme Material," and @aliciamolnarixr appropriately pointed out, "That reaction was #everthing."
It makes sense that everyone would be so excited for Michelle Yeoh to finally get recognized for her talents and experience. The actress has waited a long time for a project like "Everything Everywhere All at Once" to come her way, and when she first read the script that would eventually lead her to a Golden Globe win, she was immediately surprised by the words on the pages. "When I first received the script, it was a little unbelievable," Yeoh said while discussing the film. "It's like, I've been waiting so long — my God, so long! — to actually have an aging Asian immigrant, [an] ordinary woman, turn into a superhero, and a story [that's] all about her." While it is a shame it took so long for such an amazing cinematic achievement to happen for Yeoh, based on the reaction of Jamie Lee Curtis and fans everywhere, it seems to have been worth the wait.