Waymond's Powerful Speech Had Everything Everywhere All At Once's Ke Huy Quan 'Crying Uncontrollably'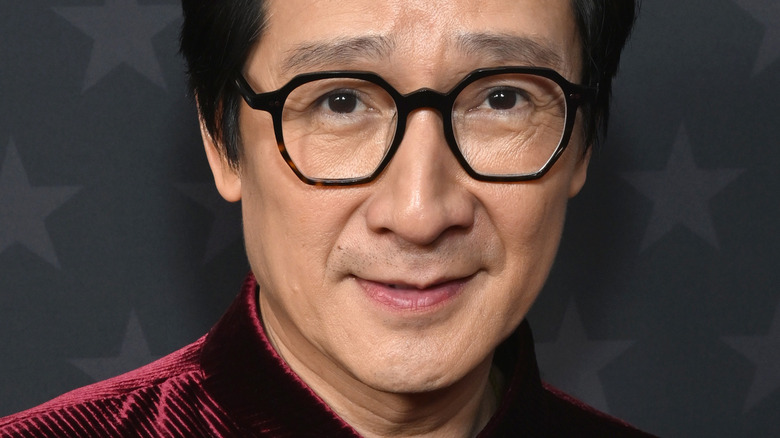 Michael Kovac/Getty Images
"Everything Everywhere All at Once" has quite the underdog success story. Nominated for 11 Academy Awards — including Best Picture – the film quickly became A24's highest grossing movie on a budget of only $25 million (via Variety). Debuting in March to much fanfare, the movie's box office and acclaim grew based on great word-of-mouth and a heartwarming story at its center. As it turns out, the goodwill surrounding the movie sustained it into awards season.
Directed by Daniel Kwan and Daniel Scheinert — collectively known as the Daniels — the film follows the Wang family, who unwittingly get sucked into a multiverse adventure. In particular, matriarch Evelyn Wang (Michelle Yeoh) finds herself in the position of having to save the universe.
While several of the performances have been highly praised, Ke Huy Quan's role as Waymond Wang, Evelyn's husband, has been particularly embraced by the industry, with Quan already taking home the Golden Globe and Critics Choice Award for Best Supporting Actor (via IMDb). Considering that Quan has been acting since he was a child, with memorable performances in films like "Indiana Jones and the Temple of Doom" and "The Goonies," his journey to the Oscars has been emotional to watch. Now, Quan has opened up about one of his favorite scenes from "Everything Everywhere All at Once."
Ke Huy Quan loves Waymond's speech in the movie that asks everyone to be kind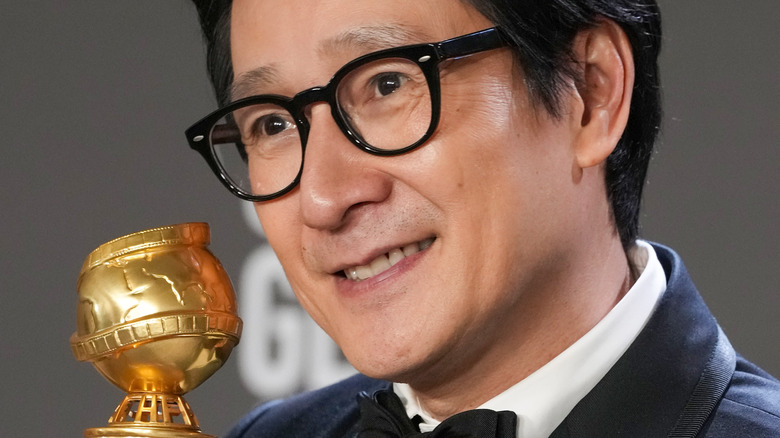 Kevin Mazur/Getty Images
In a post-Oscar nomination interview with The Hollywood Reporter, Ke Huy Quan talked about his award season journey and "Everything Everywhere All at Once." When asked about his favorite scene from the movie, Quan pinpointed one that resonated with him. 
"One that really stands out for me — because I remember leading up to it I had the biggest pressure to deliver that scene and give that scene justice — is when Waymond delivers that powerful speech about kindness," Quan said. "I was crying uncontrollably just because of how powerful those words are. 'Please be kind.'"
In the film, the scene comes at a climactic moment of multiverse fighting, and Waymond's speech is able to cut through the noise. As Quan points out, it's really the thesis of the movie boiled down to a single speech. 
"That's one of the reasons why our movie resonated with people. It's the message," Quan said. "It's about being kind, having empathy for one another and showing each other love ... So that scene I love a lot." 
Quan also talked about what it was like to see all of the Oscar nominations for the film and experience it with this cast and crew. According to Quan, several of them were on Zoom together, cheering for each nomination they received. 
"I cannot believe we're leading with 11 nominations," Quan said. "I'm so happy for our entire family — all the hard work we put in — to get recognized by The Academy."