Who Plays Ernest In Netflix's We Have A Ghost?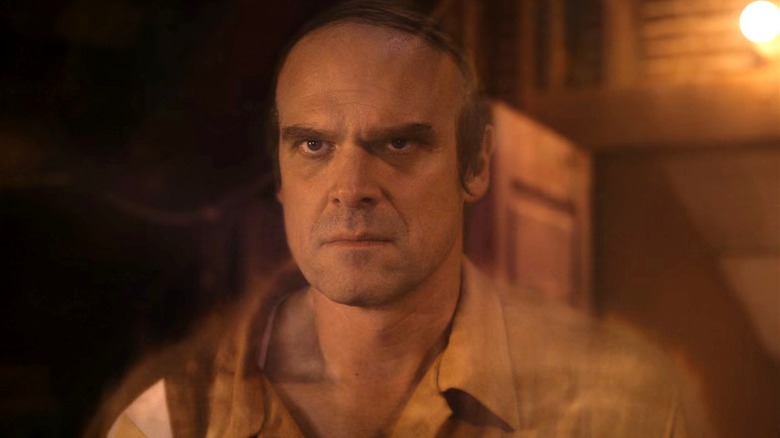 Netflix
As the years have gone on, Netflix's regular releases of original movies and television shows have occasionally become a lot to keep up with. All the same, one of their latest releases is "We Have a Ghost," a supernatural comedy that follows Frank Presley (Anthony Mackie) and his family as they discover that their new home has a paranormal occupant in the form of a ghost who they name Ernest.
As Frank's youngest son, Kevin (Jahi Di'Allo Winston), bonds with the ghost and helps him to unravel the mysteries of his life, the family also becomes a viral internet sensation for their convincing video evidence of Ernest's ghostly abilities. Of course, they don't realize that what they've come to discover about Ernest's past could cause trouble for them in the world of the living.
If you're a fan of a certain mega-popular Netflix series, then you probably already know where you recognize the actor who plays the ghostly Ernest. But if not, you might find yourself wondering where you've seen the performer before.
If you watch Stranger Things, you ought to recognize David Harbour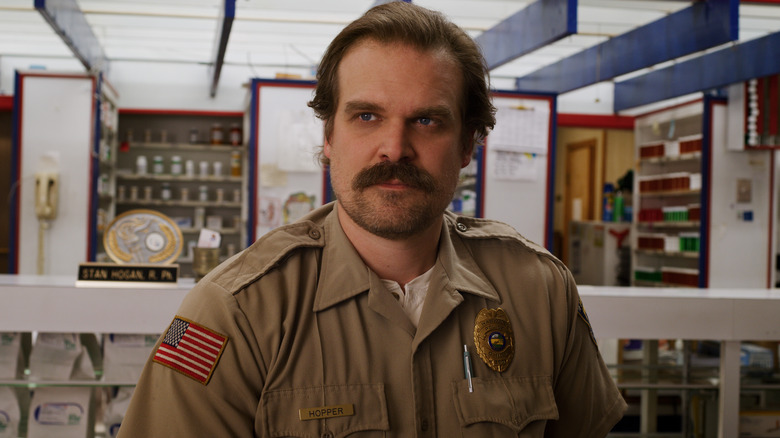 Netflix
David Harbour plays the wandering spirit Ernest in "We Have a Ghost" and is best known for his role as crotchety no-nonsense lawman Sheriff Jim Hopper on the hit Netflix science fiction horror series, "Stranger Things." Over the course of the show's four seasons, Hopper has become one of the most pivotal characters in the series and is top-billed with Winona Ryder in the show's opening credits.
Of course, another place you may have seen Harbour is in the 2019 "Hellboy" reboot, where he played the titular character — albeit under a ton of makeup and prosthetics. Unfortunately, the film underperformed both critically and at the box office, meaning we probably won't see the actor reprising his role. Elsewhere, you might recognize Harbour from the recent Christmas action movie "Violent Night," where he played a badass version of Saint Nick himself battling a team of criminals on Christmas Eve. The actor is also notable for appearing in Marvel's "Black Widow," Steven Soderbergh's recent thriller "No Sudden Move," and another Netflix original, "Extraction." 
Harbour has had a long career prior to rising to more prominence of late, however. The versatile performer has also appeared in Steven Spielberg's "War of the Worlds" remake, Ang Lee's romantic drama "Brokeback Mountain, Sam Mendes' period drama "Revolutionary Road," and Antoine Fuqua's action-thriller "The Equalizer."