We Have A Ghost Director Gushes Over David Harbour's Entrancing Performance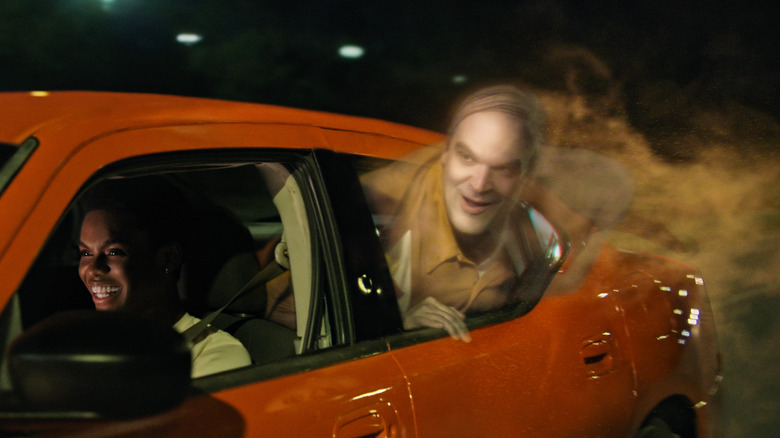 Netflix
Even though he became a star later in life than many actors, David Harbour has made a name for himself in the industry and proven he has what it takes to lead a franchise. His career has exploded recently, playing the perfect Santa in "Violent Night," returning for "Stranger Things" Season 4, and joining the MCU as Red Guardian. His latest film, "We Have a Ghost," hit Netflix late last week, showing that Harbour doesn't have to utter a single word to steal the show.
"We Have a Ghost" follows the Presley family as they move into a new house. Their youngest son Kevin (Jahi Winston) explores the attic when he comes face to face with the ghost haunting the house, Ernest (Harbour). Even though Ernest can't speak or remember his pre-ghost days, the two form a bond, and the rest of the family quickly learns about Ernest's presence. After one of Kevin's videos of the poltergeist goes viral, the CIA learn of Ernest, prompting them to hunt him down.
Critics didn't hold back regarding reviews, with the movie scoring a rotten 43% on Rotten Tomatoes. Although director Christopher Landon previously hit the ground running with "Happy Death Day" and "Freaky," "We Have a Ghost" failed to recapture the magic of his past projects. However, it did give MCU fans a small crossover with Harbour and Anthony Mackie, prompting the Red Guardian actor to want in on "Captain America 4."
Even though critics didn't look too fondly on "We Have a Ghost," Landon praised Harbour's performance, stating he knew he was the perfect choice for Ernest long before filming ever began.
David Harbour's theater background helped land him We Have a Ghost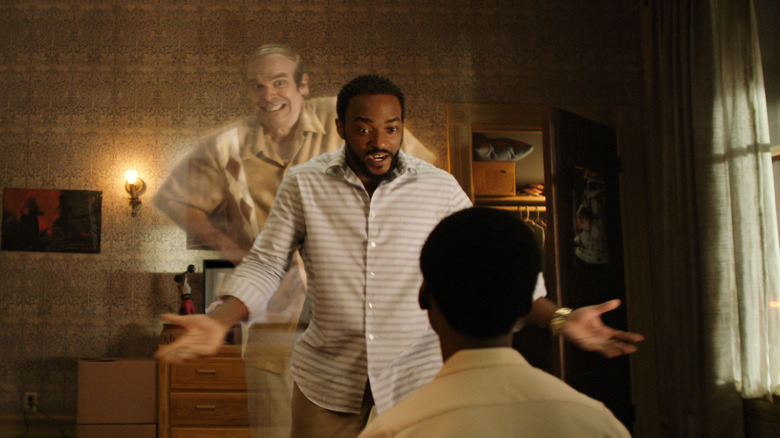 Netflix
During an interview with ComingSoon, "We Have a Ghost" director Christopher Landon commented on casting David Harbour as Ernest, praising the actor for conveying so much emotion with no dialogue. The director reflected on speaking to Harbour before he signed on for the movie, saying that the actor was "terrified" to play Ernest because there were no lines, making his performance rely on the emotions he could convey with his face and body. "But he's such an incredible actor and he's the kind of person that doesn't let his fears dictate his choice," Landon told the outlet.
Eventually, that fear turned to excitement as Harbour signed on and welcomed the challenge. "He's a guy with an extensive theater background and I think that really came in handy here," the director continued. "And he understood the character. Again, he's also an actor that just has this ability to make you fall in love with him. There's something about him that's kind of a broken toy that you want to fix and you want to see him get fixed. I think that's one of the things that David really brings to the role."
In an interview with Forbes, Landon continued to praise Harbour, calling him "versatile" as he filmed "We Have a Ghost" in between "Stranger Things" Season 4 and "Violent Night" productions. Harbour and Landon worked together to craft the entirely physical performance, which needed to convey Ernest's "lingering, emotional vibration," the director said. Many of their conversations centered on finding the right ways and moments to express those emotions without using words, a daunting task for any actor and director.