Fast And Furious Spinoff Release Date Changed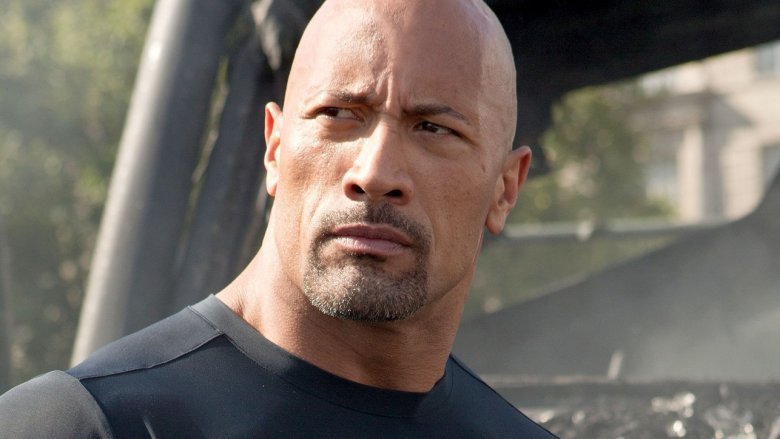 Giles Keyte/Universal Pictures
Contrary to what its name might suggest, the Fast and Furious spinoff isn't racing into theaters. 
Universal Pictures has changed the release date for the Fast and Furious franchise offshoot starring Dwayne "The Rock" Johnson and Jason Statham. Pushing the pic back by a week, the studio has now set it for an August 2, 2019 debut (via SlashFilm). The film was originally set to launch on July 26, 2019, but will now open on the same day as 20th Century Fox and Marvel Entertainment's The New Mutants, which has had more than its fair share of release date changes.
The Fast and Furious spinoff (rumored to be called Hobbs and Shaw) centers on Johnson's former Diplomatic Security Service agent Luke Hobbs and Statham's assassin Deckard Shaw, and rocks a script penned by Chris Morgan, who has written various films in franchise starting with 2006's The Fast and the Furious: Tokyo Drift. David Leitch, the filmmaker behind the original John Wick movie and the upcoming Deadpool 2, is on board to direct the spinoff. 
Plot details are pretty thin at this point in time, but buzz around the flick has generally been positive. At the time of the film's initial launch date announcement, Universal Pictures chairman Donna Langley expressed excitement about the project: "Fast and Furious is one of Universal's most beloved properties, and we handle every decision we make surrounding this franchise with great care. The global brand of Fast and Furious is strong and full of iconic characters, and we look forward to continuing to build on the film that started it all, as well as expanding into different narratives beginning with our first spinoff."
One person who isn't so enthused about the Johnson and Statham-starrer, however, is fellow Fast and Furious franchise star Tyrese Gibson, who plays Roman Pearce. In the past, Gibson publicly pleaded for Johnson to not follow through with developing the film, then blamed him for delaying the release of the planned ninth Fast and Furious movie. 
"If you move forward with that Hobbs movie, you will have purposely ignored the heart-to-heart moment we had in my sprinter," Gibson wrote to Johnson on social media. (The comment has since been deleted.) "I don't wanna hear from you until you remember what we talked about. I'm on your timeline 'cause you're not responding to my text messages. Fast family is just that: a family. We don't fly solo."
Gibson added in another Instagram message, "Congratulations to The Rock and your brother-in-law a.k.a. 7 bucks producing partner [Hiram Garcia] for making the Fast and the Furious franchise about YOU. And like you, DJ, even if they call, I will not be deleting this post. [Goodnight], folks. See you in 2020. Fast family, right? Nah. It's about Team Dwayne."
Perhaps the spinoff getting delayed just a bit will placate Gibson a bit. The Fast and Furious spinoff will now open on August 2, 2019.