The Haunted Mansion Trailer Offers Scares, Laughs, And Owen Wilson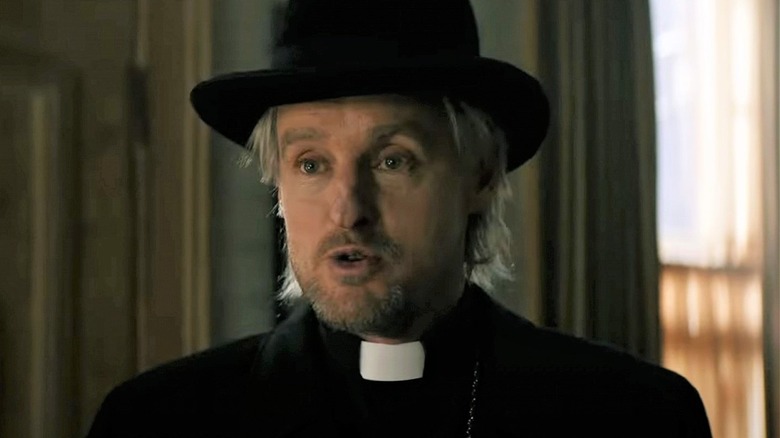 Walt Disney Studios Motion Pictures
After the success of "Jungle Cruise" and "The Pirates of the Caribbean" franchise, Disney is bringing another beloved theme park ride to the big screen: "The Haunted Mansion."
The spooky romp first debuted at Disneyland in 1969, where it quickly became one of the park's most interesting offerings. The horrorfest later found a home in Walt Disney World, and went international with Disneyland Paris, Hong Kong Disneyland, and Tokyo Disney. The attraction's success and fandom compelled Disney bigwigs to give their ride the cinematic treatment in 2003. Starring Eddie Murphy and Terrence Stamp, audiences were treated to a live-action adaptation of "The Haunted Mansion," which leaned heavily into the comedy. A staple for Gen Z and for those who adore Murphy's family-friendly jokes, the film followed a real estate agent who ends up in the spooky mansion. 
Now, two decades later, Disney is rebooting the Murphy-led film, by treating audiences to a contemporary visit to the "Haunted Mansion." "Dear White People" director Justin Simien spearheads Disney's latest live-action effort, with "Parks and Recreation" scribe Katie Dippold penning the script. With "Haunted Mansion" slated to release later this summer, Disney has debuted the first trailer for the flick, showcasing its brilliant cast which includes Rosario Dawson, LaKeith Stanfield, Danny DeVito, and Owen Wilson... as a priest. Wow, indeed.
Haunted Mansion looks to be a scarily good time
The trailer for Disney's "Haunted Mansion" kicks off with Rosario Dawson's character and her son moving into the titular spooky house, filled with cobwebs, antique furniture, and a healthy dose of ghosts. Naturally terrified that the paranormal occupy their prime piece of real estate, the two get the help of a priest, played by none other than Owen Wilson. The priest then ropes LaKeith Stanfield's exorcist into the mix, compelling him to help save the family from their unwanted ghostly guests.
Set to Roy Orbinson's moody "House Without Windows," the trailer for "Haunted Mansion" shows Stanfield and Dawson navigating the creepy house, which is filled to the brim with equally goofy and terrifying ghosts and ghouls. Along the way, they run into a motley crew of experts, including a psychic played by Tiffany Haddish, and Danny DeVito, who plays a scholar.
As far as first looks go, "Haunted Mansion" looks to be a compelling, family-friendly horror-comedy hybrid. With an introspective director at the helm and an all-star cast, which also includes Jamie Lee Curtis, Hasan Minhaj, and Jared leto, the latest Disney reboot should be a fun time at the movies this summer, especially for younger audiences and fans of the iconic ride.
"Haunted Mansion" will scare its way into cinemas on July 28 2023.