Abbott Elementary Fans Disapprove Of The Way Janine Ended Things With Mo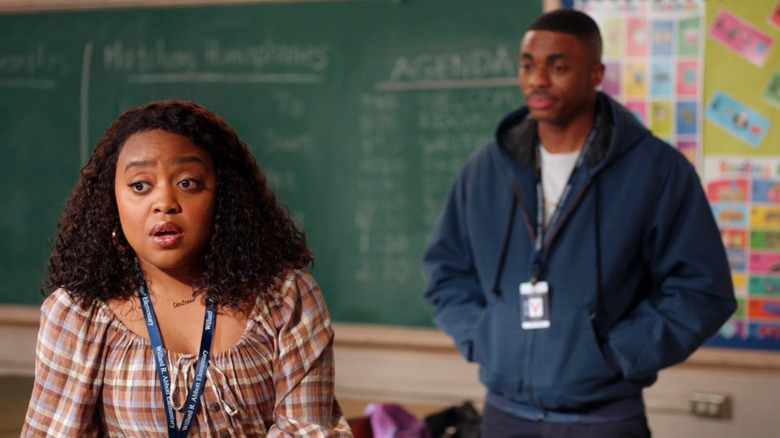 ABC
Contains spoilers for Abbott Elementary Season 2, Episode 17 — "Mural Arts"
Last week, "Abbott Elementary" finally delivered on its two-season-long tease with Gregory (Tyler James Williams) and Janine (Quinta Brunson) kissing. The moment was everything fans wanted, but the latest episode proved there are consequences to the characters' intimate moment. 
Episode 17 ("Mural Arts") saw the teachers, each dealing with school-wide problems, return to Abbott after their weekend conference. Jacob (Chris Perfetti) is trying to get a mural painted, Barbara (Sheryl Lee Ralph) and Melissa (Lisa Ann Walter) are figuring out how to combat charter schools, and Janine decides it's time to end things with Maurice (Vince Staples). 
Ending things with Mo is awkward for Janine. She has to tell him she kissed his friend, but she picked arguably the worst way to do it. Instead of having a normal conversation, Gregory accompanies Janine to a restaurant, with both of them breaking the news to Mo. To make things worse, Mo doesn't mind that the two got drunk and kissed, as they repeatedly state that it meant nothing. However, Janine then says they aren't a good fit, leaving him to finish his ribs on his own. 
While fans hope Mo can find love with Amber, they can't help but feel like there were better ways for Janine to handle the breakup.
Fans agree that Mo deserved better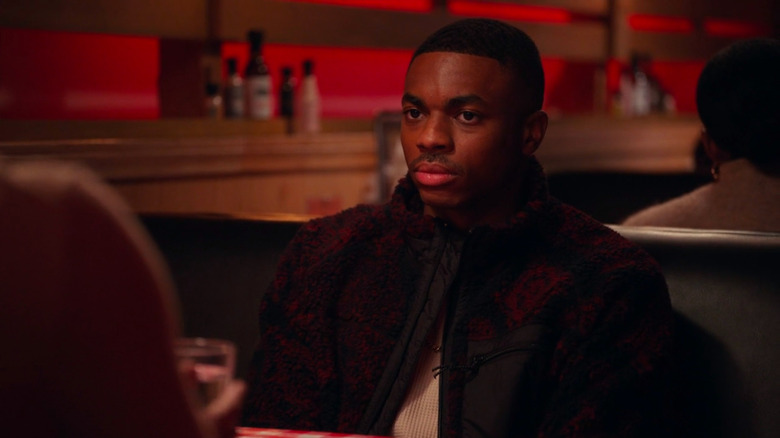 ABC
If one thing is clear following Episode 17, it's that every fan would have broken up with Mo better than Janine did. On Twitter, @SwissMontana6 wrote, "Anybody with sense could have told them that showing up together to tell Maurice about the kiss was a terrible idea. Janine and Gregory know better." @AshakiFitima replied to "Abbott Elementary" creator and star Quinta Brunson, saying Janine's breakup with Mo broke him, while @justtayr2 suggested that the teacher should've listened to her friend and not told him about the kiss. @Daviesallison1A simply stated, "Janine should've told Maurice without Gregory in the room." @Nick74D gave props to Jacob for his work in the episode, but for Janine and Gregory, all they had to say was, "SMH." 
On Reddit, the bashing of Janine and Gregory continued, with users rallying in support of Mo. U/MasterPrek said, "Who the hell breaks up with somebody over dinner? She knows she should've told him right then and there. When he surprised her with his MoDash lunch." U/gldwatch pointed out the specific issue with the breakup, saying, "[B]reaking up with your man in front of the potential new man is nasty work." It seems like the scenario left a lot of "Abbott" fans disliking Janine and Gregory. U/OwlAcrobatic7292 said their opinion on the two teachers took a negative turn after the episode, while u/GambinoGurl might find it hard to forgive them for hurting Vince Staples. 
However, all hope is not lost within the "Abbott" fanbase, as u/alh030705 understood where Janine and Gregory's viewpoints on the matter. "I've got to give Janine a pass on this because she just has so little dating/breakup experience," they wrote. "And Gregory just wanted to be straight with his friend. Good intentions led to an awkward, dorky mess."