Abbott Elementary Fans Are On The Look Out For A Mo And Amber Romance After Season 2 Episode 14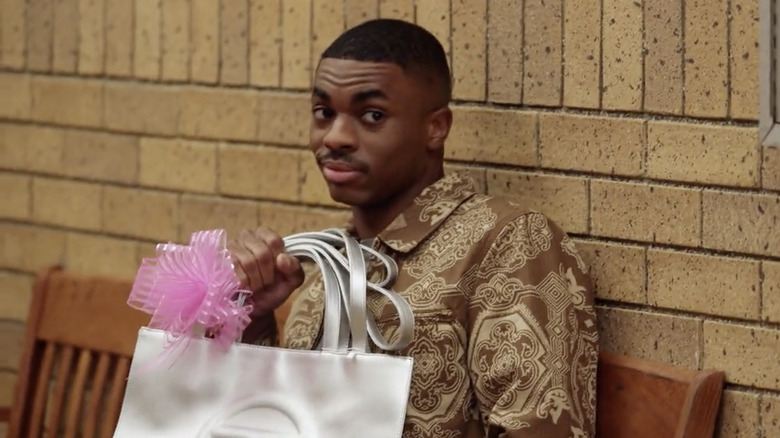 ABC
The "Valentine's Day" episode of the Emmy-winning series "Abbott Elementary" featured some adorable crushes and heartfelt moments between particular couples. But not everyone's plans for the romantic day worked out the way they had hoped, and some slight gift miscalculations have fans excited about a possible "will they, won't they" situation brewing between Maurice (Vince Staples) and Amber (Naté Jones).
For a while, fans' hearts are melting about the growing connection between fan-favorite characters Gregory Eddie (Tyler James Williams) and Janine Teagues (Quinta Brunson). But the two have been unable to get the timing right, and despite it being pretty clear to the audience and the rest of the characters that they have a thing for one another, they have yet to become a couple. Instead, Gregory is seeing a student's mother named Amber, and Janine is dating Gregory's friend Maurice. Some may have thought the perfect pair would never happen, considering that the two seem so content with their new romantic interests. But after watching Season 2, Episode 14, it appears these may not be such ideal matches.
In the entry, Gregory gives Amber a flower Lego set which she doesn't like, but Janine thinks it's the coolest gift ever. And Mo gets Janine an expensive, fancy purse that she's never heard of and that Amber absolutely adores. While this present mixup has inevitably reignited the excitement for Gregory and Janine to get together and proves they are meant to be another excellent TV couple, it also has fans seeing the serious potential for their current partners ditching the show's starring players for each other.
The Mo and Amber movement has officially begun!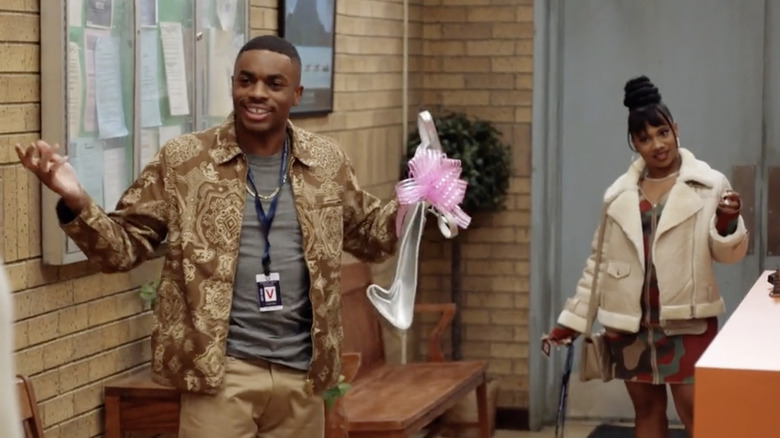 ABC
After the episode aired, viewers took to Twitter to express how they felt about Maurice and Amber becoming a couple. While many online had plenty to say, user @dorothynyc89 posted what arguably everyone was thinking, "Um, Mo and Amber need to be together since they both appreciate his gift for Janine. While Janine and Gregory need to be together because Janine loved his gift for Amber."
The fact that the two teachers seem perfect together and their Valentine's Day dates are a solid match didn't go unnoticed by users such as @kaLii_huxtable, who stated, "So I was on team Mo and Janine, but clearly Mo and Amber need to be a thing and get out Janine & Gregory's way ... Asaptually." In addition, several people who saw the entry were quick to point out what they think will happen next, like @FineAssCj, who wrote, "I think Janine and Gregory gon end up together, and Mo and amber gon end up together," and user @milacastle17, who posted, "I can see Amber and Mo getting together, leaving Janine and Gregory to get closer."
And it wasn't just Twitter that voiced their opinions on the idea of a future where Maurice buys designer purses for Amber. U/midget_cathy wrote, "Amber and Mo would be cute ngl," and u/ThisPaige has a good feeling spark will fly between the two with the post, "Oh wow, I can already see the partner switch coming. It's going to be great." While many see the possible union as a happy endeavor, others see it differently.
Some fans think if they get together it won't be a happy ending for everyone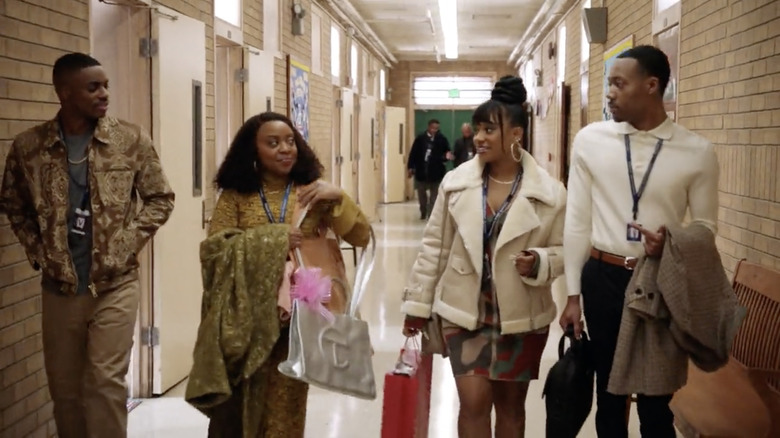 ABC
It seems pretty clear that a decent number of fans think Maurice and Amber would be much happier together, and the same goes for Gregory Eddie and Janine Teagues. But in terms of how that plays out, some people believe it's not going to be a fun ordeal for every party involved, like user @ZoyaNoah, who posted, "Ok, here's my theory. Mo and Amber are going to cheat on Gregory and Jeanine with each other, and then because of that, Gregory and Janine will get together." And that wasn't the only user to think something nefarious might go down when the two finally unite.
And while some are concerned over how Amber and Maurice get together, Other fans think they are the story's villains, and their exits from the relationships would ease a lot of frustration. User @LariskaPargitay seemingly falls into this category with the post, "Omg, Amber and Mo both need to stop like please just go away. Like it's clear they're the 'bad guys' in the love triangle to the point, it's almost annoying watching them not break up."
The future of Maurice and Amber may be a mystery for now, but what is certain is that the reactions and interactions of the characters during the gift exchange should really be in consideration to make the list of funniest moments on "Abbott Elementary."