Janine And Gregory's Kiss In Abbott Elementary S2 Episode 16 Was Everything Fans Wanted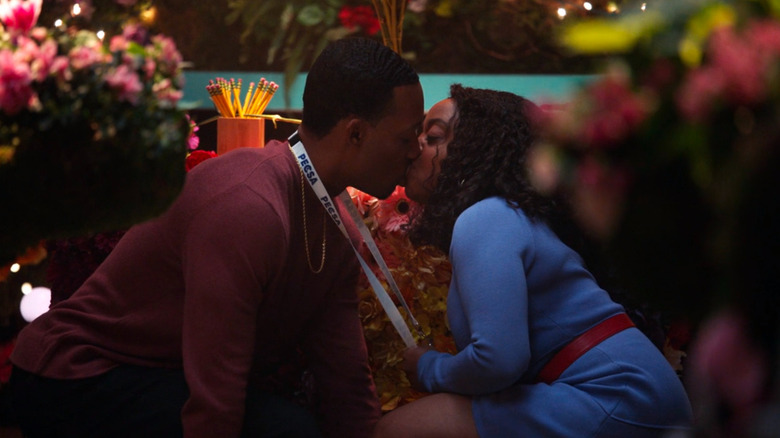 ABC
Contains spoilers for Abbott Elementary Season 2, Episode 16 – "Teacher Conference"
"Abbott Elementary" fans rejoice as the series finally delivered on one of its most-anticipated moments. After nearly two seasons of walking Janine and Gregory down a path that leads toward a Jim-and-Pam-like relationship, the show's most recent episode featured the teachers finally sharing an intimate moment.
Season 2, Episode 16, "Teacher Conference," saw the Abbott staff lock up their classrooms and attend the Philadelphia Teacher Conference. Gregory (Tyler James Williams) chose a weekend away with Amber (Nate' Jones) instead of the event, but a surprise breakup changes his plans. As any "Abbott" fan would expect, Janine (Quinta Brunson) and Jacob (Chris Perfetti) couldn't be more excited to attend all of the seminars, while Melissa (Lisa Ann Walter) and Barbara (Sheryl Lee Ralph) use the event as a relaxing getaway.
After Gregory arrives at the conference, he and Janine spend the night together, drinking numerous school-themed drinks. Eventually, the drunk duo sneaks into a closed flower exhibit, and their seasons-long tease of a potential relationship finally pays off as they share more than one kiss. To say "Abbott" fans were happy to finally see Janine and Gregory kiss would be a drastic understatement. The series teased it so much that previous episodes left fans a little peeved that they didn't get a kiss earlier. However, they can all breathe a sigh of relief as the teachers finally took the first steps toward a long-term relationship.
Teasing a Janine and Gregory romance paid off in a big way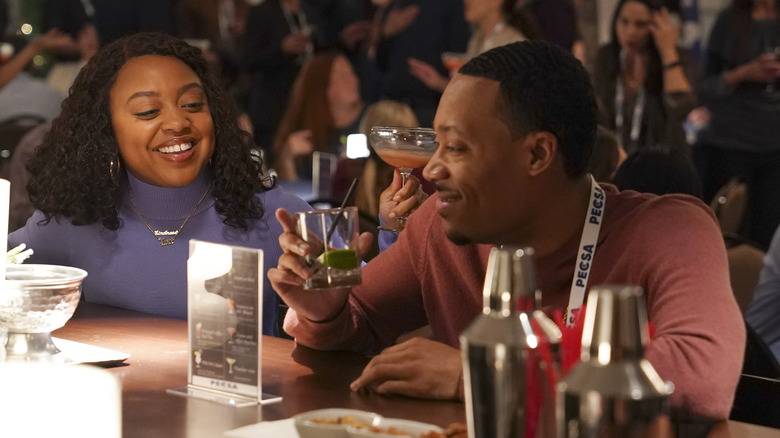 ABC/Gilles Mingasson
Following the premiere of "Abbott Elementary" Season 2, Episode 16, "Teacher Conference," fans ran to social media to scream about Janine and Gregory's long-awaited kiss. On Twitter, @breannwaIker yelled, "It happened, it finally happened," pairing a perfect gif of "That's So Raven" screaming in excitement. Neither @Itsmelavery nor @ungodlywests could hold in their emotions about finally seeing the kiss, with the latter praising the shot of the moment, which saw the teachers surrounded by beautiful flowers.
"Abbott" fans took their excitement to every corner of the internet, with Reddit being the next step. The kiss profoundly impacted u/GenX4eva, who said, "Oh, I got up from the couch when they entered that amazingly beautiful room. And when they kissed, I gasped out loud. Mouth still open." U/krisbryantishot summed up the entire fandom's feelings, saying, "Me desperately scouring Twitter for a clip of the kiss [so] I can watch [it] on repeat for the next 7 months."
While the initial kiss was enough to send audiences into a tailspin of emotions, many fans couldn't get over Janine pulling on Gregory's lanyard to pull him for more kisses. On Twitter, @ungodlywests included many screenshots, showing that the moment sent them over the edge in the best way possible. On Reddit, u/lovetheblazer said, "I knew it!!! Y'all, that lanyard pull second kiss was so hot," and u/H2Ospecialist echoed the sentiment, only able to say "whoa girl" to the moment.