For Mayim Bialik, Joining The Big Bang Theory Was A Bit Like Going To A New High School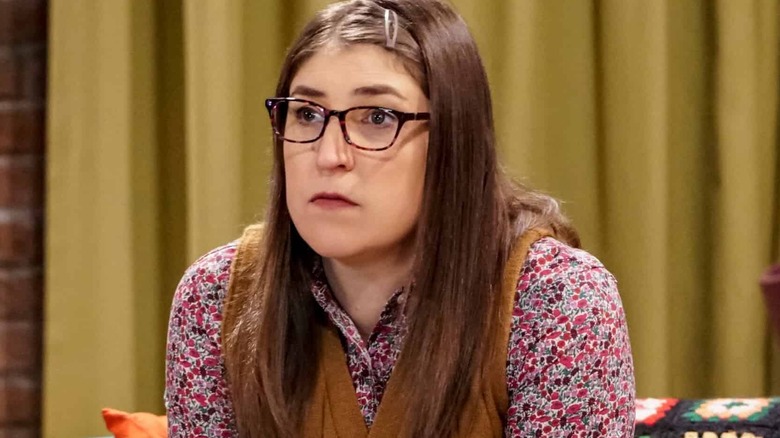 CBS
When "The Big Bang Theory" debuted in 2007, the main cast seemed like a close-knit gang with no room for outsiders. Sheldon Cooper (Jim Parsons), Leonard Hofstadter (Johnny Galecki), Howard Wolowitz (Simon Helberg), and Rajesh "Raj" Koothrappali (Kunal Nayyar) brought the nerdiness and pop culture references to the mix. Penny (Kaley Cuoco), meanwhile, ensured that the CBS sitcom wasn't a boy's club. As time went on, however, Bernadette Rostenkowski (Melissa Rauch) and Amy Farrah Fowler (Mayim Bialik) were brought in to spice things up.
Mayim Bialik's first appearance on "The Big Bang Theory" came in Season 3's "The Lunar Excitation." In the episode, Raj and Howard try to find a match for Sheldon on a dating site, which leads to them discovering Amy and realizing that she and Sheldon are perfect for each other. While it took a while for romantic sparks to fly between Amy and Sheldon, the former became a major character on the series from that moment on.
These days, Bialik is regarded as a "Big Bang Theory" legend. That said, it took a minute for her to settle into her new surroundings when she became a permanent cast member in Season 4.
Mayim Bialik felt out of place when she joined The Big Bang Theory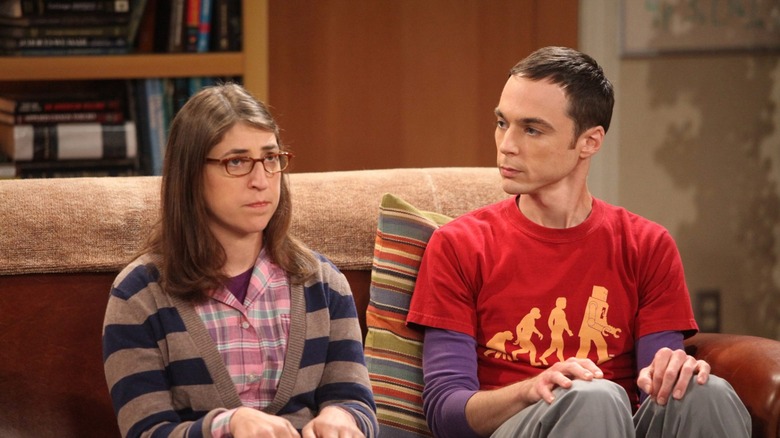 CBS
Working on successful TV shows allows everyone involved to develop strong bonds. Sometimes, they even become as close as family members or fall in love. "The Big Bang Theory" was like that, as evidenced by Kaley Cuoco and Johnny Galecki having an off-screen romance. For Mayim Bialik, though, joining the gang was pretty intimidating early on.
In an interview with Jim Parsons for "The Big Bang Theory" Season 4 Blu-ray, Bialik compared joining the sitcom to attending a new school. "I liken joining the cast in the fourth season to joining a new high school. Not the first day of 11th grade, but the third week in when everyone's already got their classes and their teachers and where they wanna sit. And then you come in, and you're not as hip and cool as everyone."
Parsons, meanwhile, disagreed with the notion that his co-star wasn't as cool as the rest of them. He claimed that she fit in from the get-go, and the rest is history.