The Big Bang Theory Scene That Led To Kaley Cuoco And Johnny Galecki's Off-Screen Romance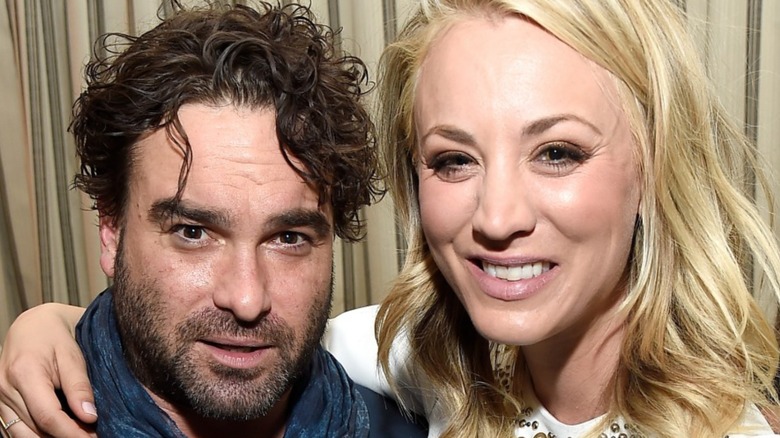 Matt Winkelmeyer/Getty Images
From 2007 to 2019, CBS's "The Big Bang Theory" provided audiences with the best of science, the shared love of different genre fandoms, and plenty of laughs along the way. Like all great sitcoms, it was the cast of characters that gave the series its addictive appeal. The comedic charisma between best friends Sheldon Cooper (Jim Parsons) and Leonard Hofstadter (Johnny Galecki), along with next-door neighbor Penny (Kaley Cuoco), was the foundation upon which the program stood. In the early seasons, Leonard's attraction to Penny and their apprehensive back and forth about their true feelings for one another were memorable, with the characters going on to marry in Season 10. Some "Big Bang Theory" fans elicited strong feelings about Penny and Leonard's wedding, but despite the mixed reaction, the event was a welcome relief after a decade of "Will they or won't they?"
In recent years, both performers have come forward to reveal they were in a relationship together during the first couple of years of the show. Cuoco revealed the secret relationship to CBS Watch! Magazine in 2010 (per ET Online), roughly a year after they parted ways. But most surprising of all, there was a Season 1 scene that led the co-stars to pursue their offscreen romance.
Johnny Galecki and Kaley Cuoco fell in love on The Nerdvana Annihilation
In a joint interview with Vanity Fair, Kaley Cuoco and Johnny Galecki revealed the episode where they developed strong feelings for one another in real life. Season 1, Episode 14, "The Nerdvana Annihilation," continued the running thread of Leonard's crush on Penny, which included a heartfelt scene where he dreams of saving her in an elevator shaft. Speaking about the moment, Cuoco commented, "It was not an enjoyable experience for me." At this point, Galecki followed that up by saying, "First of all, print that. [Laughs] We had to be in each other's arms — and for quite some time because it was a bit of a stunt that we were doing. It was a whole thing, and it was a pretape since it took a little while. Kaley didn't look freaked out at all. In fact, she looked extremely happy in those arms. That was certainly one of the moments that I think —" and then Kaley Cuoco adds, "I think we fell a little in love in that elevator shaft."
The actors dated from 2007 to 2009, and despite our love of celebrity couplings, the relationship was never revealed while both were together. Johnny Galecki has reflected on how he would have handled his relationship with Kaley Cuoco differently, which includes not worrying about fan perception had they gone public with their partnership. The former couple parted on good terms and remain good friends to this day.