The Mandalorian's Jon Favreau Is Happy To Contribute To Pedro Pascal's Cultural Moment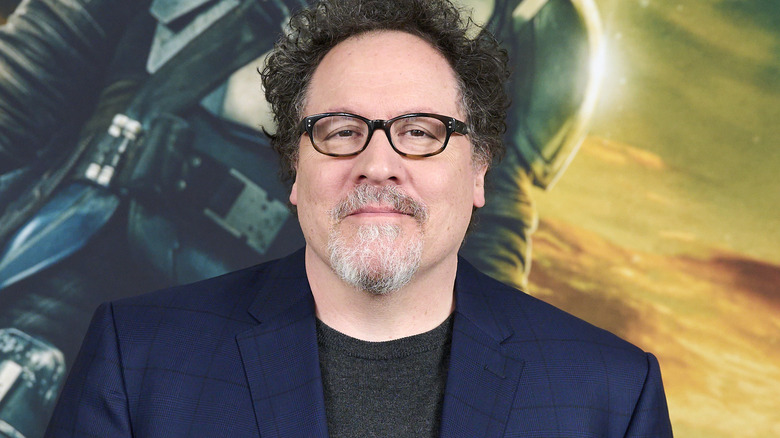 Carlos Alvarez/Getty Images
Contains spoilers for "The Mandalorian" Season 3, Episode 1 — "Chapter 17: The Apostate"
"The Mandalorian" returns for Season 3 with Pedro Pascal masking up once more as the rebellious, Baby Yoda-loving Din Djarin. Jon Favreau set the bar incredibly high for the Disney+ series when he brought back Luke Skywalker (Mark Hamill), via a little CGI magic, in the Season 2 finale titled "The Rescue." Seeing Luke show off his vast Jedi powers, while still in his prime, captured the imaginations of the entire "Star Wars" fandom. And that's arguably the reason seeing the show's real week-to-week protagonist and Grogu again seems a little underwhelming.
Sure, Grogu (Baby Yoda) is back, and he's showing off his newfound knowledge of the Force to slyly steal sweets right off the desk of an unsuspecting Greef Karga (Carl Weathers) like a Force-abusing trick-or-treater. But the Mandalorian and Grogu spend the very short installment — only 33 minutes of actual story without the credits fluffing up the runtime — like characters journeying from place to place in search of items to beat a video game. 
Yes, both the whereabouts of Cara Dune (Gina Carano) and Moff Gideon (Giancarlo Esposito) are revealed, and fans even get to see Din and Grogu briefly visit Bo-Katan (Katee Sackhoff). But remember it's only the first step in what's sure to be another exciting season of "The Mandalorian" — squarely focused on Din and Grogu. And Favreau is delighted to be playing a part in Pascal's ascension in pop culture.
Favreau loves playing a part in Pascal's 'moment'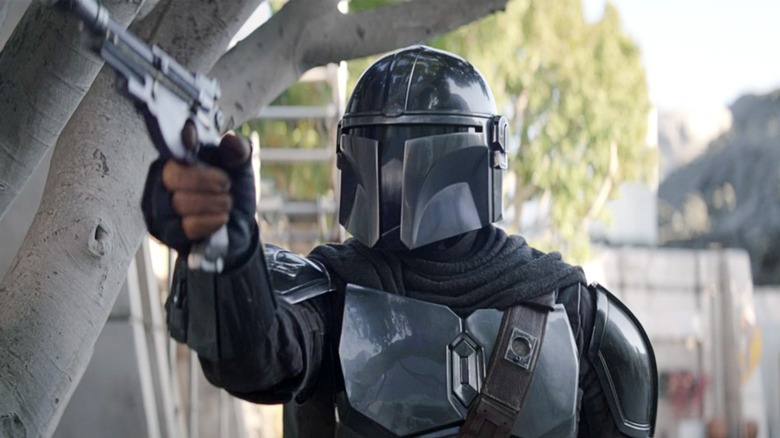 Lucasfilm/Disney+
"The Mandalorian" Season 3 is back, even if the first episode wasn't the most exciting chapter of the Disney+ series. Nevertheless, Pedro Pascal's titular character is ready to fight, and he's looking for redemption after removing his helmet — revealing his face to Grogu in Season 2's "The Rescue." However, the actor who plays Din Djarin just continues to grow in popularity thanks to appearances alongside Denzel Washington in "The Equalizer 2," a fantastic role in "The Last of Us," and, yes, even playing the baddie in the critically maligned "Wonder Woman 1984." 
But showrunner Jon Favreau is also happy to be a part of Pascal's cultural moment. "People are starting to associate his name with his performances and his face," Favreau said in an interview with The Hollywood Reporter. "Of course, now as he's doing talk shows, people are getting to know the person, as well as the characters. So, he's having a moment, and I'm glad that we're able to be a part of that." 
Pascal's short seven-episode stint on "Game of Thrones" was one of the actor's roles that caught Favreau's attention. "We just hired him because we were fans of his work [in] 'Narcos' and 'Game of Thrones,'" Favreau said in the same interview. "We knew that he could ground and add humanity to a character that was otherwise a mask." Thanks to his undeniable acting talents, Pascal's success will undoubtedly become more than simply a fleeting moment.