Mandalorian S3 Premiere: Fans Already Love Space Pirate King Gorian Shard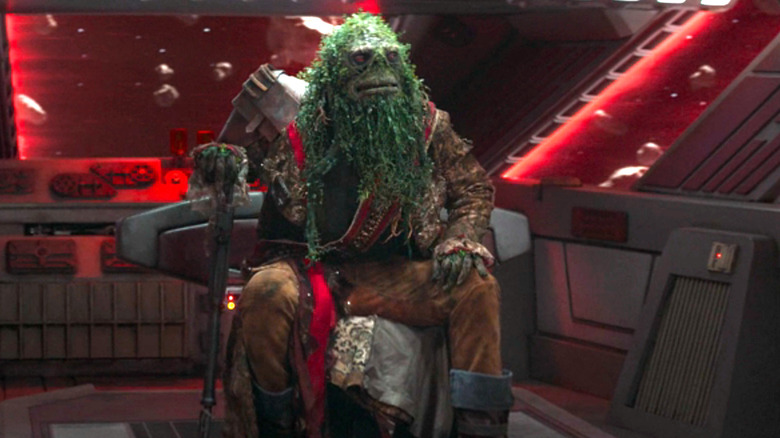 Lucasfilm/Disney+
Contains spoilers for "The Mandalorian" Season 3, Episode 1 — "The Apostate"
Everyone's favorite metal-helmeted bounty hunter is back, as "The Mandalorian" returns with its long-awaited third season. Fans are especially happy to see Disney's most merchandisable little green guy back in action, as Grogu is reunited with Din Djarin (Pedro Pascal), having rejected his Jedi training. But another almost equally green character captured fans' attention in the season premiere: the space pirate king Gorian Shard, portrayed by Nonso Anozie.
Shard is what would happen if you turned Davy Jones from "Pirates of the Caribbean" into a Muppet and stuck him in "Star Wars." He's a grizzled creature giving off major barnacle-covered vibes, with a long, green beard that looks like it was made with craft supplies from Hobby Lobby. After Din Djarin pops four of Shard's men on the now gentrified port of Nevarro with expertly placed blaster shots and sends Vane packing, Shard swears revenge and attacks our hero during his flight to the ancient Mandalorian home world of Mandalore.
With a few swaggering threats from the deck of his pirate spaceship and an asteroid dogfight to rival "The Empire Strikes Back," Shard made quite an impression on "The Mandalorian" fans, many of whom took to the high seas of the Internet to share their love of the new character. 
Fans think Gorian Shard is a classic space opera villain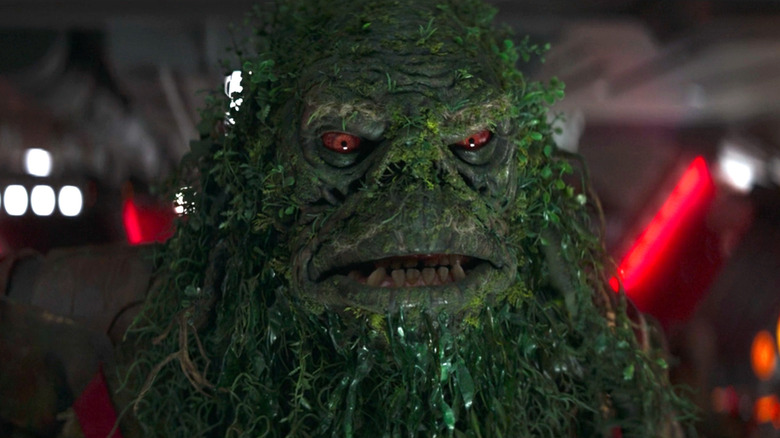 Lucasfilm/Disney+
On the Reddit sub dedicated to "The Mandalorian," fans gathered to share their initial positive reactions to the character of Gorian Shard. One post from u/TCO_TSW called the pirate captain "The most golden age [s]pace opera villain ever in Star Wars." Others agreed, praising Shard's unique design and bold characterization.
Some fans compared Shard's gloriously over-the-top look to other popular characters, including Oscar the Grouch, DC Comics' Swamp Thing, and Noel Fielding's "The Mighty Boosh" character Old Gregg. Comparisons to Bill Nighy's Davy Jones were also made, with u/matthew_the_cashew writing, "this guy 100% exists in the Pirates of the Caribbean universe." Overall, fans loved the nautical themes emphasized by Shard and his pirates throughout the season premiere of "The Mandalorian," with u/thegabe87 noting, "The whole episode had [an] interesting seafaring theme. Karga's and the pirate's outfits reminded me of some pirate film's costumes."
Others wondered whether Shard might be a way for other fan-favorite characters, specifically another pirate, to show up in "The Mandalorian." "I was screaming GIVE US HONDO the entire episode," wrote u/LordRaiders, referring to the space pirate Hondo Ohnaka, a recurring character from "Star Wars: The Clone Wars" and other "Star Wars" media.
Whether Shard becomes a more consistent antagonist for everyone's favorite space dad remains to be seen as "The Mandalorian" Season 3 rockets onto the small screen. But fans clearly hope this is the way.