Sons Of Anarchy's Tommy Flanagan Felt A Little Lost When The Show Wrapped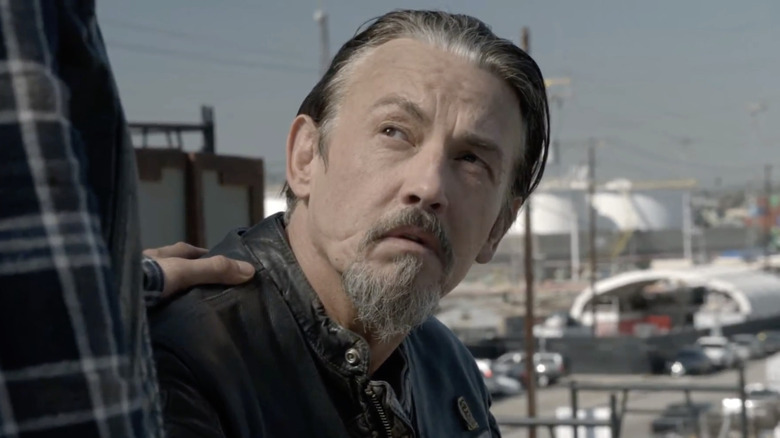 FX
It's never easy when a show has to call it quits. When it came to the final ride for "Sons of Anarchy," it seemed safe to presume that some of those viewers found it difficult to watch their favorite biker gang drive off into the sunset one last time. While it was no doubt an adjustment for many, some fans might be surprised that Tommy Flanagan, who played Filip "Chibs" Telford in the series, didn't have an ideal reaction to things coming to an end either.
Of all the personalities introduced on "Sons of Anarchy," Chibs arguably had one of the most intriguing backstories. Long before he became President of SAMCRO, he was a medic in the British Army before being discharged and then joined the IRA before being excommunicated and scarred for life by the group's leader. Luckily Chibs would find a home with the Sons of Anarchy chapter in Ireland, then in the states, where he would rise from Sergeant to Vice President and beyond.
Flanagan would play Chibs in every episode until the show finally ended. In that time, he grew a strong connection to his "Sons of Anarchy" character, which was probably one of the many factors that made it difficult for him to walk away from the series.
No Chibs and Sons of Anarchy left Flanagan feeling uneasy at first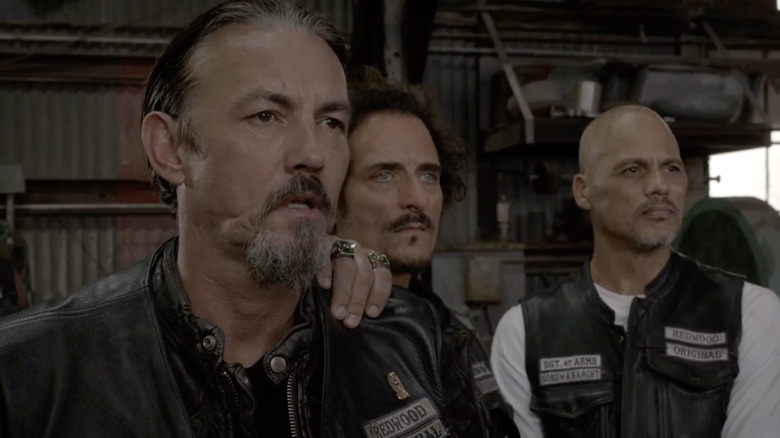 FX
After seven years of working with the same talented individuals, Tommy Flanagan had trouble accepting that his time as Chibs was over. "Oh my god, yeah, to me personally, it was a huge adjustment," the actor told The Baltimore Sun. "I'm so used to getting up at 4 a.m. and jumping on a motorcycle and riding to whatever location and listening to whatever music and coming home to my family ... it was great, it was just this routine that all of a sudden, you're not doing anymore. You're lost for a second." Despite his difficulties with hanging up his cut, the actor luckily did not remain confused about what to do next for very long.
Since then, Flanagan has lent his talents to many worthwhile credits. Some of his small-screen accomplishments that stand out include "Wu Assassins" on Netflix, "Westworld" on HBO, and "Power Book IV: Force" on Starz. While some of his early credits in cinema include roles in "Gladiator," "Braveheart," "Smokin' Aces," and "All About the Benjamins," since "Sons of Anarchy" ended, he has been in movies like "Papillon," "Killers Anonymous," and "American Fighter." He has even been a part of the Marvel Cinematic Universe as Tullk in "Guardians of the Galaxy Vol. 2."
While there is no denying he has been on a wild ride of his own as an actor, the role he has showcased the most dedication to throughout his career has arguably got to be the biker outlaw Chibs. And because of that, it's probably a safe bet that a part of the persona will always remain close to Flanagan.