Tommy Flanagan's Connection To His Sons Of Anarchy Character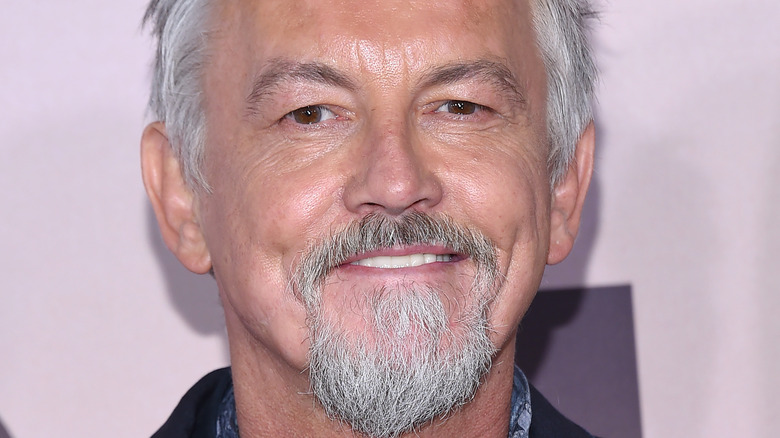 DFree/Shutterstock
When signing up for membership in the Sons of Anarchy, living comfortably is just not to be expected. The lives of SAMCRO members are typically short and tragic due to the cycle of violence, and there is no better example of this than Jax Teller (Charlie Hunnam). When the biker prince first appears in "Sons of Anarchy," he is young and full of promise. Though he has his reservations about Clay's (Ron Perlman) leadership in the club, he still believes in the lifestyle. It is only through the machinations of his mother Gemma (Katey Sagal) and seeing how it tears his family apart that Jax realizes the dead end he is heading towards.
By the end of "Sons of Anarchy," very few are left standing. One of those happy few is perhaps the most deserving of getting out alive — Filip "Chibs" Telford. Played with particular zest by Scottish actor Tommy Flanagan, Chibs is one of the only members of the club who retains a sense of decency. As a result, he survives the events of the show and eventually becomes President. Flanagan has had many credits since "Sons of Anarchy," but still fans may remember him with fondness for his portrayal and a specific connection to the character.
Chibs was informed by Tommy Flanagan's real experience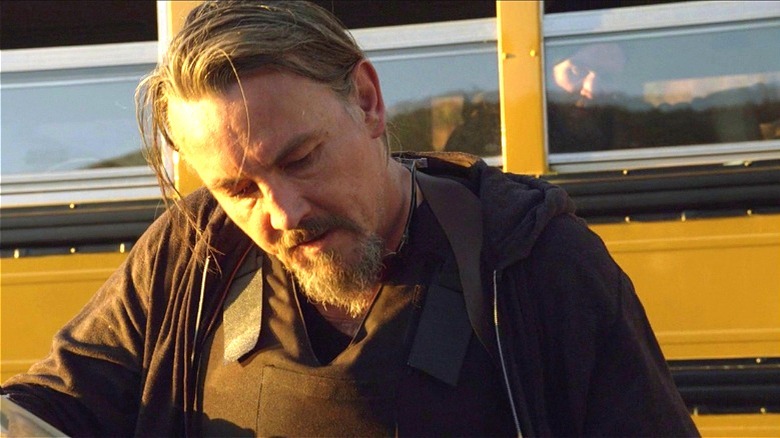 FX
A faithful supporter of Jax since the earliest season of "Sons of Anarchy," Chibs comes into his own as the series progresses. His large storyline comes about in Season 3 when the club journeys to Ireland in order to find Jax's son Abel and deal with the tyranny of Jimmy O'Phelan (Titus Welliver). In addition to stealing Chibs' family, Jimmy O. was also the villain who scarred Chibs' face. Showrunner Kurt Sutter included this detail in the series as a reference to a real-life incident where Flanagan was involved in a knife-fight decades previously. But while the incident affected Chibs in the show, the same cannot be said for the "Sons of Anarchy" actor.
"It's not about the scars anymore," Flanagan told Vulture. "I don't see the scars anymore. They're just ancient history now. It was a horrible thing that happened 20 years ago. I don't give it a second thought." Flanagan may not have reservations about his character's backstory, but that does not extend to Chibs' name. The actor went on to explain that Sutter gave Filip Telford that specific nickname because it was Scottish slang, meaning 'knife.'
"At the time, I didn't give it much thought," Flanagan mused. "Then I thought, 'Why the f*** did I agree to that name? It's just too personal.'" Flanagan may be connected to Chibs for a long time coming, but that doesn't take away from the promising legacy the actor has to offer.
Tommy Flanagan is ready to move on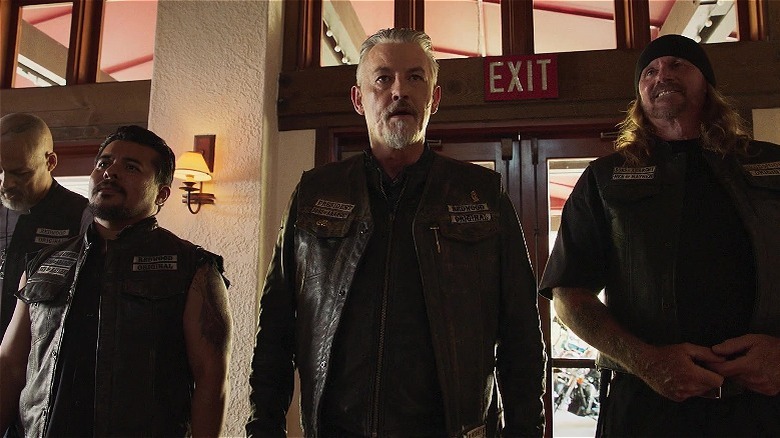 FX
With almost a decade since "Sons of Anarchy" ended, Tommy Flanagan has not been resting on his laurels. The actor has worked consistently and most recently booked a role in "Power Book IV: Force" as mob boss Walter Flynn. Flanagan spoke to The Digital Fix about his career and his excitement about joining the series.
"Got a Zoom call, and they said 'Want to be part of the Power universe?' I said 'Yes please,'" Flanagan recounted. He continued: "'You're going to be working with Joseph Sikora and 50 cent' — OK! Yeah, and off I went to Chicago." The actor went on to explain the difference between Chibs and the ruthless gang leader in "Power Book IV." Though both are involved in crime, Walter Flynn's leadership is much more cutthroat and ruthless. But with such close ties to his previous work, many fans may want to know if he would ever return to the world of "Sons of Anarchy." After the conclusion of the series, Flanagan reprised his role in the spin-off series "Mayans M.C.," but that may be the end to his story.
"Y'know, depending on the size of the paycheck, is all I got to say about that," Flanagan confessed. "'Sons' was a huge part of my life, and it was a lot of fun, and I love the guys and I love the girls, and I love the people involved."