Courteney Cox Barely Read The Scream 6 Script (& For A Good Reason)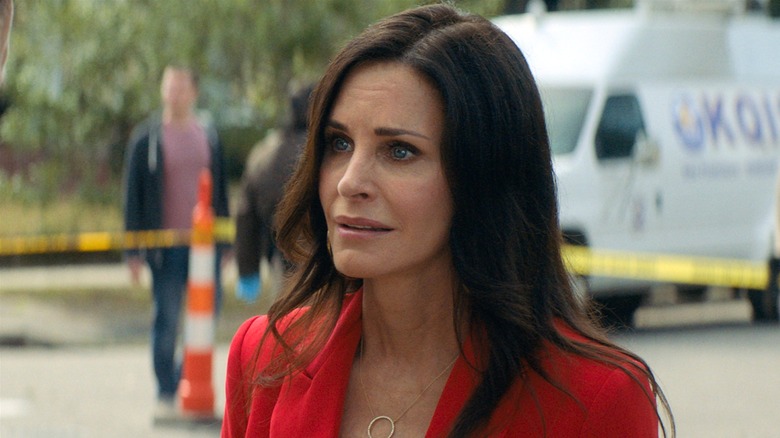 Paramount Pictures
If there is any property in popular culture that can rival the place of "Friends" in relation to Courteney Cox's fame, then it would have to be the "Scream" franchise. Along with Roger L. Jackson, who provides the instantly recognizable Ghostface voice, she is the only actor to be a part of every film in the iconic horror series. And given that Jackson is never actually seen onscreen, Cox is the only one to actually appear in all the films. Through all six movies, her character, Gale Weathers, has been among those in the killers' crosshairs. Not only has Gale survived and refused to let the various iterations of Ghostface intimidate her over the course of more than 20 years, but she also hasn't even retired from journalism.
By now, Cox almost certainly knows her character backward and forwards, inside and out. She's so in touch with Gale that it would be easy to picture her among those actors who have gotten bored with their careers. Or maybe, at least, she is getting bored with the part. But according to Cox herself in a recent interview with Jimmy Kimmel, she did at least one thing that kept Gale fresh for her. 
Courteney Cox wants to be surprised
During a recent appearance on "Jimmy Kimmel Live," Courteney Cox took Kimmel through a bit of her approach to once again playing Gale Weathers in "Scream VI." First, she leafed through the script to see if her character was going to die, an understandable action in this franchise, even for such a longest-standing character. "But I don't read after my character is not in the script," she said. "Whether she lives or dies, I don't really want to know what happens, so I don't read it."
Cox was quick to qualify though that it's not because she doesn't take her craft seriously. Nor is it indifference to the writer or the script itself. Rather, she's concerned about the same thing all of us are when it comes to a new and buzzworthy movie: spoilers. She also said that it helps her stay on her toes during filming, particularly when it comes to not knowing who the real killer is. In other words, she lets herself be taken through the same emotional journey that her character is taken through.
Kimmel seemed taken aback by this. "Is that a normal thing to do?" he asked. "I take my work seriously, but it's really fun to go see the movie and not have any idea," Cox said. Meanwhile, even though Cox obviously cannot clue us into her character's fate, plenty of "Scream" fans are quite worried about Gale.