The Winchesters Fans Are Convinced They See Dean In Season One's Finale Promo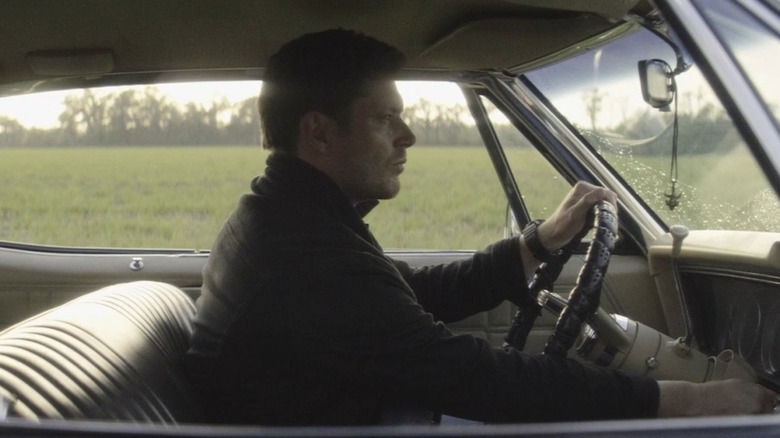 Warner Bros. Television Distribution
Season 1 of "The Winchesters" is coming to a close and things are getting dicey for the Monster Club. Even though John (Drake Rodger) has been cleared of Kyle's (Ryan McCartan) murder, the characters still have plenty of obstacles to overcome. The Akrida have them outnumbered, and with alliances being tested, John, Mary (Meg Donnelly), Lata (Nida Khurshid), Carlos (Jojo Fleites), and Ada (Demetria McKinney) will have to use all the tools at their disposal to have a fighting chance at survival.
This season's final episode, ominously titled "Hey, That's No Way to Say Goodbye," will see the narrative come to a tipping point. A promo for the installment, which will air next week on March 7, shows the team gearing up for an epic showdown that could alter the course of their lives. Although they have Millie (Bianca Kajlich) and Betty (Andrea Londo) in their corner, John and Mary are still early into their monster-hunting days, putting them at a disadvantage as they face off against dark forces that threaten all of humanity. Thankfully, the promo also features a brief appearance from a mysterious figure, and viewers are certain that they recognize one of the familiar faces teased for "The Winchesters" Season 1 finale.
Viewers are confident that Dean will make an appearance in the season finale
Since Dean (Jensen Ackles) appeared at the end of the first episode and serves as the show's narrator, it makes sense that he would make another flesh-and-blood appearance at some point. "The Winchesters" fans are ecstatic to see Dean back on screen, and viewers can barely contain their joy. "WE KNOW DEAN SO WELL THAT WE KNOW ITS HIM JUST BY HIS ARM," wrote Twitter user @BeausCordell. Twitter user @MISSYOUDEAN also resorted to all caps, writing, "IT'S DEAN FOR REAL, IT'S HIM."
The promo shows John receiving a note from someone, followed by a photograph of Dean. No matter what's actually going on, longtime fans of the franchise seem certain that it means the beloved character will appear in the episode. "He is definitely Dean. John in his uniform. Someone who is giving him a piece of paper that looks like a letter. A black jacket like the one Dean is wearing in the pilot. This guy is OUR best boy," wrote Twitter user @alwaysdeanw. Without evidence to the contrary, fans won't be deterred. "The arm of Dean Winchester I repeat the arm of DEAN WINCHESTER appears there in the promo," said Twitter user @wayward_sister9.
Whether or not it's Dean's arm, it's clear that he plays a role in the overarching story. If he doesn't show up in the Season 1 finale, it will be interesting to see how he factors into the overall narrative.