The Rookie Fans Are Buzzing Over Chenford's Baby Talk (But Is It Too Soon?)
Contains spoilers for "The Rookie" Season 5, Episode 17 — "The Enemy Within" 
ABC's "The Rookie" is a police procedural that maintains the high-intensity drama of the genre while also offering addictive romances between some of its characters. Of these pairings, the burgeoning relationship between Officers Tim Bradford (Eric Winter) and Lucy Chen (Melissa O'Neil) — known affectionately as "Chenford" in the fandom — is one of the most popular with viewers. Throughout Season 5, the duo has taken their coupling to new levels of both camaraderie and intimacy as both are now going on dates together.
Chenford's first outing occurred in Season 5, Episode 10, and featured some explosive chemistry between them, despite the fact that Lucy was dedicated to taking things slow in their partnership. But things have only gotten more romantic as the episodes have aired, which culminated with a brief, and indirect line from Tim in the 17th episode of the season that has fans buzzing. While discussing a missing child in the precinct, Officer Bradford started talking about how he would approach the situation differently with "their" kids. The line was only part of the conversation, but amidst the viewer's excitement, some also think such talk is too soon.

Tim's theoretical talk of children was quickly picked up by fans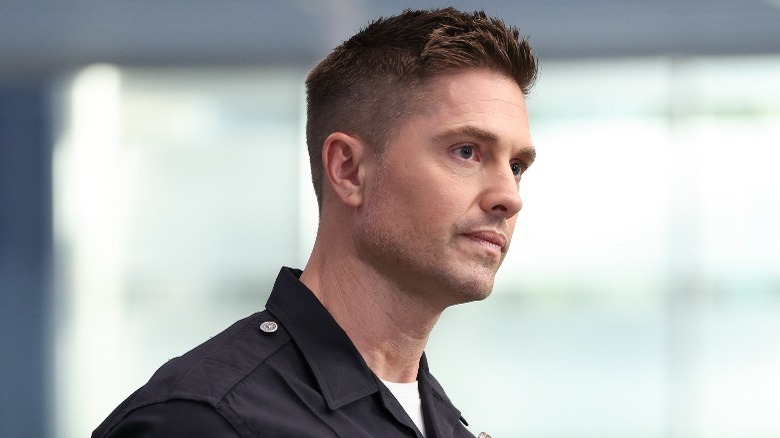 Raymond Liu/ABC
It didn't take long for fans to flock to social media to rave about Tim and Lucy's future together. On Twitter, @sunniesbradford shared, "Goodmorning Twitter baes reminded chenford casually talked about their children last night Y'all have an amazing day #TheRookie #Chenford." Fan @kalelismyhero was equally enraptured and stated, "I love how he didn't bat an eye when she kept mentioning thier kids.. Lol then says I'm going to have to be a good dad because you keep losing our kids everywhere! I love them so much #Chenford #TheRookie." 
But not all viewers were over the moon about the conversation, with some on the program's subreddit page claiming it is too soon for the couple to discuss children. During the thread talking about a possible future pregnancy of Lucy's, u/Kwilly462 observed that they hoped to see the couple get married before any possible subplots involving kids were introduced. The fan also pointed out how the series was already overfilled with pregnancy plots.
Another watcher, u/ReccomendationTop594, agreed and added how they would like to at least see a scene where Bradford goes shopping for a wedding ring and brings along Lopez (Alyssa Diaz) for moral guidance in the selection. They also were in agreement that rushing the pair into having children was not a good idea, but are sure that they will have some by the series' end.