TWD's Creator Robert Kirkman's Next Series Is The Shared Universe Of Void Rivals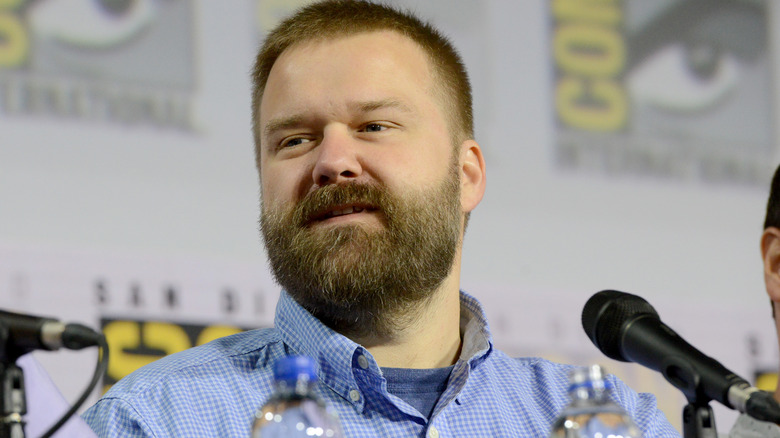 Albert L. Ortega/Getty Images
"The Walking Dead" creator Robert Kirkman's next project is set to be a big one, as he is teaming up with Lorenzo De Felici ("Kroma) and Matheus Lopes ("Kazar – Lord of the Savage Lands") for "Void Rivals," a new science fiction comic book from Image Comics and Skybound Entertainment. The new series will begin an all-new shared universe, and it is even being described as one of the most ambitious titles the publishing initiative Skybound has ever done.
According to the plot summary, "Void Rivals" will follow two enemy pilots from mysterious, decrepit worlds with a black hole keeping them together. With an ongoing war raging around the area known as the Sacred Ring — and a menacing power threatening the existence of the universe at large — both Darak and Solila find themselves stranded together, and will need to work alongside one another in order to find safety, as the pair discovers what's really out there in their new surroundings. Presumably, if we look at past Kirkman stories for clues, the truth behind it all will be startlingly different than they think. 
Void Rivals is Robert Kirkman's next comic For Image/Skybound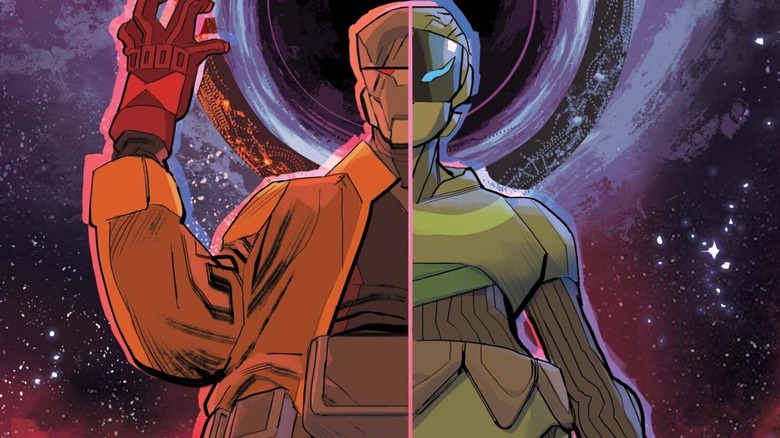 Skybound/Image Comics
Robert Kirkman, who founded Skybound Entertainment in 2010, has continued to be a prolific writer and produce some of the best-selling comics outside the big two. Kirkman is best known for co-creating "The Walking Dead" alongside artist Tony Moore, which concluded its 193-issue run in 2019. The comic was adapted into a hit AMC series, which ran for 11 seasons, airing an emotional series finale in November. In addition, "The Walking Dead" is set to air multiple spinoffs, including "The Walking Dead: Dead City" in June and "The Walking Dead: Daryl Dixon" coming out later in the year.
Kirkman's non-"The Walking Dead" work includes "Invincible," a superhero story like no other, which ran for 144 issues before finishing in 2018. The comic was adapted into a critically acclaimed animated series starring Steven Yeun. Meanwhile, Kirkman's "Firepower" series with Chris Samnee is currently on a break, while his previous science fiction series, "Oblivion Song" with De Felici, ended in 2022. Skybound Entertainment has seen additional growth through its Skybound Comet imprint, which is publishing excellent young adult and middle-grade titles, including "The Walking Dead" spinoff "Clementine" from Tillie Walden, as well as "Everyday Hero Machine Boy" by Tri Vuong and Irma Kniivila.
The preview for "Void Rivals" shows the pilot Darak emerging from his crashed ship as he tries to make sense of his new surroundings. When he asks his robotic hand (who serves as his assistant) where he is, he's told his ship was caught in a gravitational pull and sling-shotted into uncharted territory.
You can read the first four pages RIGHT HERE! pic.twitter.com/TmTB82CnH5

— Robert Kirkman (@RobertKirkman) February 25, 2023
Kirkman called Void rivals monumental in scope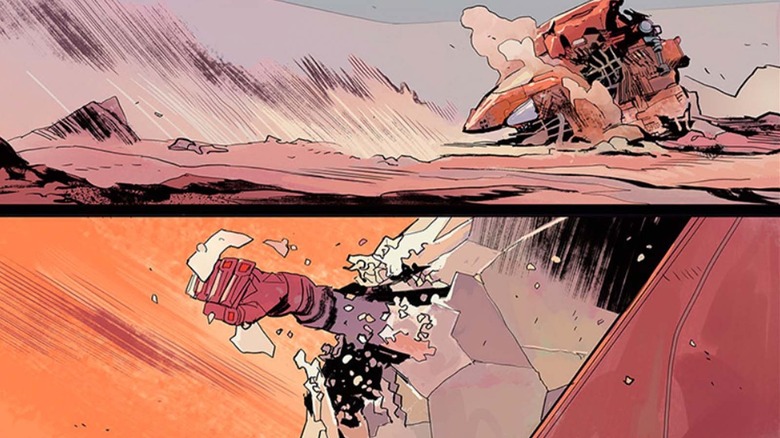 Skybound Comics
Robert Kirkman said in a press release that he is going big with "Void Rivals," revealing the shared universe will make the upcoming series among the biggest stories he's ever told.
"With every project I do, I'm always trying to challenge myself. One thing I've always loved doing is starting small with a story and expanding the depth, scope and stakes as we progress," Kirkman said. "With Void Rivals we'll be going bigger than I ever have and at a much faster pace. This project is going to be monumental. I can't wait for people to see what Lorenzo and I have cooking."
Sean Maciewicz, the SVP and Publisher of Skybound Entertainment, offered massive praise for the series. "Void Rivals might just be the most ambitious new series we've ever launched in Skybound history," he said. 
It's no surprise that this new story looks so engaging — after all, "The Walking Dead" creator has delivered some excellent comics after completing his most popular series, and "Void Rivals" appears to be Kirkman setting a new standard for himself regarding world-building and scope. All in all, it's fun to see Kirkman continue to try new things in a medium he's long excelled at. 
"Void Rivals" by Kirkman and De Felici from Skybound Entertainment and Image Comics arrives in comic book stores and online retailers on June 14, 2023.