Who Played The Young Mandalorian In The S3 Premiere? (It's Someone's Nephew)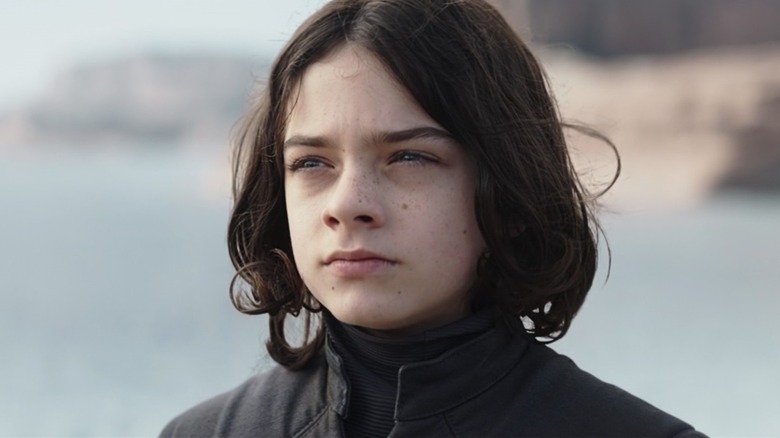 Lucasfilm/Disney+
The following article contains spoilers for Season 3, Episode 1 of "The Mandalorian" — "Chapter 17."
As if there weren't enough reasons to check out "The Book of Boba Fett," "Star Wars" fans needed to watch it to understand what's going on with "The Mandalorian" Season 3. Over the course of a couple of episodes, we see Din Djarin (Pedro Pascal) get exiled from the Mandalorian way. He's also reunited with his little buddy Grogu, who's been learning the ways of the Jedi. It sets up everything you need to know going into a new season of "The Mandalorian," and the first episode really kicked things off with a bang. 
The episode opens with a traditional Mandalorian baptism ceremony. The Armorer (Emily Swallow) crafts a helmet for a young Mandalorian child, eagerly awaiting this rite of passage. Of course, things get interrupted by a giant monster, as things are wont to do in a galaxy far, far away. But the monster may not have been the only thing to catch your attention. The child getting baptized may have looked familiar to you, especially if you tune into a lot of Disney+ originals. 
Wesley Kimmel has appeared in Star Wars before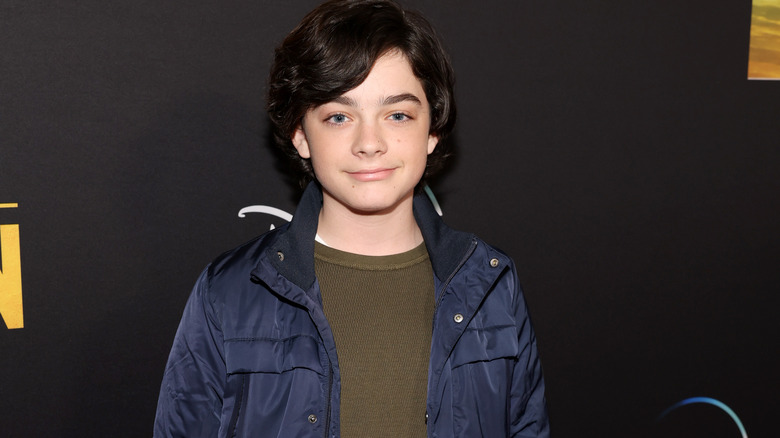 Jesse Grant/Getty Images
Wesley Kimmel is the one receiving a brand new Mandalorian helmet in the first episode of "The Mandalorian" Season 3. And that last name is no coincidence. He is, indeed, the nephew of late-night talk show host Jimmy Kimmel, but he's quickly becoming an actor in his own right. 
His resume is building up nicely. While he initially appeared periodically on episodes of "Jimmy Kimmel Live!," he's gone on to pop up in various films and TV shows, including "The Rookie" and "Good Girls." However, he appears to be carving out a nice niche for himself on Disney+. He stars as the Commercial Boy in a few episodes of "WandaVision," and he played a Tusken Kid on the first three episodes of "The Book of Boba Fett." He must've made a good impression on somebody to come right around and rejoin "Star Wars" for "Chapter 17" of "The Mandalorian."
Most recently, Kimmel could be found playing Jack in the Netflix original film "Your Place or Mine," starring Reese Witherspoon and Ashton Kutcher. It's also been confirmed that he'll appear in the upcoming Amazon Prime Video movie "Red One," so he's certainly keeping busy these days. 
Wesley Kimmel's co-star spoke highly of the actor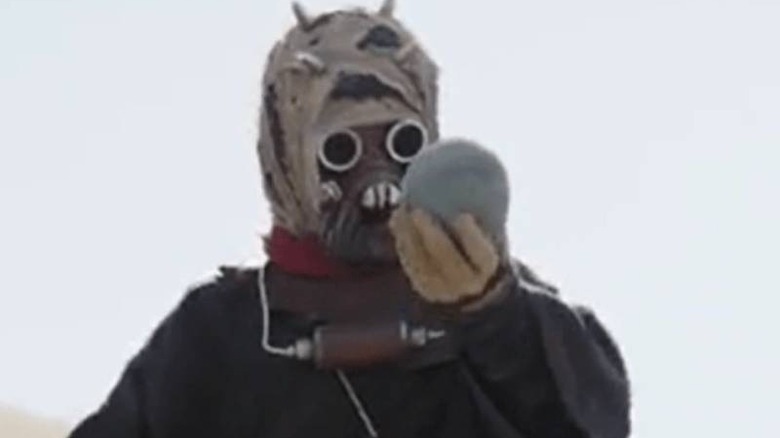 Lucasfilm/Disney+
Wesley Kimmel's inclusion in two "Star Wars" properties is made possible by the fact that viewers don't get a chance to see his face in "The Book of Boba Fett." He's a child Tusken Raider, and as such, he wears a mask obstructing his face for any scenes he's featured in. This makes it easy for Kimmel to come back to play a Mandalorian child, face revealed and all, in "The Mandalorian" Season 3. 
"The Book of Boba Fett" may have turned into "The Mandalorian" Season 2.5, but one thing it did exceptionally well was flesh out the Tusken Raiders as actual characters as opposed to plot fodder. They played an integral role in Boba Fett's journey, and Looper actually had the chance to catch up with Rory Ross, who plays one of the Tusken Raiders on the show, to find out what it was like to be part of such a massive "Star Wars" undertaking.
During the conversation, Ross actually shouts out Kimmel, in particular, for playing the Tusken kid. He points out how it's an important character for Boba Fett's arc, stating, "The little Tusken kid, played by Wesley Kimmel, represents Boba as a child and him, his innocence and everything else when his father passes away and we see that on Geonosis in Episode 2." It remains to be seen if the Mandalorian child will factor into the larger machinations of the show, but Kimmel's proving to be a valuable asset to Disney.