That '70s Show's Wilmer Valderrama Has A Candid Explanation For Why Fez And Jackie Got Together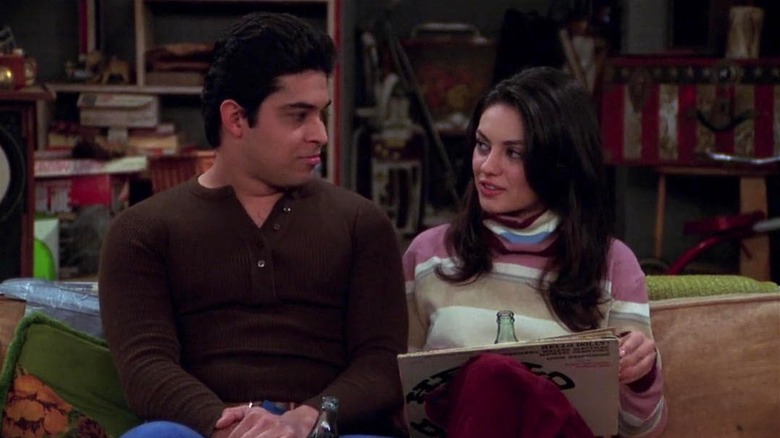 Fox
"That '70s Show" was a surprising hit for the Fox network when it premiered, and it remained a solid ratings draw for the network throughout its eight-season run. It also helped launch the careers of many of its cast members, from Topher Grace to Mila Kunis and Ashton Kutcher. Kunis portrayed Jackie Burkhart, and Kutcher played Michael Kelso, and the show often focused on their on-again, off-again romance. Throughout all of this, Jackie is also romantically pursued, with very little success, by Fez (Wilmer Valderrama), a foreign exchange student who becomes a big part of the central friend group.
Weirdly enough, however, Fez and Jackie do get together in the eighth and final season of "That '70s Show," which was something of a curveball for fans of the series. As it turns out, it was just as much of a shock for Valderrama and Kunis. Still, Valderrama himself has a rather candid explanation for what drove the two characters to finally connect on a romantic level.
Valderrama believes That '70s Show simply ran out of ideas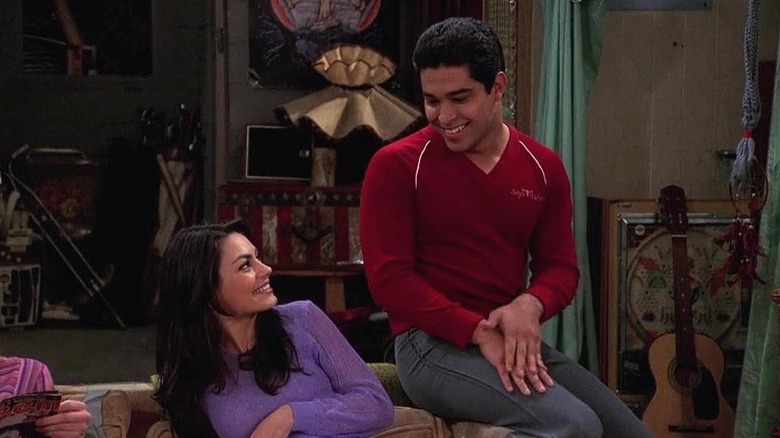 Fox
During an interview with Today in 2021, Wilmer Valderrama addressed some of the unanswered questions that came with the final season of "That '70s Show," including why in the world Fez and Jackie ended up getting together. According to the actor, the answer is relatively simple: they had run out of ideas. By the time the final season finished airing, the sitcom had hit 200 episodes, and the story was running out of steam, so they decided to mix things up with randomness. This is, at least, according to Valderrama's accounts.
"I think at that point we were like, 'I mean, what else are we going to do? So, sure, f— it!'" Valderrama said. "We had done so much in, you know, 200 episodes. ... We kind of ran out of everything — I was wearing funny outfits and all that stuff by the end of that season, so that's why we're like, 'What would be the most random thing we could do?' And I feel like that was it."
Season 8 of "That '70s Show" isn't exactly highly regarded by many fans, so Valderrama's explanation here makes sense. But the final season also lost both Topher Grace and Ashton Kutcher as leads, so it's arguable that this didn't really help matters. Either way, the sitcom's popularity has endured, leading to a direct spin-off and sequel series titled "That '90s Show" that premiered on Netflix in January. The series has proven successful, and has already been renewed for Season 2.