Nicolas Cage Wants To Play Dracula Again After Renfield (But Deeper)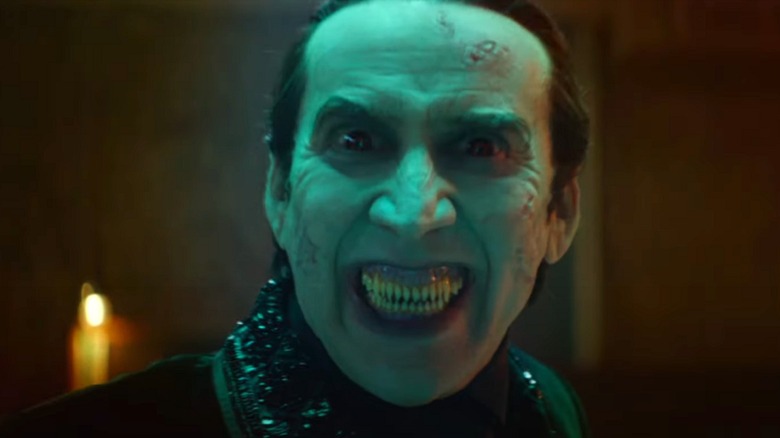 Universal Pictures
Vampires have maintained a consistent presence in Hollywood over the past century, and it's not hard to figure out why. The fanged, blood-sucking villains are practically tailor-made for the movies, with the ever-iconic Count Dracula proving this time and time again. Countless actors have come around to put their own spin on the Bram Stoker creation, doing so in settings that range from comedies to horror films to leave lasting impressions on moviegoers. The next actor in line to try their hand at the Transylvanian terror is none other than the incomparable Nicolas Cage.
Yes, Cage will become Dracula for the Chris McKay-directed 2023 horror-comedy "Renfield." The film follows Nicholas Hoult as R.M. Renfield: Dracula's lackey who has become tired of his job and his supernatural employer and wants to find meaning. Thankfully, he unexpectedly falls in love with traffic cop Rebecca Quincy (Awkwafina), which ultimately refreshes his outlook on life. All in all, it's a goofy premise that puts Renfield front and center instead of his significantly more famous boss, so it stands to reason that Cage will be limited on screen time.
Bearing this in mind, and the fact that "Renfield" isn't your typical Dracula-featuring movie, Nicolas Cage has expressed his desire to return to the role down the line to explore it deeper.
Cage wishes he got more time to flesh out Dracula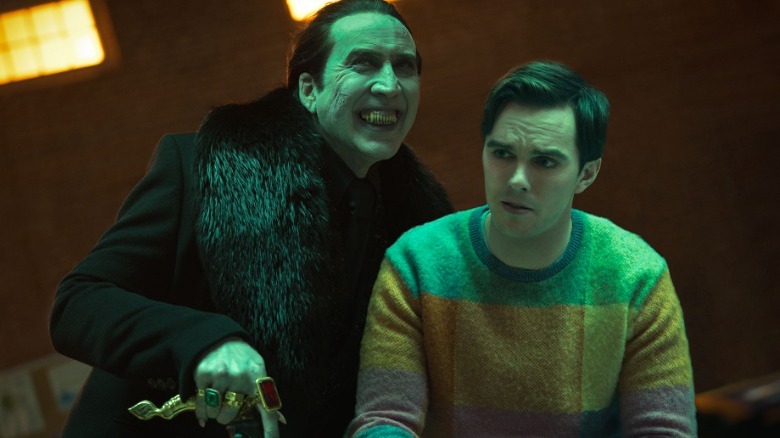 Universal Pictures
Ahead of the premiere of "Renfield," Nicolas Cage spoke to Total Film about the Dracula role and his desire to someday delve further into what the character has to offer. "There are some minor moments here where you get to see some of the pathos in Dracula's eyes. That made me think that maybe one day I might like to try for a whole movie where you're really understanding the psyche of the character," he shared, noting that "Renfield" didn't give him a whole lot of time to flesh out Dracula as much as he would've liked.
Even though he didn't have the chance to play Dracula more thoroughly, Cage doesn't seem to regret taking on the role. He told Total Film, "I also kind of always knew I had to do it at some point," going on to explain how he began putting his interpretation together. He used the late Sir Christopher Lee's take on Dracula from the 1958 film of the same name as a starting point and looked to his father, August Coppola, as well as some other unexpected sources for inspiration. Otherwise, though, he tried to make the performance his own.
For those interested to see how Nicolas Cage does in the role of Count Dracula, "Renfield" will emerge from the shadows on April 14, 2023.