Where Did 1923 Film Its African Scenes?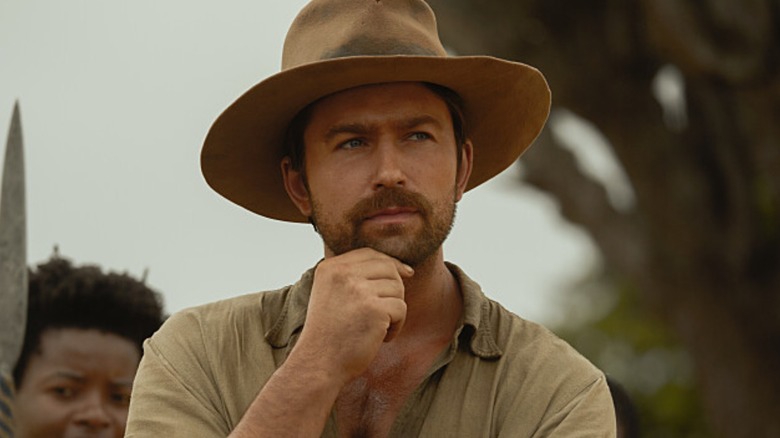 Emerson Miller/Paramount+
Although "1923" takes place primarily in Montana, usually within the confines of the Dutton ranch, the series also focused on a concurrent storyline based in early 1900s Africa. This new environment was a welcome departure from the familiar Montana wilderness. Here, viewers learned about the life of Spencer Dutton (Brandon Sklenar), who is James and Margaret Dutton's son and who lives in Africa, working as a big game hunter after his service in World War I.
Spencer's story gets off to a rocky start as he suffers a serious injury while fighting two leopards. While recovering in Kenya, he meets a woman named Alexandra (Julia Schlaepfer), and the two fall in love. They later marry and begin the long journey home to Montana, where the rest of the Duttons fight a war for control of their ranch. 
Despite the fact that Spencer's time in Africa ends abruptly after Episode 3, there's no question that this excursion was one of the most exciting aspects of "1923's" first season. That said, there are no doubt plenty of fans out there wondering whether or not these scenes were filmed in Africa or if these beautiful landscapes were just movie magic.
These scenes were shot on-location in Africa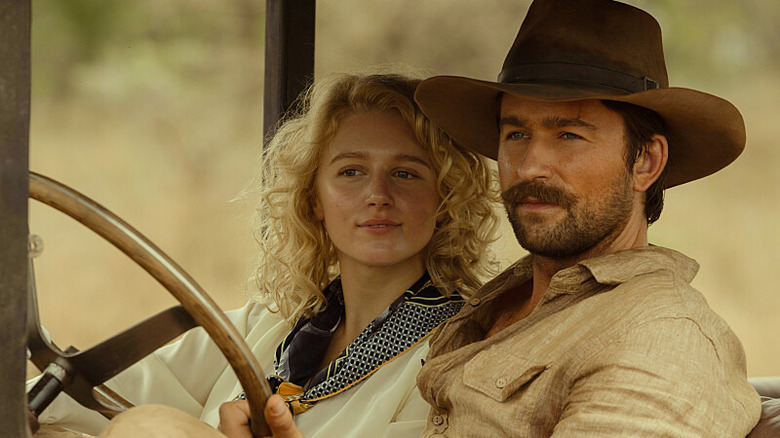 Emerson Miller/Paramount+
Thankfully, all of the African scenes from "1923" were genuinely shot in Africa, as confirmed by actor Brendan Sklenar during an interview with Collider. In the interview, he discussed his experiences shooting in different locations across the continent.
"We shot all over South Africa," Sklenar said. "Cape Town, Durban, Djibouti. Shot in Kenya for a bit, and then we ended in Europe." 
Sklenar went on to discuss how Spencer and Alexandra's island hideaway in Episode 4 — which is supposedly in Zanzibar — is actually located in Kenya, since filming there was much easier than taking the extra trip to Zanzibar. Although it's common knowledge that many film and television productions don't always shoot on location, it's clear the team behind "1923" felt it necessary to ground Spencer's journey actually in Africa.
What's more, it seems as though the production traveled the exact same path as Alexandra and Spencer as they left Africa, arriving in Europe just like the characters did following their freezing tugboat accident. It's nice to know that most of the gorgeous landscapes seen throughout Spencer's journey are shot on location, and that the series itself does an excellent job of presenting Africa's natural beauty.