Whatever Happened To Priya From The Big Bang Theory?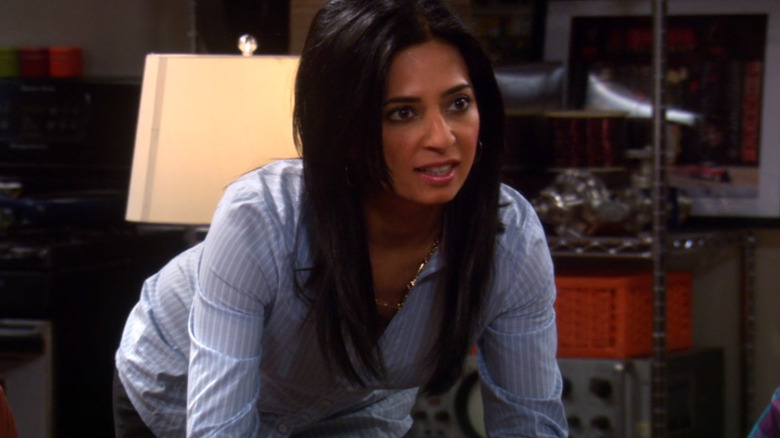 CBS/HBO Max
No fan of "The Big Bang Theory" can forget Priya Koothrappali. Played by Aarti Mann, she is the catalyst for much of the tension in the show's fourth season. First, her dating Leonard (Johnny Galecki) causes tension between him and her older brother Raj (Kunal Nayyar). Then it invokes jealousy in Penny (Kaley Cuoco). Then Penny's friendship with Leonard provokes jealousy in Priya. Then it irks the ever-persnickety Sheldon (Jim Parsons), who threatens to tell Priya's parents about her relationship with Leonard unless Leonard finally accepts Sheldon's demands for a new roommate agreement. Eventually, Priya moves back to India, and though the two give a long-distance relationship a go, they call it quits.
It's quite an arc for a relationship that barely lasts a season. Mann appeared as Priya in twelve episodes of "The Big Bang Theory." Plenty of fans likely knew that there was an expiration date on Leonard and Priya so that he and Penny could wind up together, which was, of course, the big ship of the series and was finally made faithful come by the series' final three seasons. Given that Priya was Raj's sister, there was, at least in the abstract, always the chance that writers could bring her back for another handful of appearances. It never came to be, possibly because Mann has been busy elsewhere.
Aarti Mann played a surprise client in Leverage
Not long after exiting "The Big Bang Theory," Aarti Mann began a long string of one-off appearances in various high-profile shows. The first of these was TNT's action crime drama "Leverage." Though never a critical smash, "Leverage" gained a loyal following and solid rating during its five seasons, both enough to merit a revival series, "Leverage: Redemption." No doubt, the premise — a gang of former professional crooks looking to use their skills to do good in the world, helping the powerless and sticking it to the powerful — made for a fun watch for many.
Typically, with each episode involving a client the crew seeks to protect, the client is introduced to the episode's beginning. But the episode that Mann appeared in was an exception. The episode, titled "The Broken Wing Job," saw most of the crew out of town, leaving Parker (Beth Riesgraf) dealing with an injured knee at the brewery that serves as their unofficial headquarters. After two suspicious customers inadvertently reveal what Parker thinks might be a jewel heist, Parker takes note. It turns out that they are looking to kidnap someone, a server at the brewery named Amy, who also happened to be the daughter of a billionaire played by Mann.
She made a brief but memorable appearance in Suits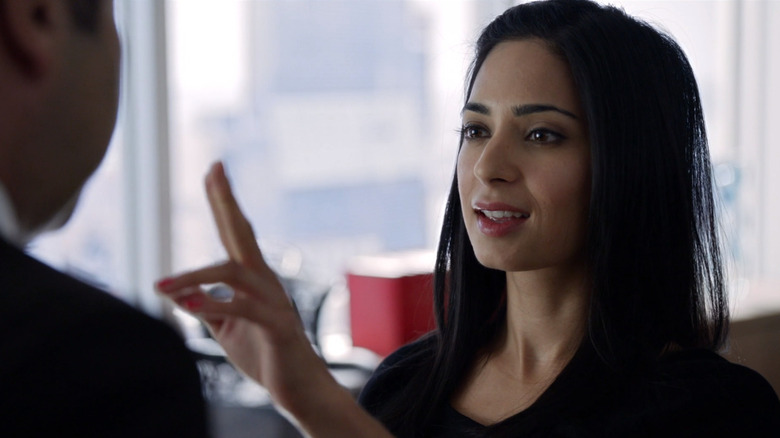 USA/Peacock
Next up for Aarti Mann was a small but memorable role in an episode of USA Network's "Suits." Her appearance comes in the second season as Maria Monroe, when Louis (Rick Hoffman), having just made senior partner at the law firm, searches for his new associate. 
Maria is the top candidate, a recent Harvard Law School graduate who goes into the interview knowing full well what she's worth and ready to be as cocky and demanding as she wants to be to get the job. Louis even tells the remaining candidates waiting to be interviewed that the position has been filled and they should go home. 
The trouble is that having attended Harvard; she is in a position to potentially out Mike Ross (Patrick J. Adams) as a fraud. After all, attendance at Harvard is part of his ruse, despite the fact that he never even finished college. Jessica (Gina Torres), who knows of Mike's deception, forces Louis to rescind the job offer. 
She was a patient in Grey's Anatomy and The Good Doctor
The supporting roles have kept coming for Aarti Mann, including appearances in single episodes of "Scandal" and "NCIS: New Orleans." She also appeared alongside Al Pacino as part of the supporting cast in Dan Fogelman's 2015 film "Danny Collins." In 2017, Mann was cast in an episode of the primetime behemoth "Grey's Anatomy," playing Holly Harner, a patient admitted to Grey Sloan after a fall down a flight of stairs left her injured. Because she has a heart tumor that is ultimately inoperable, she resists much of her treatment, though she is eventually convinced to go through the procedure.
Mann's character's treatment, specifically whether or not to operate and how the patient's consent is involved, also played a role the next time she played a patient in a 2022 episode of "The Good Doctor." Mann's character, Naveen, is essentially unconscious and requires a hysterectomy, for which her wife is hesitant to give consent for fear that Naveen will never forgive her. In the end, however, she needn't have worried.
She plays Violet Ebner in The Recruit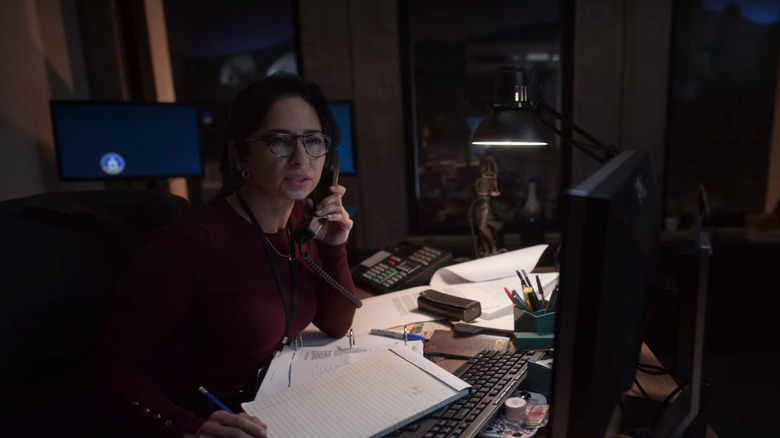 Netflix
Aarti Mann was among the show's main cast when Netflix's "The Recruit" premiered in December of 2022. Revolving around fledgling CIA lawyer Owen Hendricks (Noah Centineo), the show's events are set in motion as Owen finds himself slowly drawn out of the world of desks and paperwork into fieldwork, both sanctioned and semi-sanctioned and high-stakes international espionage. It is made clear right from the get Owen finds even the job challenging, as his co-workers engage in razzing and hazing that doesn't always come across as exactly friendly.
One of these co-workers is Violet Ebner, played by Mann. Violet, along with Owen's other co-worker Lester (Colton Dunn), has it in for Owen by the end of the first episode. She isn't all that excited to help Owen as he gets increasingly entangled in the world of a spy. But then, he's probably a better asset to the CIA than her anyway.