Jeremy Renner Shares Rehab Video Doing 'Whatever It Takes' To Recover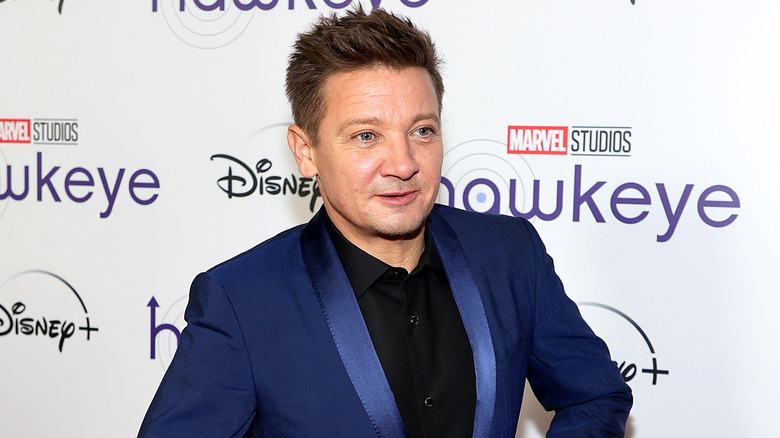 Theo Wargo/Getty Images
A staple of the Marvel Cinematic Universe for well over a decade, Jeremy Renner has endeared himself to millions of comic book fans worldwide with his portrayal of Clint Barton aka Hawkeye — one of the MCU's original Avengers. As one of the biggest action stars on the planet, news of his horrific snow plow accident back in January had fans across the world holding their collective breath, as it was reported the actor had suffered significant injuries and was in critical (though stable) condition.
In the weeks that followed it was revealed that Renner suffered his injuries while helping to remove snow that had blocked a family member's car, during which Renner was accidentally run over by his own snow plow after losing control of the machine. The actor suffered over 30 broken bones during the incident, which left him with blunt chest trauma and required him to undergo multiple surgeries while in the intensive care unit. In true Avengers fashion however, Renner has made it clear that this harrowing ordeal isn't slowing him down one bit, recently posting an Instagram video of his rehab work and promising to do "whatever it takes" to recover properly.
Jeremy Renner is working on both his mental and physical recovery
On February 27, 2023, Jeremy Renner posted an Instagram story of himself pedaling one-legged on a TechnoGym home exercise bike, accompanied by the caption "Whatever it takes." This was followed by a second story of Renner reading "The Book of Awakening" by Mark Nepo, promising that he was focusing on his mental recovery as well as his physical rehab.
Renner has frequently updated fans on his road to recovery through Instagram, having previously posted videos of his physical therapy sessions on the same account. As fans and MCU stars alike continue to pull for the actor's swift recovery and return to the big screen, these inspiring updates make it clear that Renner's career is far from over, and this accident won't keep him down forever. Indeed, outside of his posts about rehab, Renner's Instagram has been flooded with promotional material for his Paramount+ series "Mayor of Kingstown," which is currently in the midst of its second season.
Just like his superhero counterpart in the MCU, Renner has displayed an awe-inspiring level of determination in his recovery.