The Last Of Us Episode 7's Critical Kiss Scene Was Cut In Parts Of The World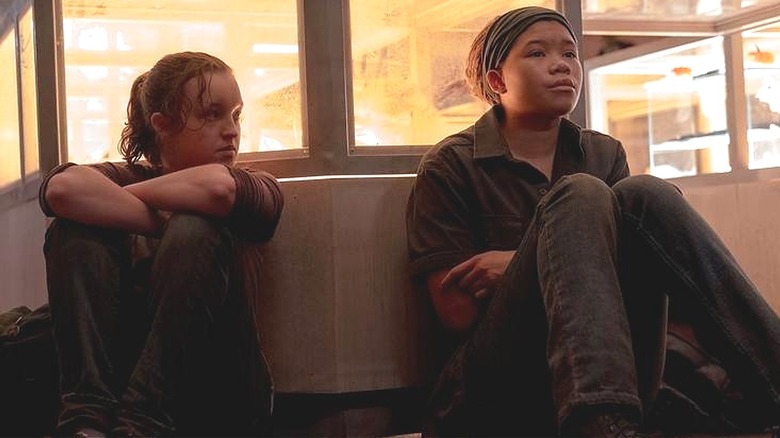 Liane Hentscher/HBO
Contains spoilers for "The Last of Us" Season 1, Episode 7
HBO's "The Last of Us," adapted from the video game of the same name, was co-created by the game's creator, Neil Druckmann, which means that Druckmann has been able to add subplots and backstories that help flesh out the story but that would have been impractical to include in a video game.
Just think of Episode 3, "Long, Long Time," which is essentially a flashback that focuses on a side character, Bill (Nick Offerman), and his partner, Frank (Murray Bartlett). Although those who played the video game got just a small peek into the lives of these two characters, the television show instead spends an entire episode telling a beautiful love story.
Unfortunately, Episode 3 has its haters, mainly a vocal and hostile minority that is uncomfortable around displays of same-sex attraction. Unsurprisingly, it looks like the most recent episode of the show has been edited in some parts of the world, and "Long, Long Time" may have had something to do with it.
The Middle East and North Africa didn't get to see Ellie and Riley kiss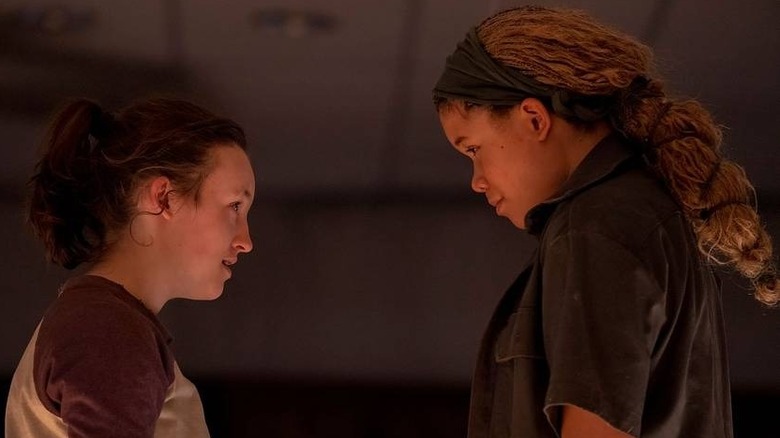 Liane Hentscher/HBO
Episode 7, "Left Behind," picks up in the immediate aftermath of the previous episode and sees Joel (Pedro Pascal) suffering from a deep wound and expecting to die. He yells at Ellie (Bella Ramsey) to leave him behind, and as she storms off in anger, viewers are treated to a flashback that shows what her life looked like before the events of the show.
Bullied by her peers at the FEDRA-run military boarding school she attends, Ellie pines for her best friend, Riley (Storm Reid), who has been missing for weeks and is presumed dead. One night, Riley reappears and the two go on an adventure in an abandoned mall that sees them ride a carousel, play "Mortal Kombat II," and generally have a good time. This experience eventually results in the two sharing a tender kiss before tragedy strikes, but it seems as if this kiss is missing from the episode in certain parts of the world.
As noted on Twitter by @khairatmk, who posted the clip in question, it seems as if the kiss shared between Ellie and Riley is absent from the episode on OSN+, a streaming service available in the Middle East and North Africa (MENA). Meanwhile, as @khairatmk pointed out in the same tweet, "Long, Long Time," isn't censored at all, leading one to wonder about the inconsistency. Either way, it seems as if audiences in MENA may be missing a crucial puzzle piece on "The Last of Us."