Black Panther Director Reveals What Happened To Killmonger's Mother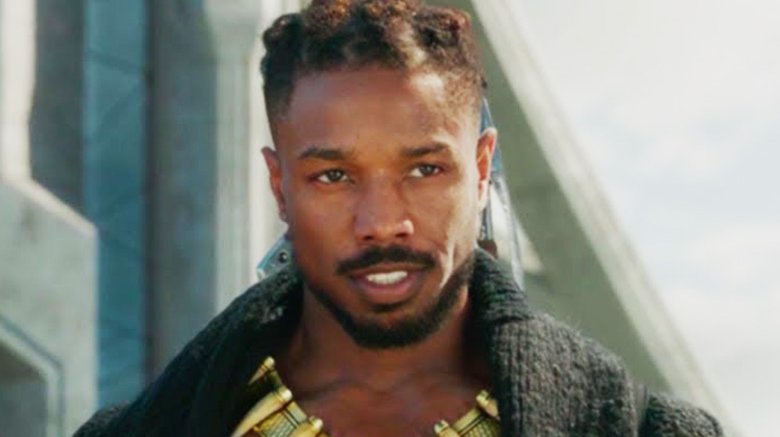 When it comes to heartbreaking backstories, Thanos has nothing on Killmonger.
Avengers: Infinity War may be dominating the Marvel movie scene at the moment, but let's not forget about the record-shattering Black Panther and its brooding big bad, Michael B. Jordan's Killmonger. In celebration of the Digital HD launch of Black Panther today (May 8) and the impending Blu-Ray and DVD release on May 15, Collider unveiled an exclusive clip from the Black Panther audio commentary by writer-director Ryan Coogler, who opens up about Killmonger's tragic upbringing. 
The footage features the sequence in which Chadwick Boseman's T'Challa discovers the truth about his father's past: he arrested and killed his brother N'Jobu, who was working undercover in Oakland, California. N'Jobu, portrayed by Sterling K. Brown, fell in love with an American woman and had a son, Erik Stevens, who grew up to be a U.S. black-ops soldier who bore the moniker "Killmonger." In the clip, Coogler reveals that Killmonger was not only fatherless following N'Jobu's murder, but was motherless as well. 
"The backstory idea of it ... was through the idea of the woman [N'Jobu] fell in love with, the African-American woman. The idea was that when you see those guys talking over that paperwork in the beginning of the film, they're trying to figure out a way to break her out. She's been incarcerated. They're trying to break her out of jail," explains Coogler. "The idea is that they never got her out and she passed away in prison, so Killmonger didn't come up with a mom either."
Excuse us while we cry for the next 10 years, or at least until Black Panther 2 finally comes out.
Black Panther — which also stars Lupita Nyong'o as Nakia, Danai Gurira as Okoye, Daniel Kaluuya as W'Kabi, Letitia Wright as Shuri, and Winston Duke as M'Baku, among many others — is out now on Digital HD and will be available in 4K Blu-ray, Blu-ray, and DVD formats on May 15.