1923's Brandon Sklenar Was Haunted By A Ghost On The Queen Mary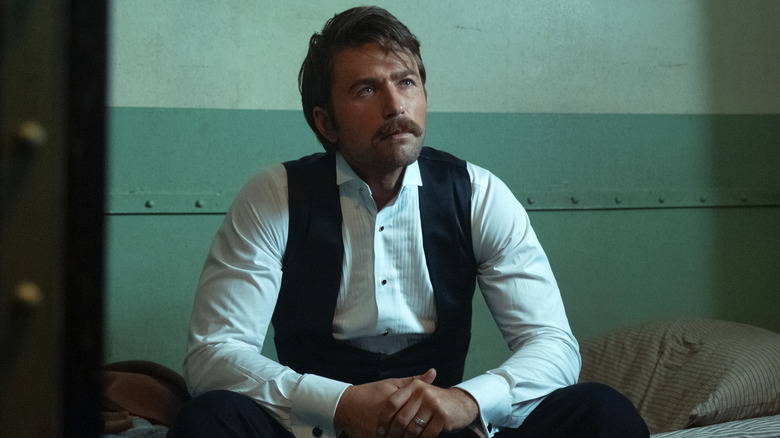 Emerson Miller/Paramount+
The Season 1 finale of "1923" put Spencer Dutton (Brandon Sklenar) and Alexandra (Julia Schlaepfer) in a fairly dark and unsure place, and this is after the couple survived attacks by both lions and sharks during their journey back to the Dutton family ranch in Montana. 
After Spencer and Alexandra run into Alexandra's former flame, Arthur (Rafe Soule) on a ship, Spencer finds himself challenged to a duel. Despite giving Arthur every opportunity to walk away, Spencer is attacked and he throws Arthur overboard. Spencer quickly learns the world of the high class he's found himself in is not forgiving, especially when they're wrong. There's still a lot of ground for "1923" to cover and since there are only going to be two seasons, the final season is shaping up to be a proper epic Western from creator Taylor Sheridan. 
One of the best aspects of the episode, titled "Nothing Left to Lose," was the ship itself. Spencer and Alexandra's story was filmed on the Queen Mary, a ship rumored to be haunted which was turned into a hotel in Long Beach, California, according to Travel and Leisure. 
While discussing the finale of "1923," Sklenar claimed the crew may have walked away with proof of ghosts.  
Brandon Sklenar thinks he saw a ghost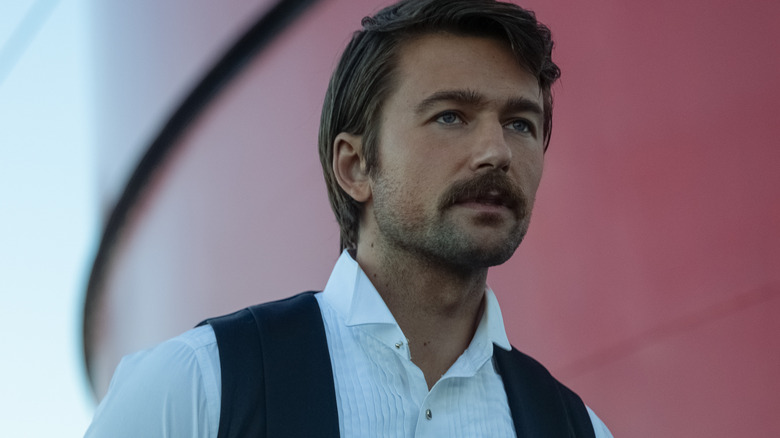 Emerson Miller/Paramount+
In an interview with The Wrap about the "1923" Season 1 finale, Brandon Sklenar was asked if he experienced anything spooky while filming on the Queen Mary, and the actor revealed he has a photo of something he can't explain.
"Someone took a photo, which I have on my phone, of the ballroom where we shot a scene and I'm not kidding probably the most legitimate photo of something I've ever seen in my life. There was a person sitting at the piano, playing the piano, like a white figure," Sklenar said. Despite the spooky photo, the "1923" pit stop on the Queen Mary is a pretty high-class and elegant affair. Sklenar said in a separate interview promoting the series that his time dancing in the episode was the most nervous he'd been on set — slightly shocking when you consider the possibility of a ghost sitting around chilling and playing piano. 
"I love dancing, but not that kind of dancing. I've never danced a waltz. That was probably the most nervous I have been on the set, doing that dance scene," he told USA Today. 
If you're interested in potentially catching your own spooky photo from the Queen Mary, there are actually tours of the most haunted areas of the ship-turned-hotel, according to the Queen Mary website.