Why Colleen From NCIS: Los Angeles Looks So Familiar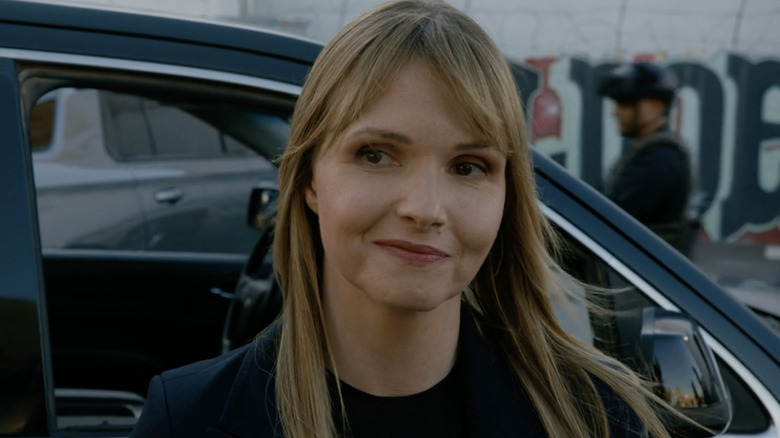 CBS
Anyone who enjoyed Episode 13 of the final season of "NCIS: Los Angeles" from start to finish knows that Colleen (Valerie Azlynn) isn't exactly the sweet lady she presented when the entry began. Despite her having a convincing cover, by the end, many viewers were probably wondering where they had seen the actor playing Colleen before.
"A Farewell to Arms" doesn't waste any time, and what seems like a meet-cute out of a romantic-comedy turns into a Jason Bourne-style fight sequence between Colleen and Sean Baker (Michael Bow), co-founder of an AI startup with an exclusive contract with the Navy. When Colleen attacks Baker and steals his tech, "NCIS: Los Angeles" is on the case. 
After they learn these stolen microchips can control robot soldiers and could lead to a global conflict, the team tracks down Colleen, who is actually a Polish national named Paulina Kominska with a history involving illegal arms trafficking. She tries to sell the tech before she's thwarted by the titular team of Navy crime investigators, but it turns out the chips are fake, and she destroys them beforehand.
Out of all the adversaries taken down on "NCIS: Los Angeles," Paulina is a formidable individual, and the convincing performance is delivered by Azlynn, who probably looks familiar considering she has lent her talents to some notable projects over the years.
She played the Bachelorette on Joe Schmo 2
Valerie Azlynn's first big break in the realm of acting came when she landed a supporting role in the Spike series "The Joe Schmo Show." Created by Paul Wernick and Rhett Reese, the series is a reality television hoax show that parodies the many archetypes and tropes often found in dating and reality game shows. "The Joe Schmo Show" aired its first season on Spike in 2003 and followed up with a second set of entries in 2004 called "Joe Schmo 2."
Throughout its run, the Spike program features some eventual big names in its cast, like Kristen Wiig, David Hornsby, and Natasha Leggero. Among the many talented cast members, Azlynn plays Piper "The Bachelorette" in the second season. Each entry has a different set of cast members playing the characters, so Azlynn does not return to the series after her run ends. 
After its first two seasons, the show took a long hiatus before returning in 2013, calling itself "The Joe Schmo Show: Full Bounty." While it was a welcomed return, the series did not capture the heart of its prior seasons. It also did not return for a Season 4. 
The actress had an impressive run of small roles in big name shows and movies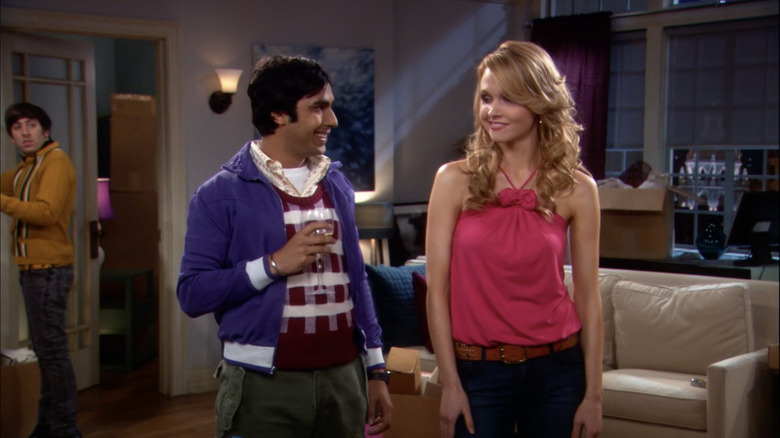 CBS
After her stint on a fictional reality show, Valerie Azlynn was ready to start going after much bigger projects. She began making many moves in Hollywood that saw her appear in several big-name shows and movies from 2005 to 2012. 
While some parts were more substantial than others, Azlynn made her presence known in certain endeavors, like the episode where she plays Alicia in Season 2 of "The Big Bang Theory." While it isn't one of the highest rated "Big Bang Theory" episodes, many would agree she is perfect for the part considering the character is an up-and-coming actor trying out for a role on "CSI." In real life, Azlynn had a role on an episode of "CSI: NY" three years earlier. 
Some of her other worthwhile endeavors on the small-screen include "Two and a Half Men," "How I Met Your Mother," "Cold Case," "Rules of Engagement," "Hot in Cleveland," and "Castle." On the big screen, she appeared in some blockbuster films headlined by some of the industry's most popular A-listers, including flicks like "Constantine," "Bewitched," "Poseidon," "Tropic Thunder," and "Surrogates." While she didn't get top billing for these gigs, the effort she put in would pay off, securing her first starring gig in a comedy series.
Azlynn played an EMT bar patron on TBS's Sullivan & Son
In 2012, Valerie Azlynn starred in the sitcom "Sullivan & Son" that aired on TBS. The show was created by Rob Long and Steve Byrne, who also plays the main character of Steve Sullivan in the series. In the show, Byrne's character plays a lawyer who quits his job to run a bar that his parents are selling so they can retire. In the series, the titular watering hole is a happening place in Pittsburg, and it sometimes doubles as an unofficial town hall.
On the show, Azlynn plays a medical technician named Melanie Sutton, who is a bar regular. That isn't all she happens to be as she is the object of Steve Sullivan's affection, prompting a noteworthy "will they or won't they" storyline that adds to the fun experience the TBS series offers viewers. 
In 2014, the sitcom was canceled after three seasons, despite the show being a major player in launching TBS' original-scripted landscape. Azlynn appears in 33 episodes, and despite her time as a life-saving bar patron being over, "Sullivan & Son" would not be the last time the actor would grace the small-screen.
Valerie Azlynn played a nurse in The Goldbergs spinoff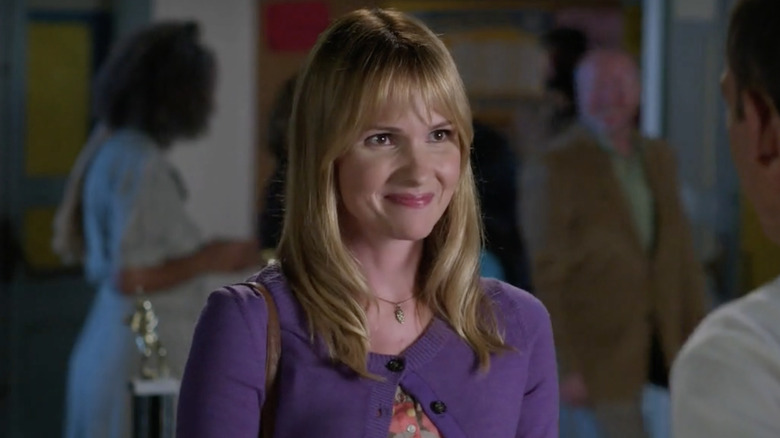 ABC
The ABC comedy series "The Goldbergs" made it to the ten-season milestone, and in that time, it spawned a spinoff series called "Schooled" in 2019 that starred AJ Michalka, Tim Meadows, Bryan Callen, Brett Dier, and Haneefah Wood. The series takes place in the 1990s and follows Michalka's Lainey Lewis, who returns to her hometown after her efforts in the rock-n-roll game don't work out. 
Fortunately, her old school has an opening for a music teacher, where she attempts to shape young minds along with her coworker Coach Rick Mellor, who is all about athletics and staying fit. Things change for him in the second season when he meets a student's aunt by the name of Julie (Azlynn).
The two become more than just friends and have their relationship put to the test when Julie gets a job as a school nurse at William Penn Academy. Eventually, she leaves the school to work at a hospital, but the two remain together with plans to move in at some point in the future. Unfortunately, fans won't get to see more of the relationship as ABC canceled the show after its second season. 
Azlynn appears in ten episodes total of "Schooled," with credits after including "Brockmire," "Ultra City Smiths," "Total Badass Wrestling," and "Crushed."