The X-Men & Avengers Enter The Spider-Verse In New Marvel Character Variants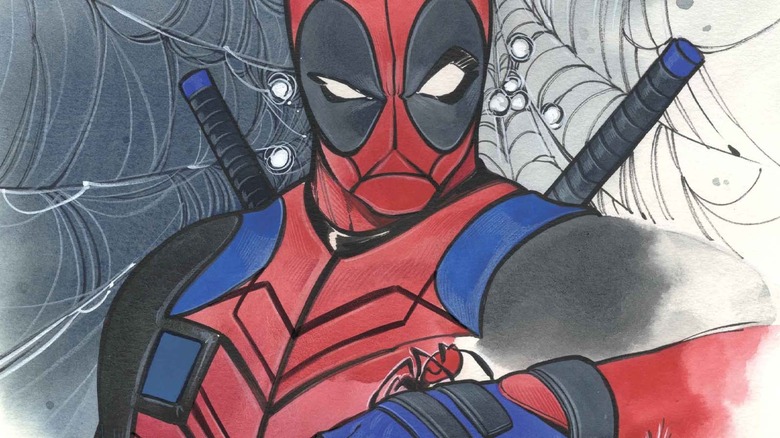 Marvel Comics
Marvel's Avengers, X-Men, and other heroes are getting new appearances like readers have never seen before, as they enter the Spider-Verse in a series of new stunning comic book covers highlighting some of the publisher's most popular characters reframed with a wall-crawling, web-spinning twist. 
Marvel Comics has revealed several of these new Spider-Verse variant covers, which transform a slew of fan-favorite heroes by giving them new costumes and new powers as they change into astonishing variants of the web-slinger. These variant covers and Spider-Verse redesigns come from some of the industry's most talented and in-demand artists, including Declan Shalvey ("Moon Knight"), Leinil Francis Yu ("Wolverine"), and Mahmud Asrar ("Batman vs. Robin"). And whether it's Avengers like Thor, Captain Marvel, and Doctor Strange, to X-Men members such as Rogue, Gambit, and Storm, all your favorites are now starring in their own Spider-Verse covers — and here are some of the best ones from the recently announced series.
The Avengers Join The Spider-Verse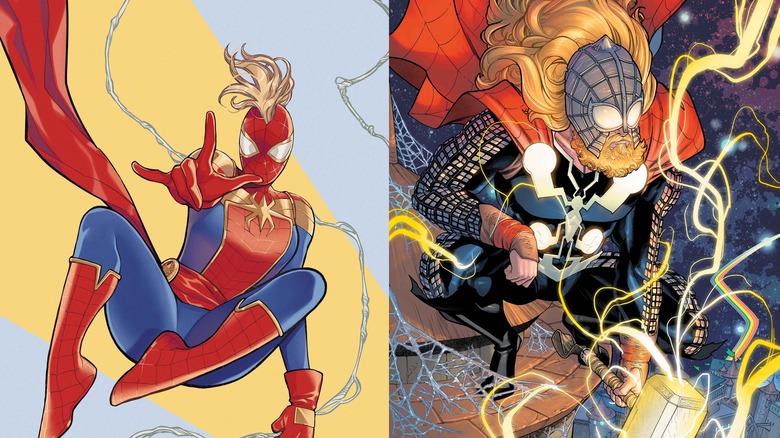 Marvel Comics
The Avengers are among the most prominent group of heroes featured in the new Spider-Verse variant covers from Marvel Comics, as the Earth's Mightiest Heroes trade in their usual signature looks and incredible abilities for all-new outfits. Among the transformations include Thor, as the God of Thunder gets his own Spider-Man-like helmet, armor, and cape in a variant cover from Javier Garron ("Avengers) for "Thor #34". Meanwhile, Carol Danvers joins the fray with her own Spider-Verse variant, as she also gets a spectacular new costume that plays on her most iconic look, making for a seamless transition from Captain Marvel to Captain Spider. The Romy Jones art for "Captain Marvel #49" keeps key elements of Carol's costume, including the color scheme, red sash, and blonde mohawk, but its undeniably a Spider-Verse version of the Avenger.
Superstar artist Jen Bartel brings her unique style to She-Hulk's Spider-Verse variant, as her cover for "She-Hulk #13" gives the super-strong hero an all-new costume that leaves her purple preferences intact while adding some webbing accents. In the cover, Jennifer Walters hangs upside down, keeping her green skin and massive muscles, making for a Spider-Verse variant of the hero that is one of the last people a villain would want to make angry.
Meanwhile, in Mahmud Asrar's "Doctor Strange #3" Spider-Verse variant cover, Marvel's Sorcerer Supreme gets a somewhat terrifying makeover. The image shows Stephen Strange casting a powerful spell and thwipping out webs simultaneously as he menacingly hangs upside down, with webbing holding the hero to the ceiling. It's a fitting tribute from one creepy Steve Ditko character to another. 
The X-Men Get Stunning New Spider-Verse Variants, Too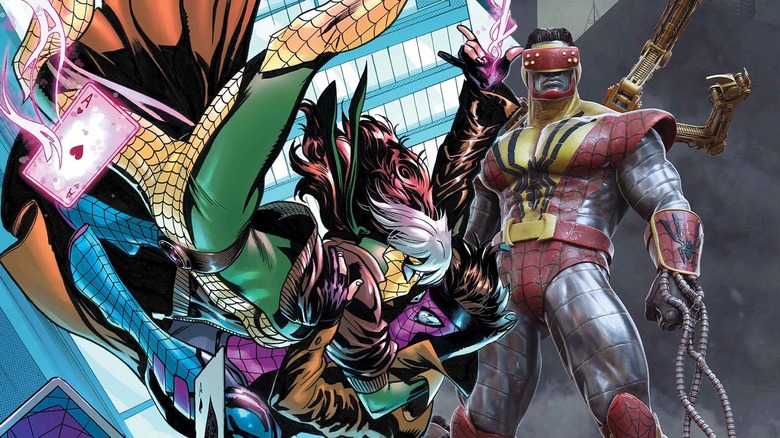 Marvel Comics
Marvel's mutants are also getting the Spider-Verse variant treatment, as a handful of X-Men get new art transforming them into spider-heroes. In a cover for "Rogue & Gambit #3" by Ema Lupacchino, the titular heroes swing across the city as their usual looks get webbed-up, including new masks similar to Spider-Man's — of course, with their respective beautiful iconic hairdos flowing in the wind.
Colossus' Spider-Verse variant, on the other hand, is incredibly dark, as the Bjorn Barends cover for "X-Force #40" gives Piotr Rasputin a frightening new appearance. In the photo-realistic image, Colossus has robotic arms, using extended metal wired webbing to trap those standing in his way. The redesign makes the X-Men hero feel like a Terminator from the post-apocalypse. Colossus definitely has the most intimidating redesign of any X-Men character.
And then, we have the magnificence of Storm:
In one of the more breathtaking Spider-Verse variant covers from Marvel Comics, Storm transforms into a web-slinger, while losing none of weather goddess cool. In the "X-Men Red #11" cover from Luciano Vecchio, Storm gets a black and yellow costume, highlighted with a celestial-styled mask with bright yellow eyes. Ororo Munroe's web and lightning combination powers are perfect for the Spider-Verse variant, who may have the best redesign of any of the Avengers, X-Men, or other heroes combined. And with that in mind, it's worth noting that it's not outside the realm of possibility that some of the Spider-Verse variants will jump from the cover to inside the pages of Marvel Comics, as variants who began solely as cover characters have done so in the past — most famously, the fourth-wall breaking hero Gwenpool, a seemingly terrible idea that turned into an awesome comic. 
The Best of The Rest of the Spider-Verse Variants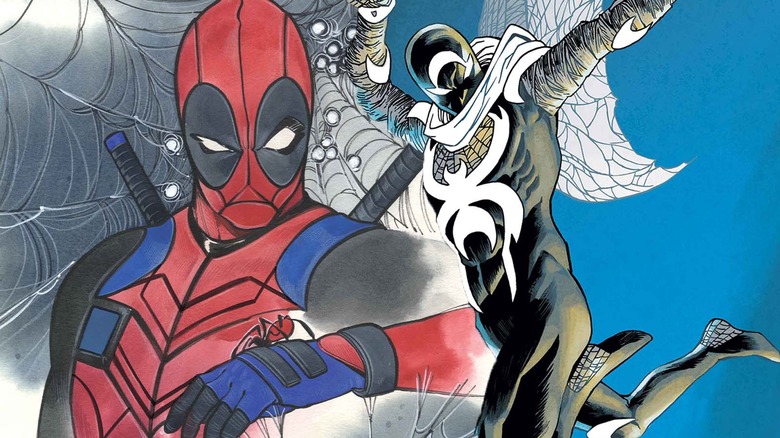 Marvel Comics
It wouldn't be a true celebration of Marvel heroes without more iconic heroes receiving Spider-Verse transformations. Artist Peach Momoko brings her signature style to Deadpool in a variant cover showing what would happen if a spider bit the Merc with the Mouth. The result? A fantastic new version of Deadpool who, most likely, quips more than any other Marvel hero ever. 
Just as excitingly, the great Declan Shalvey returns to the world of Moon Knight. Shalvey remains one of Marc Spector's most beloved illustrators, and it's only fitting that the artist gives him a stellar Spider-Verse makeover in the cover for "Moon Knight #23." The costume features a web-wrapped costume with a bright white logo, as Moon Knight uses webbing to create several costume elements, including a moon behind him as he swings throughout the night. Shalvey, predictably enough, has done a brilliant job creating a unique Spider-Verse combination hero.
Johnny Storm might be known for being one of Peter Parker's best friends, but in Giuseppe Camuncoli's cover for "Fantastic Four #7," the Human Torch enters the Spider-Verse himself. The Fantastic Four hero calls "flame on" as his new redesign gives him a fiery spider-upgrade. With flaming eyes pulsing from his mask, Johnny Storm's powers remain impressive, as he takes on a new spider-persona in the art. The fiery webs are a nice touch.
This brings us to Scarlet Witch's Spider-Verse variant for "Scarlet Witch #5," as the powerful Marvel hero gets a simple yet stunning transformation. Her iconic red costume has a new logo as she traverses the sky on spider-webs. It's easy to imagine just how impressive a hero of Wanda Maximoff's capabilities might be with additional powers.
The Spider-Verse Variants Are Coming Soon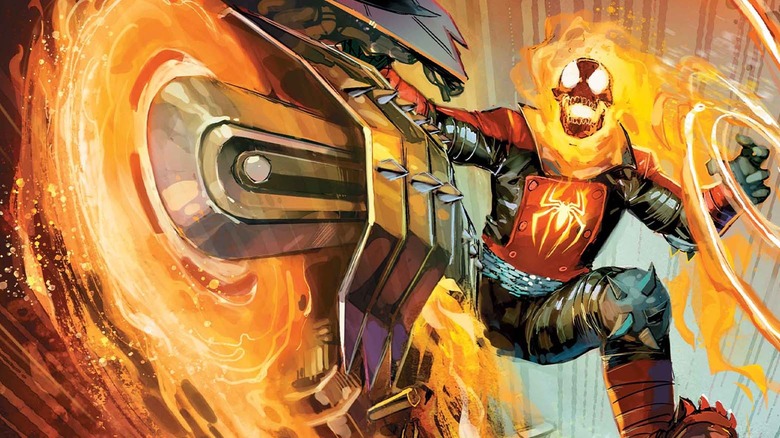 Marvel Comics
In total, Marvel Comics will be releasing more than 25 new "Spider-Verse Variant Covers" throughout May. Those include a Beyonder variant cover from Todd Nauck for "Avengers Beyond #3," a Bloodline variant for "Bloodline: Daughter of Blade #4" by Betsy Cola, a Rocket Raccoon and Groot Spider-Verse variant for "Guardians of the Galaxy #2" from Chrissie Zullo, and a hellfire-filled variant of Ghost Rider for "Ghost Rider #14" from Rod Reis. Here's the full list of covers and release dates.
On Sale 5/3
CAPTAIN MARVEL #49 BY ROMY JONES
IMMORTAL X-MEN #11 BY TAURIN CLARKE
MOON KNIGHT #23 BY DECLAN SHALVEY
SCARLET WITCH #5 BY MARC ASPINALL
On Sale 5/10
DAREDEVIL #11 BY DAVE JOHNSON
GHOST RIDER #14 BY ROD REIS
INVINCIBLE IRON MAN #6 BY ARIO ANINDITO
ROGUE & GAMBIT #3 BY EMA LUPACCHINO
WOLVERINE #33 BY LEINIL FRANCIS YU
X-MEN RED #11 BY LUCIANO VECCHIO
On Sale 5/17
BLOODLINE: DAUGHTER OF BLADE #4 BY BETSY COLA
CAPTAIN AMERICA: SENTINEL OF LIBERTY #12 BY CARLOS GÓMEZ
FANTASTIC FOUR #7 BY GIUSEPPE CAMUNCOLI
GUARDIANS OF THE GALAXY #2 BY CHRISSIE ZULLO
HULK ANNUAL #1 BY CULLY HAMNER
RED GOBLIN #4 BY MIKE MCKONE
SHE-HULK #13 BY JEN BARTEL
VENOM #19 BY DAN PANOSIAN
X-FORCE #40 BY BJÖRN BARENDS
X-MEN #22 BY GERALD PAREL
On Sale 5/24
HELLCAT #3 BY DAVID BALDEÓN
PUNISHER #12 BY JOHN CASSADAY
THOR #34 BY JAVIER GARRÓN
On Sale 5/31
AMAZING SPIDER-MAN #26 BY DAVID TALASKI
AVENGERS BEYOND #3 TODD NAUCK
CAPTAIN AMERICA: SYMBOL OF TRUTH #13 BY PETE WOODS
DEADPOOL #7 BY PEACH MOMOKO
DOCTOR STRANGE #3 BY MAHMUD ASRAR
The Spider-Verse variant covers will release starting on May 3rd, 2022, with new covers coming out every week until the end of the month.